Five Takeaways: Red Wings Suffer Embarrassing Loss in LA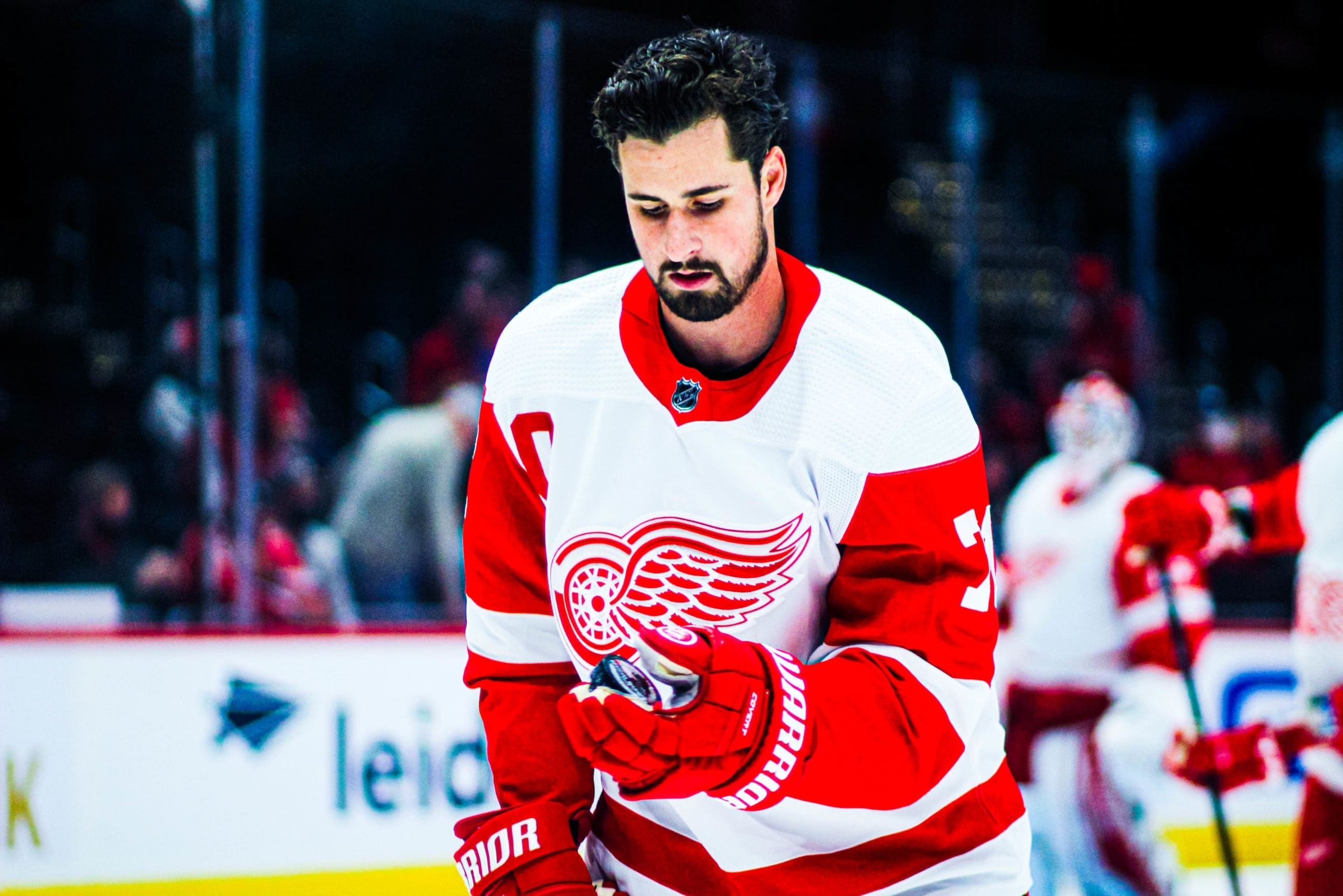 Those chrome helmets the Los Angeles Kings were wearing were definitely cringe-worthy but they paled in comparison to the embarrassment suffered on Saturday by the Detroit Red Wings.
From start to finish, Saturday's 4-0 loss to the Los Angeles Kings might've been Detroit's worst performance of the NHL season.
Five takeways from yet another lopsided Red Wings road setback.
A Frightening First Frame
There was no element readily available – not even Kellyanne Conway's alternative facts – that could put a positive spin on Detroit's first-period performance. Nothing was going to polish up this turd.
"I thought this was different than other road games we played," Red Wings coach Jeff Blashill said. "We weren't even close."
Los Angeles pelted the Detroit net with 27 shots, tying the NHL season-high for the most shots in a single period. Not only was it the most shots surrendered by the Wings in a frame, the two shots they put on LA's goal was also a season low.
"We weren't ready to go," Detroit captain Dylan Larkin said. "You look at what they did the last home game they had (48 shots against Nashville). They outshot the other team by a lot and that's what they did to us."
Total shot attempts during the frame were 47-8 in favor of the Kings. LA also held an 11-1 advantage in scoring chances and a 73-27% edge at the faceoff dot. The Kings logged 5:39 of offensive zone time, compared to 1:29 for the Red Wings.
"We just weren't ready to bring the battle to them," Larkin said.
Familiar Foibles Foil Red Wings
On paper, there are significant similarities between the Kings and Wings. Both teams are in a rebuild mode after enjoying Stanley Cup success. They're both relying heavily on up and coming young players. Each club is on the bubble of the playoff picture.
The biggest difference? LA plays the game the way Detroit keeps talking about needing to play the game. The Kings play a heavy game. They are relentless on the forecheck and crash the net as if it's done them wrong.
One assist away from a Gordie Howe hat trick for Phillip Danault. 🚨👊 pic.twitter.com/ArNpquWwYh

— LA Kings (@LAKings) January 9, 2022
"The team over there tonight, they're a hard team to play against," Larkin said. "At times in this game, we made it easy for them and played into their hands. We have to be ready to bring the battle."
While the Kings were implementing their gameplan to near perfection, the Wings were straying from their prepared style of play.
"We didn't win puck battles, we didn't move our feet, we didn't get pucks behind them," Blashill said. "We cheated on 50-50 battles for offense, the guys away from the puck. It all resulted in us playing in their end and giving up real chances.
"We're a way better hockey team than that, but you can't allow that to happen. The urgency has to be way better."
Staal Calls It
The Red Wings are now 1-7-1 over their past nine games away from Little Caesars Arena. According to Larkin, veteran Red Wings defenseman Marc Staal delivered an apt analogy of how the team performs when away from the comforts of home.
"Sometimes on the road here, we go into games and as Staalsy said in the room afterwards, we wait to see what happens," Larkin said. "We can't play like that on the road.
"He's a guy that's been around for a long time and played in meaningful games on the road. You have to play that way. You have to bring your game to the other team.
"We gotta jump in and play our game from the start, especially on the road. We do it at home, we should be able to do it on the road."
Turnabout Is Foul Play?
Larkin sought to ignite his slumbering teammates by fightng Kings center Phillip Danault off the faceoff following LA's second goal.
"I didn't like the way it was going," Larkin explained. "I wanted to send a message and calm things down and get the guys to say, 'Let's go. That's enough.'
SATURDAY FIGHT NIGHT: Phillip Danault vs Dylan Larkin. 🍿 pic.twitter.com/NF2JXUOvmd

— Sportsnet (@Sportsnet) January 9, 2022
"Let's start playing some physical hockey and battle and get into this game before it gets out of hand."
Larkin ignited the altercation by cross-checking Danault in the upper back. It was similar to the play last season by Dallas captain Jamie Benn that resulted in Larkin's season-ending neck injury.
The Detroit captain was assessed a cross-checking along with his fighting major.
League-Leading Goose Eggs
Detroit was shutout for the fourth time this season. That puts the Red Wings into a tie for the NHL lead.
The Montreal Canadiens, Philadelphia Flyers and Ottawa Senators have alsobeen the victims of four shutout defeats this season.