Five Takeaways: Detroit Red Wings Earn a Point, But Lose Dylan Larkin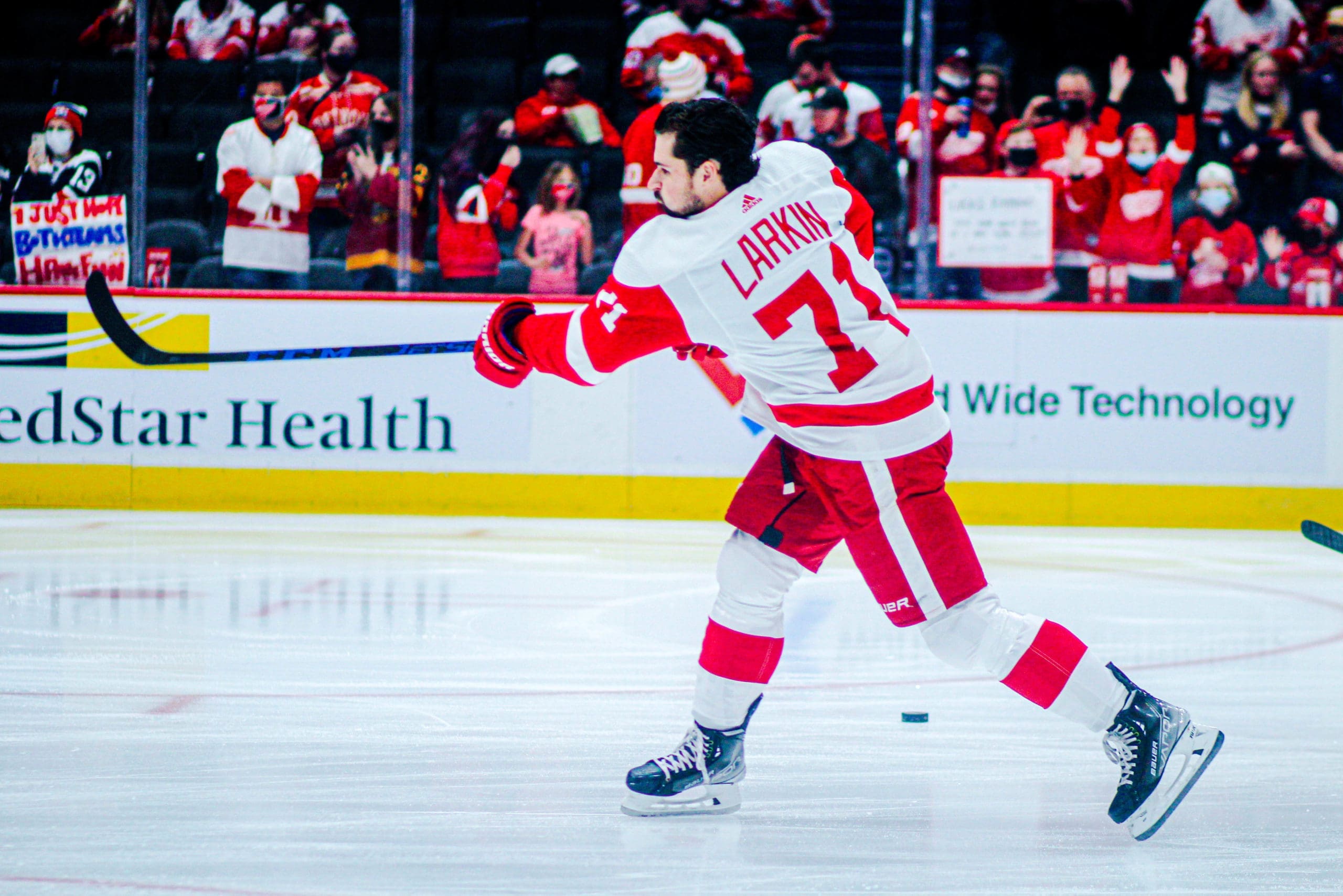 The Detroit Red Wings played one of their better road games, picking up a point in a 4-3 shootout loss to the Anaheim Ducks. But they lost their captain Dylan Larkin to an upper body injury early in the second period.
Coach Jeff Blashill said he didn't have much information to provide on Larkin's status.
"Let me get more info for you tomorrow. We will know more," Blashill said.
Improved Effort
Even playing without Dylan Larkin for most of the game,  the Red Wings played much better than they played the night before in Los Angeles. They followed that embarrassing 4-0 loss with a 36-shot effort against the Ducks.
Twice, the Red Wings came from behind to tie the game, They ended an 0-for-18 power play slump on a goal by Filip Hronek. Thomas Greiss was solid in the net. The Red Wings had considerable amount of puck possession, and pressured the Ducks for a lengthy period in overtime. They clanged the puck off the crossbar and goalpost.
"I thought the effort was good, although I don't know if the execution was always perfect," Blashill said.
The Red Wings had chances to win it overtime, but just couldn't bury the puck.
Still Haven't Solved Road Problem
The Red Wings played better, but still lost their 13th game on the road.  The men in red couldn't beat goalie Lukas Dostal making his NHL debut. The Red Wings are 4-11-2 on the road. They have lost five road games in a row and nine of their last 10.
"We are trying to change the tide on the road," defenseman Marc Staal said. "It's something we've talked about. It's something we need to do to get where we want to be. We just have to take the good and go into San Jose with some confidence and finish this road trip off with a win."
They play the Sharks on Tuesday. They beat the Sharks in Detroit 6-2 last week.
Staal's thought on the Red Wings' struggles? "It's more just a mindset, a mentality," he said. "We kind of get into a wait-and -see mode when we get on the road, instead of playing our game like we do at home."
Zegras vs. Raymond
Rookie Trevor Zegras has done for the Ducks what Lucas Raymond has done for the Red Wings. Zegras has put himself in the Calder Trophy conversation with Raymond and Moritz Seider.
Raymond had a strong game with an assist and four shots on goal. He boasts eight assists in his past 10 games. He picked up his 20th assist in his 36th game. Raymond has achieved 20 assists faster than any player in Red Wings' history. It took Steve Yzerman 39 games to reach 20 assists.
But Zegras had a better game, producing a power play goal, an assist and a shootout goal. Raymond missed his shootout attempt.
Bertuzzi Will Be Fine
Red Wings forward Tyler Bertuzzi had his arm sliced by a skate late in the third period. He fell to the ice, and a Ducks player was tangled up with him. As Bertuzzi got up, he checked his arm, threw down his gloves and stick and headed immediately to the dressing room.
"Tyler got cut late in the game, but in the end I think he's going to be okay," Blashill said. Marc Staal also said he thought Bertuzzi would be fine.
Red Wings Showing More Pushback
Even since Dylan Larkin said the team needed more "pushback" when teams play physical against them, the Red Wings have played feistier.
Detroit forward Givani Smith went immediately after Nicolas Deslauriers when he laid a heavy hit on Detroit defenseman Gustav Lindstrom. The Red Wings outhit the Ducks 28-19