Five Takeaways: Detroit Red Wings Shut Out for Fifth Time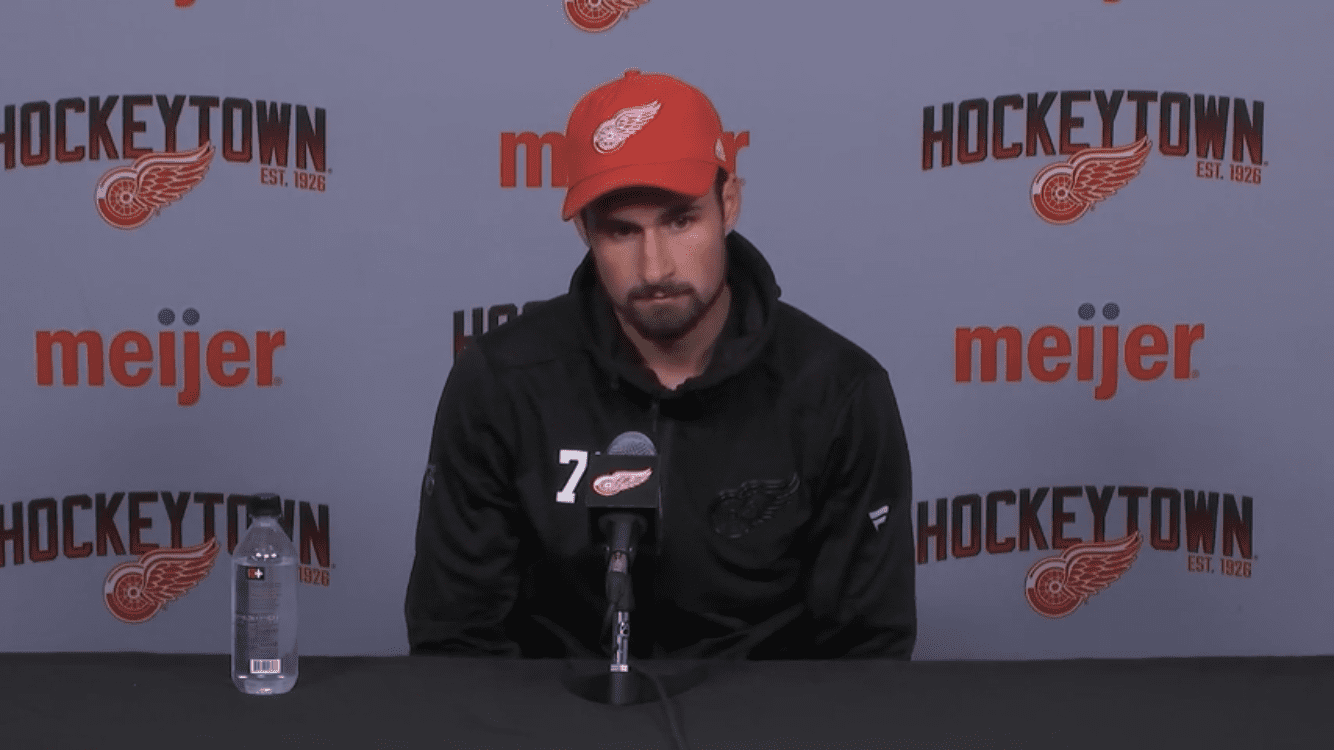 Detroit Red Wings captain Dylan Larkin was named to play in the NHL All-Star Game and yet couldn't bring himself to talk about that honor after a 3-0 loss to the Winnipeg Jets.
"It doesn't feel good right now after this game," Larkin said. "All of us play hard every night, and I'm not too excited to talk about individual things right now."
The Red Wings have lost four in a row and six of their last seven. They have been shutout an NHL-leading five times and only scored five goals in their last four games. Detroit is now seven points out of a wild card spot and the Boston Bruins, the team holding the last wild card position, has four games in hand.
Takeaways from the loss:
1. Scoring Troubles Mount
The Detroit Red Wings now rank 25th in scoring at 2.65 goals per game. They were 0-for-5 on the power play to fall under 14% this season in power play efficiency. They rank 31st out of 32 teams.  Lucas Raymond continues to look impressive but hasn't scored a goal in 14 games.
Filip Zadina's goal drought is 13 games. Robby Fabbri has one goal in his past nine games. Michael Rasmussen is making strides as a checking center, but has one goal in his past 10 games. Detroit defensemen have only scored nine goals this season.
'I thought there was certainly moments when the energy was there, the effort was there," Coach Jeff Blashill said. "We gotta find a way to score. It's 1-0, we get a power play, we had some looks, we don't score. And then they come down and score. I think that power play generated opportunities. We just gotta find a way to score. Now if you keep generating them, you'll score eventually and that's what we need."
2. Disheartening Moments
Late in the game, with Winnipeg leading 2-0, the Red Wings had a two-man advantage for 1:13. Blashill pulled his goalie to give Detroit a three-man advantage.
But the Red Wings couldn't score the goal they needed to close the gap. What makes that more frustrating is the Jets have the NHL's 31st-ranked penalty-killing. They also had eight players out with COVID-19.
"We just have to find a way to score tonight," Larkin said. "We had a five-on-three chance, a six-on-three chance. Got to find something and we didn't. (Winnipeg goalie Connor) Hellebuyck played good tonight but we have to find a way to score."
3. Slow Start
The Detroit Red Wings were playing their fourth game in six nights and were coming off a West Coast road trip. That's usually a recipe for sluggishness.
It didn't help the Red Wings morale' when the Jets grabbed a 1-0 lead when former University of Michigan player Andrew Copp bounced a shot off the back of Alex Nedeljkovic's mask to score from a poor angle.
"It's always tough playing on the road on a West Coast trip and then coming home and playing the next day and trying to find some energy," Larkin said. "It took us about five minutes to get into the game and get our legs going. Once we did, we played well. They scored one from below the goal line."
4. Looking for Confidence
The Red Wings are below .500 (16-17-5) for the first time since Nov. 20 when they were 8-9-3.
"I thought we did a lot of good things tonight," Larkin said. "It's a hard game to come back after being away. Guys barely get to see their kids. We got home late last night. We got to turn around and play. I thought we showed up. We just didn't show up on the scoreboard. That's where it matters. We have to find ways to score. You have to score every night in this league to win."
The Red Wings seem to be at another crossroad. It feels as if they could slip into a downward spiral if they can rediscover the bravado they had earlier in this season.  This is the time for the coach to show his value, and for team leaders to rally this group. Tyler Bertuzzi has had strong season. The team feeds off his energy. He may have to raise his playing level. They certainly need more offense production from the team's second line. Michael Rasmussen needs to contribute more offense. And where is the Adam Erne we saw last season?
5. Favorable Schedule?
The Red Wings' next two games are a home-and-home series against the Buffalo Sabres Saturday night at home and Monday afternoon (1 p.m.) in Buffalo. The Sabres are below Detroit in the standings.
However, Buffalo beat a surging Nashville team tonight 4-1. "We need to show up for those two games.," Larkin said.