Five Takeaways: Dylan Larkin Scores Twice to Trigger Red Wings' Rally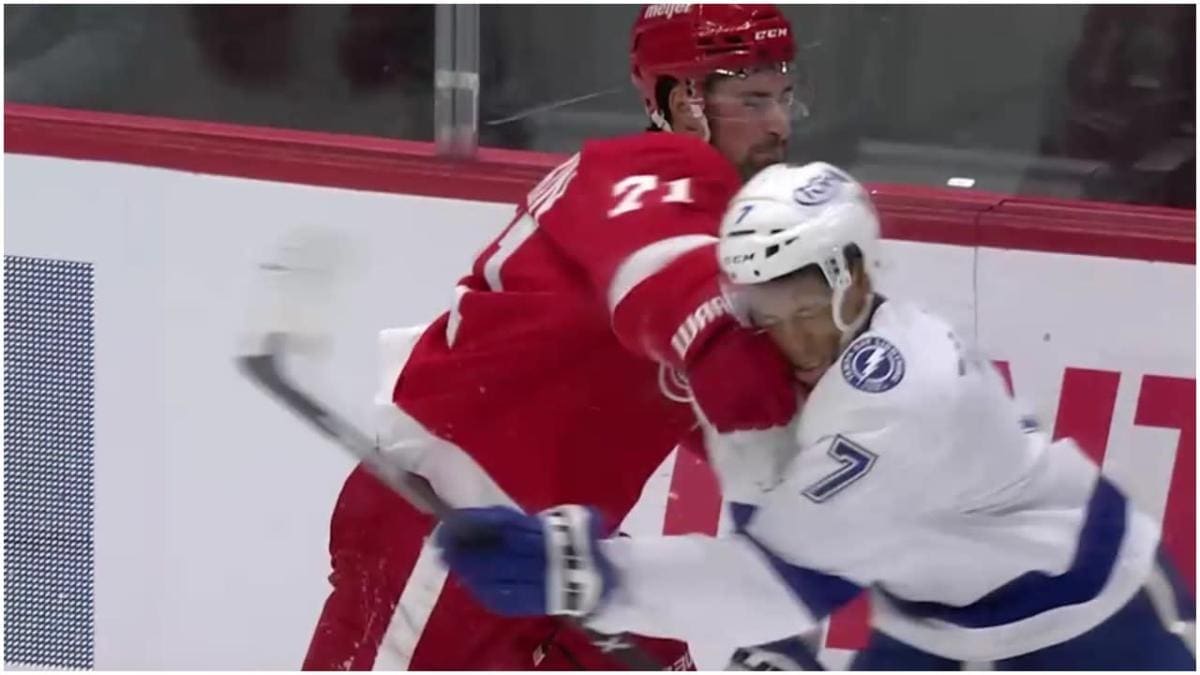 Captain Dylan Larkin continues to be a five-tool player for the Detroit Red Wings. He gives his team leadership, speed, faceoff excellence, assists and goals.
Big goals. Very big goals
Dylan Larkin scored his 17th and 18th goals of the season, the second coming in overtime, to give the Red Wings a come-from-behind 3-2 win against the Buffalo Sabres in snowy Buffalo. It ended a five-game road losing streak. It was their first win away from Little Caesars Arena since winning in Boston on Nov. 30.
Here are five takeaways from the game:
Larkin's Career Season
With 18 goals in 35 games, he's on a pace to better his 2018-19 season when he tallied 32 goals in 76 games. Coming off last season's neck injury, Larkin is playing with much more authority. He is using his speed more effectively. Larkin has continued to improve in the faceoff circle.
In Monday's afternoon game, Larkin won 78% of his draws against the Sabres. Larkin was a big reason why the Red Wings controlled the puck in overtime.
"I've talked about it a lot this year, the ups and downs," Larkin said. "I've really tried to focus on just staying in the middle and being there for the guys and winning hockey games. When you do that, you put the team first and have that mentality, it's amazing what it does for you personally. I just try to show up every night and play hard. It's going well right now."
Namestnikov Spark
With the Red Wings trailing 2-0, Vladislav Namestnikov scored a shorthanded goal at 10:21 of third period to create the turning point of the game.
At the time, the Red Wings were attempting to kill off a power play created by an unsuccessful coach's challenge of Buffalo's second goal.  Had the Sabres scored, it would have been lights out. Instead, Namestnikov scored his 11th goal of the season to trigger the start of Detroit's comeback. Moritz Seider set up Namestnikov with a nifty pass.
Namestnikov has been one of Detroit's unsung heroes this season. He was recently promoted to Detroit's No. 1 line to play with Larkin and Lucas Raymond. That switch gives Detroit more offensive balance.
"He's one of those guys who can play up and down the lineup," Blashill said. "The puck doesn't die on his stick. He's really smart, he makes good plays but yet he also is a net-front guy for not being a super-big guy."
Strong Third Period
The Sabres did a good job of bottling up the Red Wings for a couple of periods. But the Red Wings raised their energy level in that final period.
"I thought that was the best third period we played in a long time," Dylan Larkin said. "We rolled lines. Offensive zone faceoffs — we got our guys out there and we won draws and were able to swarm them. I liked the attitude when we go 2-2. We pushed for the third one. Got to keep doing that. We gotta keep playing that way."
Ned said 'No'
In back-to-back wins against the Sabres, Alex Nedeljkovic stopped 48 of 50 shots. He made some big stops in the third period, including thwarting a breakaway late in regulation.
He is giving his team confidence, especially with the way he handles the puck.
"(Nedeljkovic) shows up and he has that quiet confidence to him," Larkin said. "If he has an off-game, an off-goal that goes in, he always there the next play, the next game."
Helping Detroit's Road Confidence?
Even with this win, the Red Wings are 5-11-3 on the road.
"I think finding ways to win on the road can for certain breed confidence," Blashill said. "When you're looking at your record and it's really bad and you don't win on the road, it's hard to have confidence at that point. Finding a way to win today is a big thing. We need points and to be able to get the two on the road, it is not easy going back and playing the same team again in back to back games. To find a way to do it was real good."