Five Takeaways: Red Wings Squander Yet Another Third-Period Lead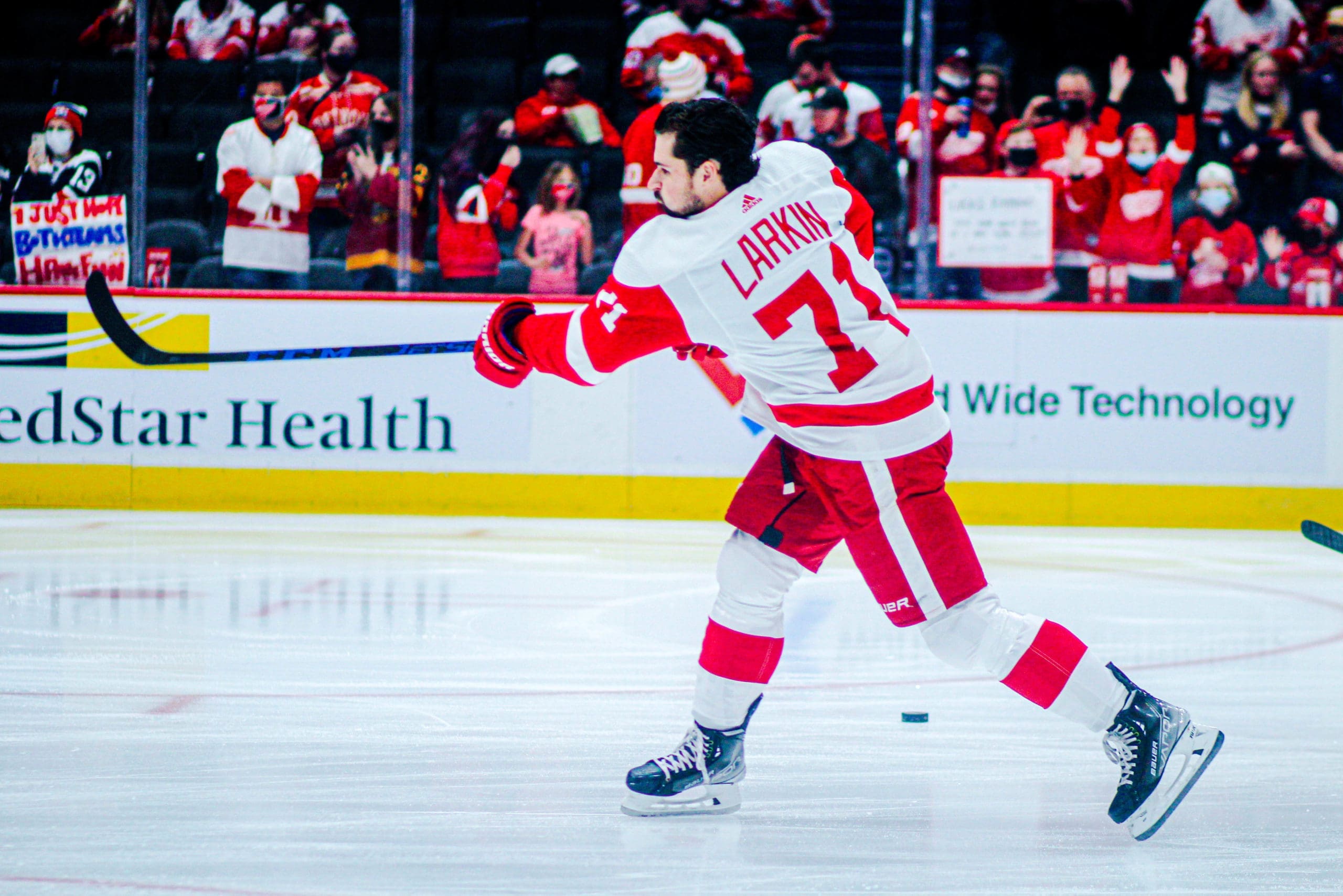 The summation of Saturday's Maple Leafs-Red Wings game put forth by Detroit captain Dylan Larkin was pretty much spot on.
"They had a heck of a third period," Larkin said. "We didn't."
Toronto rallied from a 4-2 deficit with five answered third-period goals for a 7-4 victory over the Wings at Little Caesars Arena.
Five takeways from Detroit's latest third-period collapse.
Red Wings Are Third Worst
Detroit entered play Saturday as the NHL's worst third-period team. Then the Wings went out and dug the hole a little deeper.
They've allowed an NHL-high 63 third-period goals. The Leafs actually scored their five goals in the final 10:32 of the third frame.
"I thought we got too loose in the second, to be honest with you," Red Wings coach Jeff Blashill said. "I thought we gave up some opportunities we didn't need to.
"Then in the third they have all the momentum and we didn't have enough push back. We didn't have enough shifts were we didn't defend. And then obviously our D zone coverage was no good.
"They're the best offensive team in the O zone and we've been one of the worst in the D zone and that's how it played out."
Saturday's setback marked the ninth time this season and second time in as many nights that the Wings squandered a third-period lead. They are 3-2-4 in those games. Blowing third-period advantages has cost the team eight points in the standings.
"We're up 4-2," Larkin said of their latest failure. "There's gotta be a way to win that game."
Home Woes Continuing
Earlier this season, it was appearing as though the Red Wings were turning LCA into a fortress of successfulness. Detroit was 11-2-2 through the first 15 home games of the season.
Lately, like so much about the team's season, the home-ice advantage is steadily slipping away.
The Wings are a disappointing 1-3-1 over their past five home games and 2-5-1 through the last eight played at LCA. They've given up 20 goals in their last three home games.
Charting The Bertuzzi-Larkin Scoring Race
One positive that the team is continuing to be able to count on is the goal-scoring race between Larkin and Tyler Bertuzzi.
Dylan Larkin and the @DetroitRedWings off to a quick start. 🔥 #HockeyDay | @scotiabank pic.twitter.com/65Tcg9oFXn

— Sportsnet (@Sportsnet) January 30, 2022
Larkin's 21st goal of the season opened the scoring and briefly gave him the team lead in goals. Bertuzzi 21st tally, matching a career high, made it 3-1. Then Dylan Larkin netted his 22nd to second Detroit ahead 4-2 and regain his one-goal edge over Bertuzzi.
Red Wings Still Not Good Enough Against The Best
Cue the Ric Flair mantra: To be the best, you've got to beat the best. Giving the best a run for their money doesn't add up to anything in the long run.
In short bursts, the Wings have proven that they can run with the big boys in the NHL. Too often, though, they still end up getting run over. Against the NHL's top-five teams, Detroit is 1-2-2 this season.
"It's definitely a learning thing," Blashill said. "I would say this, that we don't want to be a team that plays close with good teams. We gotta find ways to keep getting better here.
"We gotta be way better defensively."
The Wings are now 0-3-1 the last four times they've played the second game of back to backs. They're 3-5-1 in this scenario for the season. That's including an 0-2 slate against the Leafs.
Blashill Coaches 500th Game
Saturday was Blashill's 500th game as an NHL coach. All 500 games have come behind the Red Wings bench.
Not surprisingly, he was in no mood to celebrate.
Congrats, Blash! pic.twitter.com/ZNOhKHpVm1

— Detroit Red Wings (@DetroitRedWings) January 30, 2022
"It's hard to talk about right now obviously after the loss," Blashill said.
Eventually, he did allow himself to reflect a little bit on the accomplishment.
SIGNUP BONUS
UP TO $250


BONUS MONEY
BET NOW
"All I would say is I'm very fortunate to have the opportunity to work for such a great organization and have an opportunity to coach so many good players and good people," Blashilll said.
He's 191-241-68 behind the Detroit bench, good for a .450 winning percentage.