Five Reasons Why The Red Wings Aren't Faring As Well As The Ducks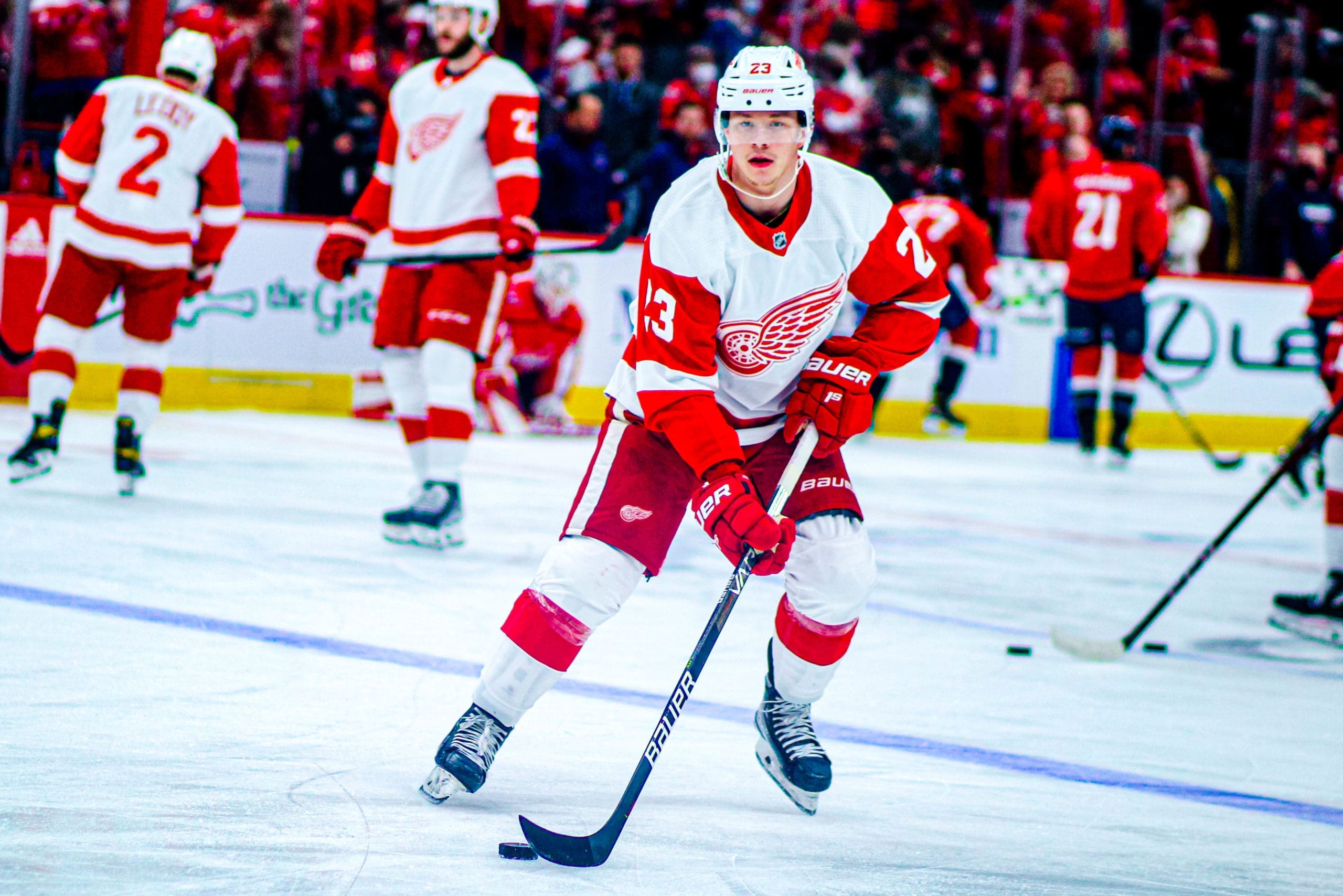 On paper, there are many similarities between the Detroit Red Wings and Anaheim Ducks. The Wings are getting plenty of mileage from rookie forward Lucas Raymond and defenseman Moritz Seider. Likewise, rookie defenseman Jamie Drysdale and forward Trevor Zegras are providing yeoman's service to the Anaheim cause.
"Certainly they've had some young guys step in and play excellent," Detroit coach Jeff Blashill said. "We've obviously had some guys step in and play good for us."
Both Detroit (Dylan Larkin) and Anaheim (Ryan Getzlaf) are getting strong leadership from their captains.
"I think Getzlaf's still a really good player," Blashill said.
Yet when you look at the NHL standings, the Wings and Ducks are polar opposites. While Anaheim is 23-16-8 and entrenched in second place in the Pacific Division, Detroit is fading fast. At 19-20-6, the Red Wings are ninth overall in the East. However, they're nine points behind the eighth-placed Boston Bruins and Boston is holding three games in hand.
As the Ducks arrive at Little Caesars Arena to face the Red Wings on Monday, here's five differences between the two teams.
Ducks Getting From Terry What Wings Hoped For From Zadina
Troy Terry leads Anaheim in goals (25) and points (41). The right-winger has taken a spectacular leap forward this season after successive campaigns of four and seven goals
"Terry's been outstanding," Blashill said. "The year he's putting up has been incredible."
The Wings were hoping for the same bump in productivity from right-winger Filip Zadina after seasons of eight and six goals from him. That hasn't been the case. He's scored five goals while enduring a goalless skid of 18 games.
Shattenkirk Doing What Leddy Isn't
The Wings acquired veteran defenseman Nick Leddy last summer with designs on him being a steadying influence on their defense. It was also thought that his puck transportation skills would provide cleaner zone entries and boost the club's power play.
It hasn't happened. Leddy has accounted for one goal and 12 points, just three on the power play. His points-per-game average is 0.28. He's also a team-worst minus-26.
Meanwhile, veteran Kevin Shattenkirk is delivering the goods for the Ducks. He's posted 7-19-26 totals. These include 12 power-play points.
Anaheim Special Teams Much Better Than Detroit
There's a long-held axiom in hockey circles that if teams desire to be elite, they need to rank in the top 10 in both special teams categories. Anaheim is doing just that. The Ducks are the NHL's ninth-best power play (25.0 percent) and are No. 7 on the penalty kill (83.3 percent).
SIGNUP BONUS
UP TO $250


BONUS MONEY
BET NOW
By contrast, the Red Wings continue to languish on the power play, situated 27th overall at 16.4 percent. They're not much better on the PK. Detroit sits 23rd at 77.0 percent.
Ducks Role Players Better Than Red Wings Bottom Six
Depth of scoring is proving to be an ongoing issue for Detroit. Zadina's five goals are the most any player has tallied among the team's bottom-six forwards.
Anaheim's bottom six have outscored their Detroit counterparts 35-23. Third-line center Isac Lundestrom and fourth-line center Sam Carrick have nine goals apiece. Left-winger Derek Grant has tallied seven times.
Red Wings Don't Have A Cam Fowler
Clearly, Seider is the best defenseman playing for Detroit this season. And while that bodes well for the future, the fact of the matter is that the underwhelming performance of the other members of the Red Wings' top two defense pairings is also playing a role in that development.
Leddy's struggles have already been detailed. Danny DeKeyser is slow afoot, has just three assists and is minus-9. He owns a .903 on-ice save percentage, lowest of any Red Wings blueliner. After showing so much promise last season when he led the club in scoring, Filip Hronek has regressed dramatically this season. He's minus-13 with a Corsi of 45.1 that is the worst among Detroit's top-four rearguards.
"Are there areas of FIl's game that he can get better at?," Blashill asked. "Sure. I think when Fil does a good job with the puck in terms of if there's plays to be made, he's making them, not overcomplicating the game. But yet, also having poise. There's a balance there.
"I don't want him to throw the puck away but I want him to make the play when it's there. When he does that, he's a really effective player."
By contrast, consider Anaheim's top four. Shattenkirk and Drysdale have already been discussed. Hampus Lindholm has five goals and a team-best plus-6 rating. Veteran Cam Fowler is showing six goals, 23 points and skates a team-leading 23:55 per game.
"I've always felt that Cam Fowler was one of the most underrated defensemen in the league," Blashill said.