Red Wings Recall Veleno, Promote Zadina To Top Line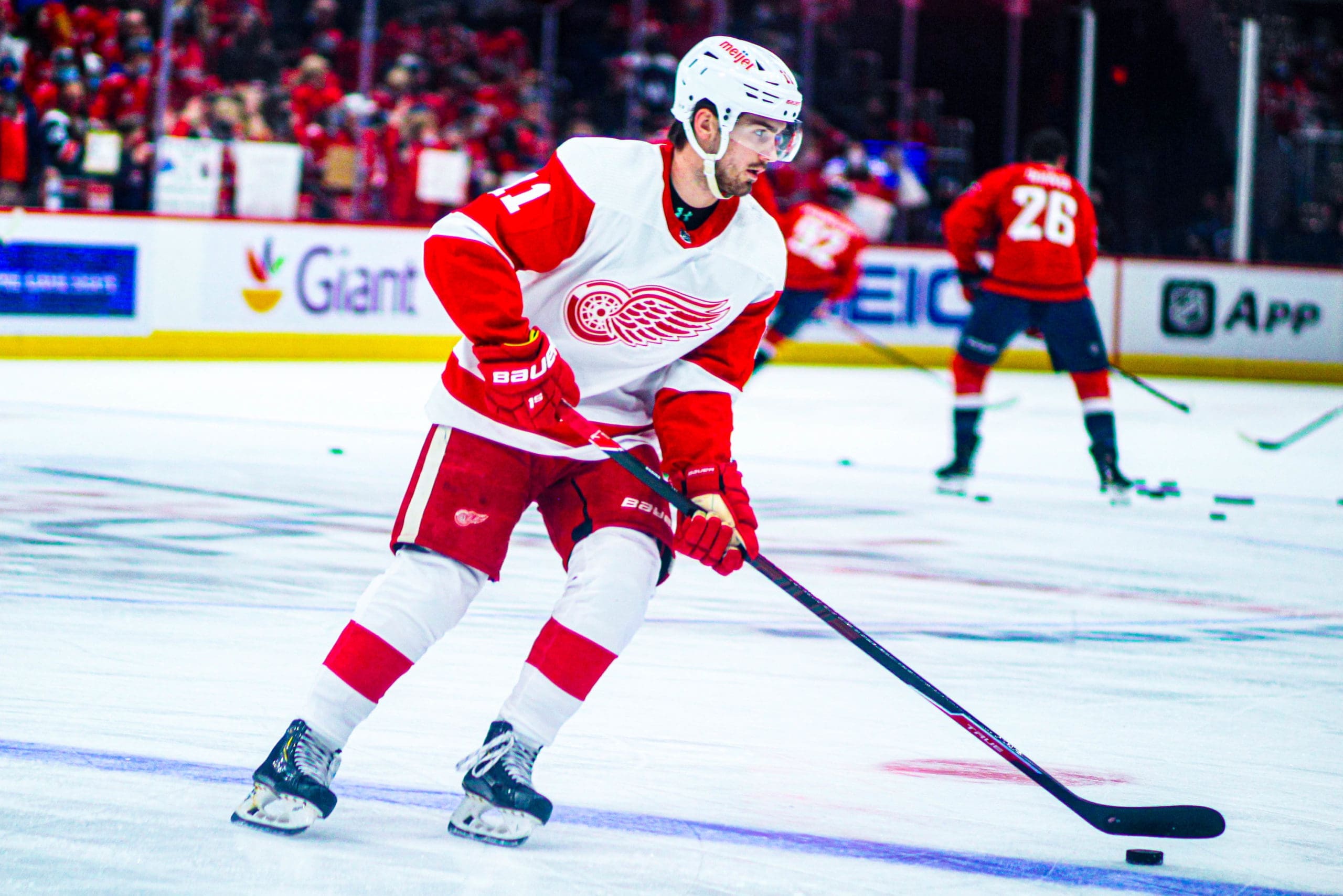 Both Filip Zadina and Joe Veleno earned promotions from the Detroit Red Wings on Tuesday.
Center Veleno was summoned from the AHL Grand Rapids Griffins. Meanwhile, right-winger Filip Zadina, perhaps sparked by his recent emergence from a long goalless drought, is being given a chance to display his wares on the club's top forward.
He'll skate alongside captain Dylan Larkin and NHL rookie scoring leader Lucas Raymond. Zadina's first chance comes when the Red Wings travel to Philadelphia to face the Flyers on Wednesday.
Filip Zadina gets the power-play goal and gives the #RedWings the lead again! #LGRW @zadina_filip pic.twitter.com/pq8BrczGB6

— Bally Sports Detroit (@BallySportsDET) January 29, 2022
Red Wings coach Jeff Blashill was insisting that Zadina's appearance on the top line during Tuesday's practice wasn't a guarantee he'd be there come Wednesday. At the same time, he was allowing there's a desire to get a look at how Detroit's top pick in the 2018 NHL entry draft would fare when placed with two of the club's best offensive talents.
Red Wings Giving Zadina An Opportunity
"There's multiple guys that have an opportunity to get a spot on Larkin's line and I wanted to see Filip Zadina today there," Blashill said. "We'll look at the practice tape and see if we want to stay with it or not. It might be something that we give different guys chances during games."
Vladislav Namestnikov was filling that top-line role since Tyler Bertuzzi was slotted down to the second line. Bertuzzi is enjoying success with Pius Sutter and Robby Fabbri. While that unit is clicking, Blashill noted that taking Namestnikov away from the third line of Michael Rasmussen and Adam Erne was negatively impacting that unit's productivity.
"I would say one thing I want to do is get Ras and Erne a line that can have an identity and I thought with Vladdy they had that," Blashill said. "They can be a line that can go out and play in a lot of different situations, which will help spread the minutes out a little bit."
Zadina is showing 1-2-3 totals over his past four games. His tally Jan. 28 at Pittsburgh ended an 18-game goalless drought.
"First, I just think confidence is a huge factor," Blashill said of Zadina's recent upturn in fortune. "He's hard on himself, so sometimes that eats away at your confidence. You don't probably look as good as you should because your confidence is down.
"In the last four games or so he's played a couple good games where I thought his confidence looked higher."
Zadina Needs To Go To The Net
If Zadina wants to maintain a place playing with Larkin and Raymond, a requirement will be adjusting his approach.
"In order to play on that line, he can't give up chances," Blashill said. "You've got to be good defensively and then you've got to help the offense in a lot of different ways, and one way is going to the net.
"I think that's an area he didn't grow up doing. A lot of guys have to learn how important it is to get to the net, in front of people's eyes. I don't know if (LA's) Viktor Arvidsson always did that but he does it. He's a small guy and he's really good at the net-front."
Summoning Veleno Back To The Show
The Wings sent Veleno on assignment to AHL Grand Rapids during the NHL All-Star Game and he responded positively. Veleno's production level was 2-2-4 totals over two games.
JOE VELENO SHORTHANDED GOAL!!! 4-2 GR #GoGRG #LGRW pic.twitter.com/dZUbU54LTO

— Griffins Nest (@GrGriffinsNest) February 6, 2022
"I felt pretty good out there," Veleno said of his time in GR. "It was definitely nice to play big minutes and play in all situations. It's always something nice for a player, getting rewarded with ice time."