Playoffs? You Kidding Me? Five Takeaways From Latest Red Wings Setback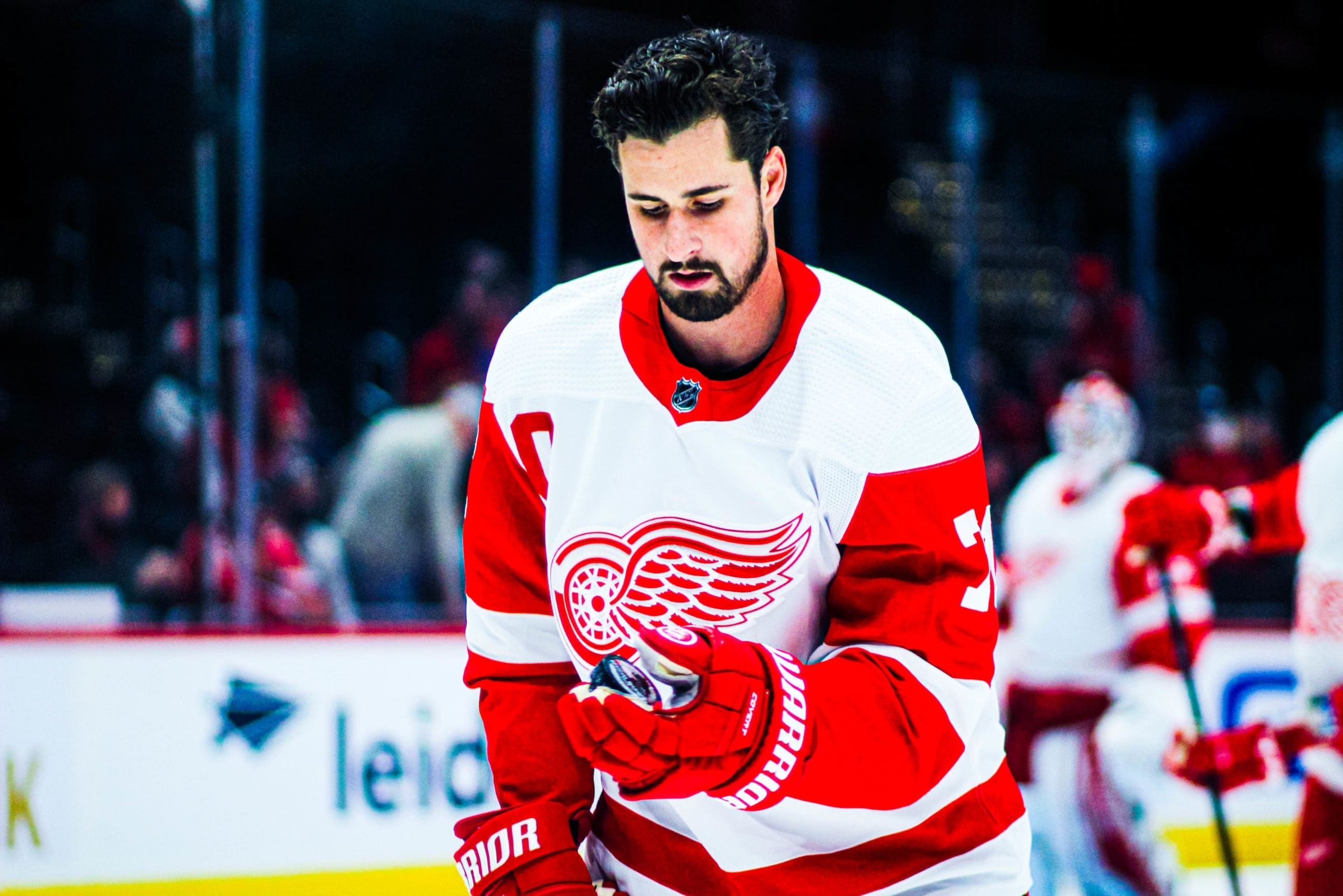 If Jim Mora were coaching the Detroit Red Wings right about now, we know what he'd have to say.
Playoffs? You kidding me?
With Detroit ninth in the East, pollyannas want to make a case that the club is in the midst of the playoff chase. This even though the Wings are seven points back of eighth-place Boston, with the Bruins holding four games in hand.
Mora's iconic post-game rant during his days as coach of the Indianapolis Colts came to mind as the Red Wings fished another seven pucks out of their net in Monday's 7-4 road loss to the Minnesota Wild.
It was the 17th time in 50 games during the NHL season that Detroit has surrendered five or more goals. That's 34% of all Red Wings games.
Playoff teams don't do that. You know what else playoff teams don't do? They don't squander a two-goal lead on the road like the Wings did Monday.
"I'm shaking my head right now," Red Wings captain Dylan Larkin said. "It's not a good feeling. We understand the position we're in."
It's time to end the facade and admit that while improving, this team is still a long way being prime time performers.
Five takeaways from the latest Detroit loss.
Defensive Lapses Continue To Haunt Red WIngs
Up 2-0 barely four minutes into the game, the Wings then surrendered the game's next five goals.
"To win on the road, you have to limit the opportunities of the other team," Red Wings coach Jeff Blashill said. "I've said that lots and I'll continue to say it until we can do a better job of it."
Monday was the fourth time the Wings surrendered seven goals in a game. They've allowed eight goals once, six goals twice and five goals on 10 occasions. Over those 17 games, they are 0-15-2.
"Part of that is killing penalties at critical moments, part of that is making sure you're better defensively," Blashill said.
Red Wngs Certainly Weren't Special
Speaking of the penalty kill, the Wings allowed three power-play goals to the Wild on four chances.
"Obviously our kill's gotta be better than that," Blashill said.
Just eight seconds after Larkin gave them a 1-0 lead, the Wings were afforded a power play. Instead of going for the jugular, Detroit gave up two breakaways and an odd-man rush to the shorthanded Wild.
"You're not gonna win on the road without a really good penalty kill and without a power play that can smell blood and is timely and is dangerous," Blashill said. "I thought we were super lackadaisical on that first power play and that can't happen."
Wild Night For Rookies
Detroit's crop of rookies have been the NHL's best this season. Lucas Raymond did score to extend his NHL rookie scoring lead to 39 points. On the night, though, Detroit's rookies took a back seat to the Wild rookles.
Matt Boldy scored his first NHL hat-trick. Kaapo Kahkonen made 30 saves for his 12th win of the season. Detroit's Alex Nedeljkovic leads all rookie netminders with 14 victories.
Larkin's Benn Really Good
Larkin got the better of a Benn family member. It wasn't Dallas captain Jamie Benn, the fellow whose cross-check ended Larkin's 2021 season but his brother, Minnesota defenseman Jordie Benn, who was the victim.
Blowing a tire as Larkin closed in on him with the puck, the Wings captain side stepped the tumbling Benn to beat Kahkonen and open the scoring.
SIGNUP BONUS
UP TO $250


BONUS MONEY
BET NOW
Counting a goal and an assist, Larkin is showing 9-10-19 totals through his past 12 games.
At the other end of the spectrum, Detroit forward Sam Gagner scored for the first time in 20 games.
Lindstrom Gets On The Board
In his 69th NHL game Detroit defenseman Gustav Lindstrom tallied his first career goal. He snapped a wrister through traffic that Kahkoen never saw.
"I think he can score," Blashill said of Lindstrom. I think if he keeps shooting it he can score.
👏👏👏 pic.twitter.com/h3RpbER6Ql

— Detroit Red Wings (@DetroitRedWings) February 15, 2022
"He's a guy who can add some of that. I don't think he's gonna add lots of offense but I think he can be a guy who'll play against big men and defend well."
Namestnikov Out For Red Wings
Third-line winger Vladislav Namestnikov was missing with a lower-body injury. He's listed as day-to-day.
Defenseman Nick Leddy returned to action. He missed three games due to an upper-body injury.