Lucas Raymond Boasts an Approach to Hockey Well Beyond His Years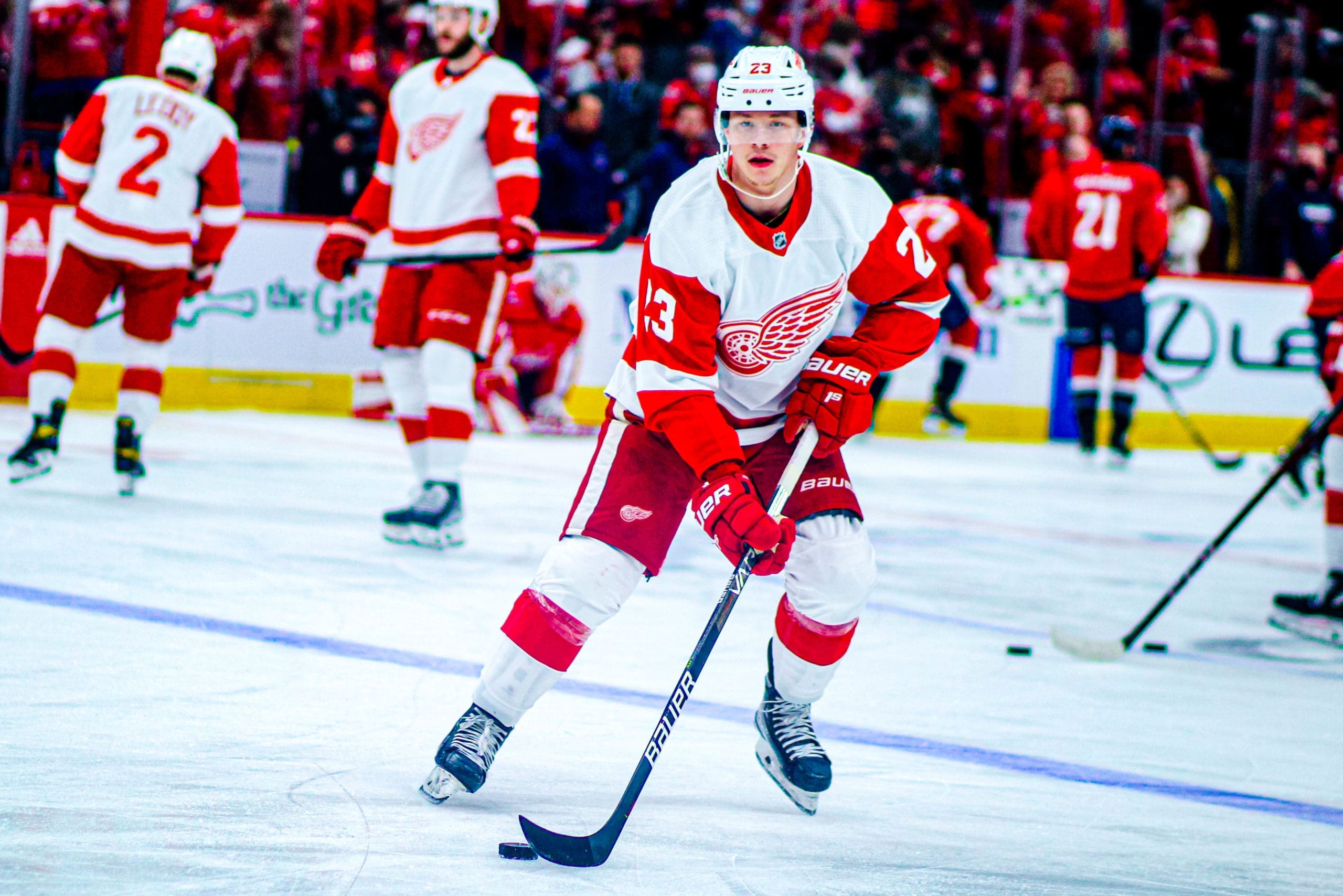 Lucas Raymond is 19. It's been 16 months since the Detroit Red Wings drafted him. He's four months into his NHL career. Yet coach Jeff Blashill is willing to pay him a compliment that is usually reserved for grizzled veterans.
"He's a good pro," Blashill said. "He knows he's got to take care of his body, knows he's got to get rest. He's worked hard at that, he's worked with our sports science staff to try to put himself in the best position possible. So I think he's done a pretty good job. He's a mentally tough young guy. I think that's a big part of it. And I think a huge part of it is learning how to play when you don't feel your best. You're going to have a ton of games where you don't."
Blashill is not wrong about Lucas Raymond being a good pro. He has to be. Raymond played his first NHL game on the Red Wings top line. Now he has played 50 NHL games, and he's still the highest-scoring rookie in the league. What has stood out about Raymond is his poise, patience with the puck, Spidey sense in the offensive zone and his toughness. He's like his fellow Swede Henrik Zetterberg in that he can take whatever you throw at him.
BetMGM Sportsbook
States: All States Where Legal
GET THE APP
SIGNUP BONUS
UP TO $1,000!


Up To $1000 Paid Back in Bonus Bets
BET NOW
Doesn't Cheat Defensively
"The one thing he does a pretty good job of is he's pretty responsible defensively and he doesn't cheat for offense on those nights when he's not having a huge impact offensively or doesn't have his legs," Blashill said. "He's still pretty good defensively. I think he's got to keep learning how to work through those feelings of not having his legs and make sure he continues to push his skating. When he's skating he's a really good player. When he's not skating as much, he's not quite as good. So that's just a learned process probably."
Lucas Raymond has 39 points to rank 58th among NHL scoring leaders, only two points short of being in the top 50.
"He's got that ability to control the pace of the game," linemate Dylan Larkin said. "It's hard to do. It takes a lot of hockey sense and creativity. He's got all the tools to do it. His skill has stuck out from Day One for me. He just makes the right play. How he controls the game, we've seen it at times. It's only going to get better."
Raymond plays the game like no teenager the Red Wings have known since Yzerman.
NHL Rookie Leaders update 📈

Lucas Raymond: 1st in points
Moritz Seider: 2nd in points, 1st in assists

These @DetroitRedWings kids are alright. #LGRW pic.twitter.com/naF0viLAPr

— Winged Wheel Podcast (@WingedWheelPod) February 15, 2022
"I think I learn new things all the time throughout the process," Raymond said. "How to manage your body, how to manage your mind and be fresh for every game. And if it's maybe not there every night, still find a way to compete and play hard. I guess it's just a process and you learn throughout the season."
Without question he benefits from playing with Larkin who is having a career season. But playing with Larkin also comes with hardship.
"(It's) extremely difficult because gets tough assignments every night being on Larks' line," Blashill said. "He's going to see the other team's checkers, best D, so he's had to really work for every amount of offense he's given us while playing good defensively. Overall he's done a good job with the rigors of the season up until now and hopefully he can finish strong as well."
Stays on the Scoresheet
Raymond's consistency this season has been remarkable. He has never gone more than two games without a point. That "Spidey sense" seems to allow him to always know where teammates and opponents are at all times. As he goes into Game 51 Thursday against the New York Rangers, he has two goals and two assists in his past three games.
"He doesn't have a high panic level," Blashill said. "So when he has the puck, he's not panicking as he feels the pressure. He's holding onto it. That's probably aided by the fact he's not afraid to take a hit, so if you're not afraid to get hit, you're not in a hurry to get rid of the puck. The guys that are a little afraid and don't want to get hit tend to throw the puck away quicker. He's a pretty cool customer under pressure that way. And I think hockey sense. He knows how to create ice for himself, create space for himself, even just by taking two steps to the middle of the ice to get them off the wall a little bit, and then taking that ice back. He does a pretty good job of that "
Lucas Raymond is officially listed at 5-foot-11, 185 pounds, but you would never describe him as a small player.
"The guys that rely just on skating or size to get to this level and they can't necessarily separate themselves that way," Blashill said. "They have a hard time at times. Somebody like him. (Raymond) really has done a good job of knowing how to create space for himself."
The Red Wings had high expectations for Raymond. And somehow it feels as if he has exceeded those expectations.