Five Takeaways: Red Wings Compete Hard, But a Loss is a Loss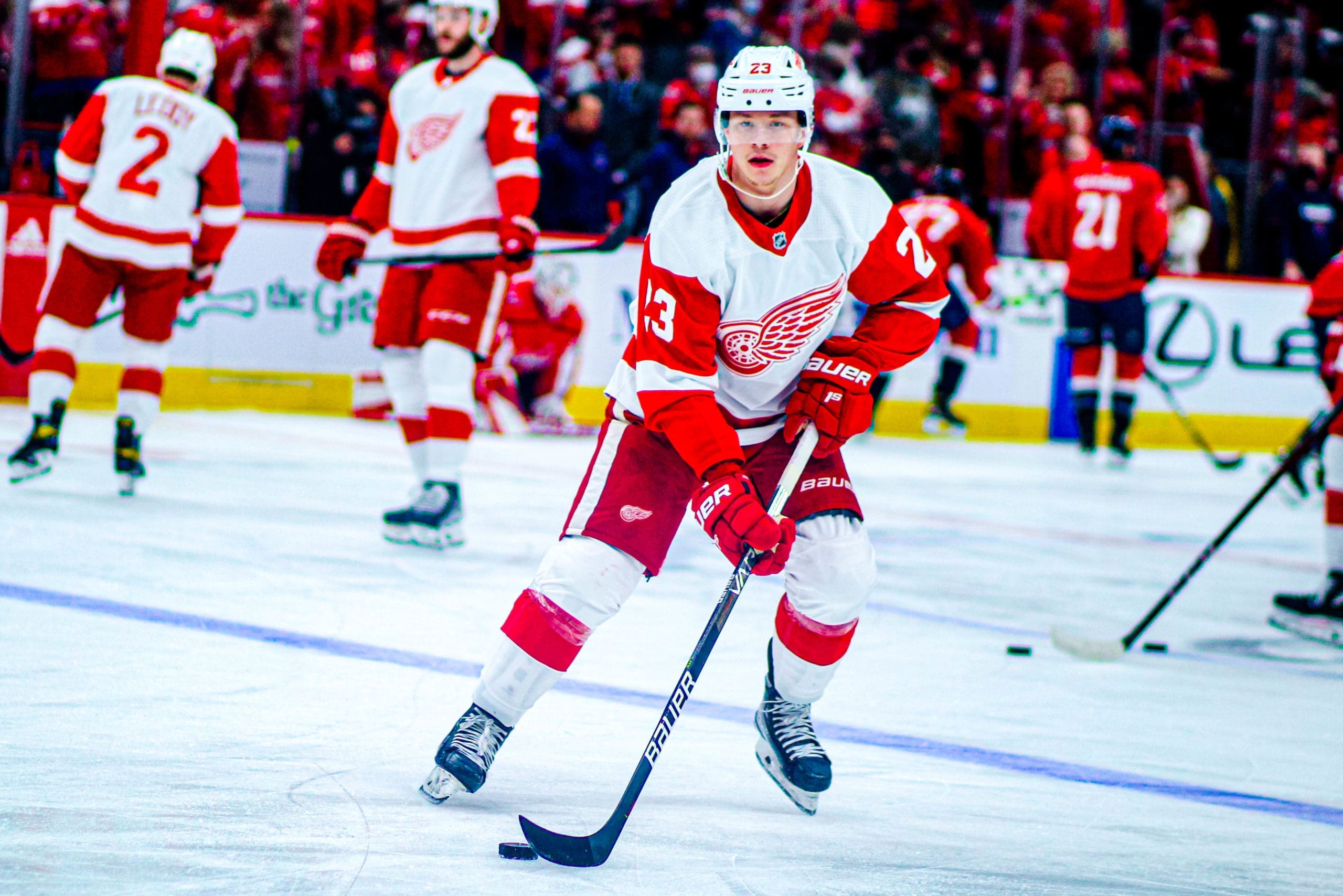 When a team is 17 points out of a playoff spot, does it matter how hard it competes in a loss? It does when the team is in the midst of a rebuild and the general manager Steve Yzerman is trying to build a Red Wings team that competes hard on a nightly basis
And it does when the team is coming off an embarrassing 9-2 loss against the Arizona Coyotes.
The Red Wings suffered another disheartening loss Thursday,  squandering a two-goal lead, to fall 6-5 to the Minnesota Wild in a shootout.  But getting a point out of this rough game mattered to captain Dylan Larkin.
"It was better," Larkin said. "The competitiveness, we won battles, we stuck in there, we stuck together. I really liked that Blash challenged us yesterday. We had a hard practice and the compete level was much better."
Pushing Back
Poor starts have doomed the Red Wings this season and they had another one against the Wild. They were down 1:37 into the game on a Matthew Boldy goal. But fought back to tie on a Jakub Vrana goal. Then Detroit goalie Alex Nedeljkovic came out of his net to play the puck and knocked it into his net for an own goal. The Red Wings tied the game 2:02 later on Lucas Raymond's goal.
"It was a point of emphasis for us to stick with it," Larkin said. "They get one early and we responded. We had a great first, came out with a one-goal lead. We did it on the power play, we did it five-on-five, so it was a good first and it was an emphasis for us the past couple of games. We really sank when the other team scored first and it was early, so I'm proud of our guys the way we stuck in there."
More Pushback
The Red Wings built a 4-2 lead on Vrana's second goal and Raymond's second goal. But they allowed the Wild to tie it up and then go ahead 5-4 on Kirill Kaprizov's goal at 12:13 of the third period.
But the Red Wings were more engaged against the Wild than they were against the Coyotes. An earlier multi-player fight may have helped keep the Red Wings fired up. Raymond ended up bloody after Minnesota defenseman Matt Dumba dragged him to the ice.
Detroit ended up tying the game by Jordan Oesterle's second goal of the season with 2:51 left in regulation.
Larkin said this about the melee: "I saw three or four guys, the puck's behind the net and the clock is winding down there, there was a big scrum by Ned, not sure what happened, looked like they're jabbing at him, the puck's not there. The normal procedure of pileups and guys grabbing each other's heads. It was unfortunate that one of our guys (Raymond) gets his head slammed to the ice and was bleeding from his head. Luckily he's OK and he had a couple stitches but it could have been worse. We got real lucky with that."
The Red Wings bounce back stopped at the end of the five-minute overtime period. The Wild scored on their first two shootout efforts against Nedeljkovic to win the contest.
No rust
Vrana has three goals in his first two games back after last fall's shoulder surgery. He adds more flash and danger to Detroit's offense. His shot release is impressive. It's hard not to wonder what difference he could have made this season.
"He can score," Blashill said. "He's got a great release and he can really score. There's parts of his game that need to continue to get better but he can really score. I thought he was better tonight than he was the other night just overall. Probably scoring helps give him confidence as well."
Vrana won a battle to score his first goal. Blashill said Vrana is at his best when he is winning stick battles.
"I'm not asking him to go out there and run people over but he needs to win stick battles and he showed that," VlAnd he's gotta be accountable defensively and I thought he was way better tonight at that than he was the other night. That's a good sign for sure and he's gotta keep going."
Nick of Time
Nick Leddy's offensive production has been down this season. He has not been the offensive contributor that he was with the New York Islanders. But he looked more offensively assertive against the Wild and contributed three assists.
He had a dandy assist on a Lucas Raymond goal.
"We've definitely talked about our D pushing us up the ice," Blashill said. "Some guys do it with their passing and he's a guy who can do it with his skating. I thought he did a great job of taking the initiative and driving us up the ice for us to play fast."
If he continues to play this way, the Red Wings will have an easier time moving him to a contender.
My oh my, Lucas Raymond — such a gorgeous goal. 🔥

📺: @ESPNPlus ➡️ https://t.co/CLqyKVUD2q pic.twitter.com/QPtvjIO1Kc

— NHL (@NHL) March 11, 2022
Fabbri Injured
Robby Fabbri, perhaps in the midst of his best NHL season, suffered a lower body injury in the second period against the Wild and didn't return. Detroit coach Jeff Blashill said he hopes to know more Friday about Fabbri's injury. Fabbri had scored in three consecutive games coming into this game. He has 17 goals on the seaso.