Fabbri, Bertuzzi Out; Red Wings Need Zadina, Veleno And Ramussen To Step Up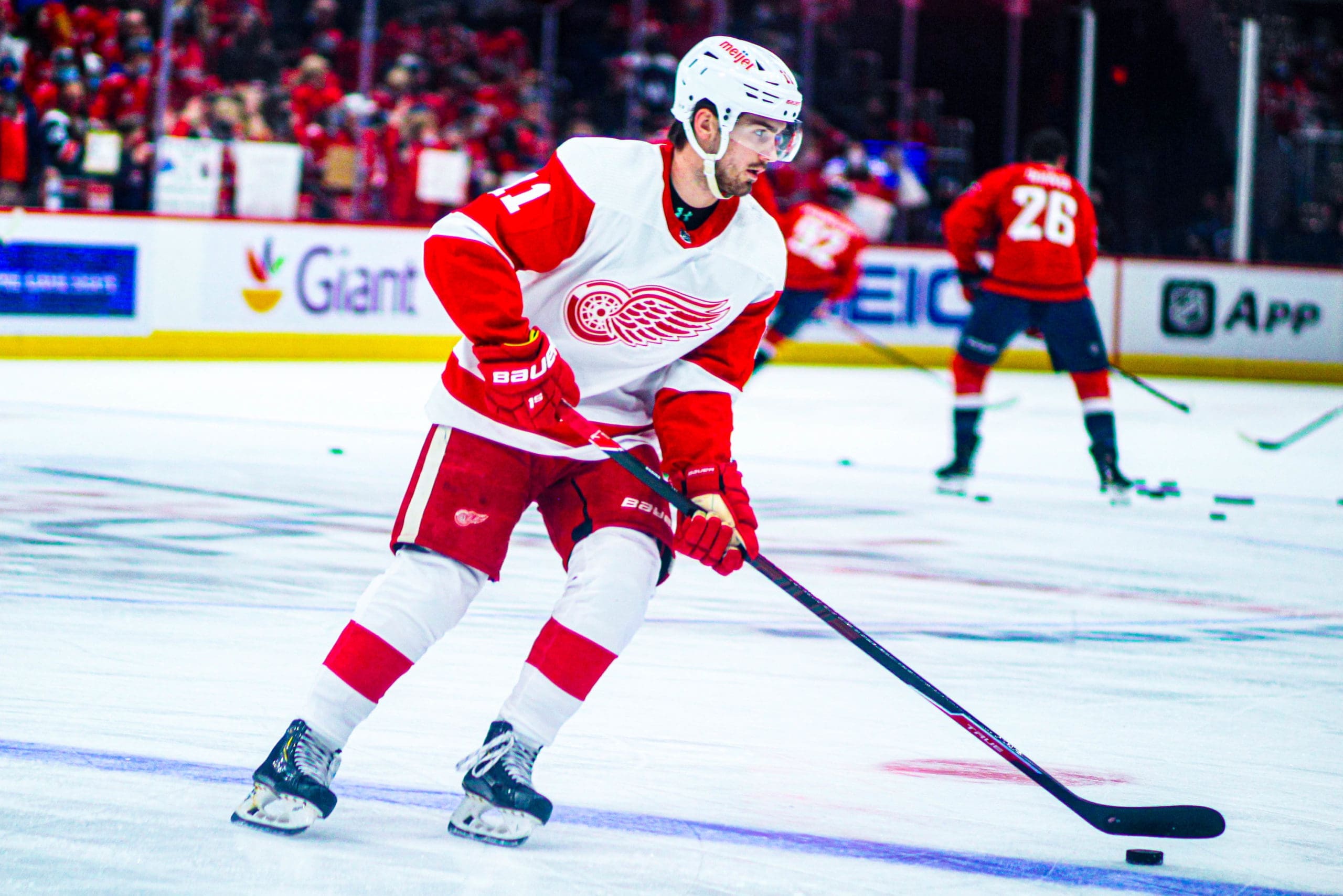 Some stepping up is on order for the Detroit Red Wings as they step out on the road for a four-game Western swing.
Fabbs is out. Bert's out. Who's gonna take their place?
"Is the answer Jesus?" as Ned Braden once famously proclaimed in Slap Shot.
No but some lesser beings wearing winged wheels are going to be asked to take flight.
Filip Zadina, here's your time. Michael Rasmussen, it's now or maybe never. Joe Veleno, come on down.
You are the next three contestants in 'Who can score a goal for the Red Wings?'
Red Wings Fabbri Done For Season
Fabbri left Thursday's 6-5 shootout loss to the Minnesota Wild with what was termed a lower-body injury. Upon further evaluation, the news is not good at all.
"We suspect Fabbs tore his ACL," Red Wings coach Jeff Blashill said. "We're consulting with another specialist to get a second opinion but the expectation is that he'll miss the remainder of the season."
Found the play where Robby Fabbri must've torn his ACL. Hard to tell exactly what happened, but it looks like his leg gets caught/stretched awkwardly as he battled in the corner.

You can see him start to hobble off at the end of the clip. #LGRW pic.twitter.com/i57POaOu47

— Ryan Hana (@RyanHanaWWP) March 11, 2022
Fabbri, 25, is fourth on the Wings with 17 goals this season. He signed a three-year contract extension with the team in December.
Previously during his time with the St. Louis Blues, Fabbri ended up missing 20 months of action after twice tearing the ACL in his left knee. This time, the suspected tear is to his right knee.
"I feel real bad for him," Blashill said.
Bertuzzi Sitting Out In Canada
Bertuzzi, second on the Detroit roster with 24 goals, must sit out the first three games of this road trip at Calgary, Edmonton and Vancouver. Unvaccinated for COVID-19, Bertuzzi is unable to play in Canada.
Bertuzzi will join up with the team for the final game of the trek at Seattle against the Kraken on March 19.
Plenty of Line Juggling For Red Wings
In Friday's Detroit practice, Dylan Larkin was working between Lucas Raymond and Vladislav Namestnikov on the top line. Veleno was in the middle of the second line between Sam Gagner and Jakub Vrana. Rasmussen centered the third line with Zadina and Adam Erne. Slumping Pius Suter has dropped down to the fourth line, working Friday between Givani Smith and Taro Hirose.
UPDATE: The Detroit #RedWings today recalled left wing Taro Hirose from the AHL's Grand Rapids Griffins and placed center Robby Fabbri on injured reserve.

Details: https://t.co/O9DZHpk8wp pic.twitter.com/TbSxHXKlSt

— Detroit Red Wings (@DetroitRedWings) March 11, 2022
Hirose was recalled from AHL Grand Rapids to fill Fabbri's spot on the 23-player roster. He shares the goal-scoring lead on the Griffins with 14 and is topping GR in assists (31) and points (45). In 43 prior games with the Red Wings, including one earlier this season, the former Michigan State Spartan is showing 3-13-16 totals.
"I don't know that (Hirose) will play (Saturday in Calgary)," Blashill said. "I haven't made any decisions on tomorrow's lineup."
Center Carter Rowney (lower-body injury) is eligible to be activated off IR in time for Saturday's game.
Opportunity Knocking
It's often said that one player's misfortune is another's chance to shine. The Wings are certainly hoping that will be the case with Zadina, Veleno and Rasmussen.
SIGNUP BONUS
UP TO $250


BONUS MONEY
BET NOW
"I would hang the extra offense more on guys who will get increased opportunities and probably even increased ice time, and that happened last night during the game," Blashill said. "I think Veleno played more than he normally has, Zadina played a lot of minutes. Those are two young players that we think can bring their offense.
"Z made a great play on the tying goal. Ras, all those guys are going to have to bring it to another level. I thought they did last night. I thought the Veleno line, with Vrana and Gagner, was real good, I thought the Ras line was real good. So I think that's going to be a critical part of us being able to absorb the loss, first of Fabbs for what looks like the remainder of the year, and Bert in the interim."