Timing Of Red Wings Call Up Of Witkowski Both Curious And Puzzling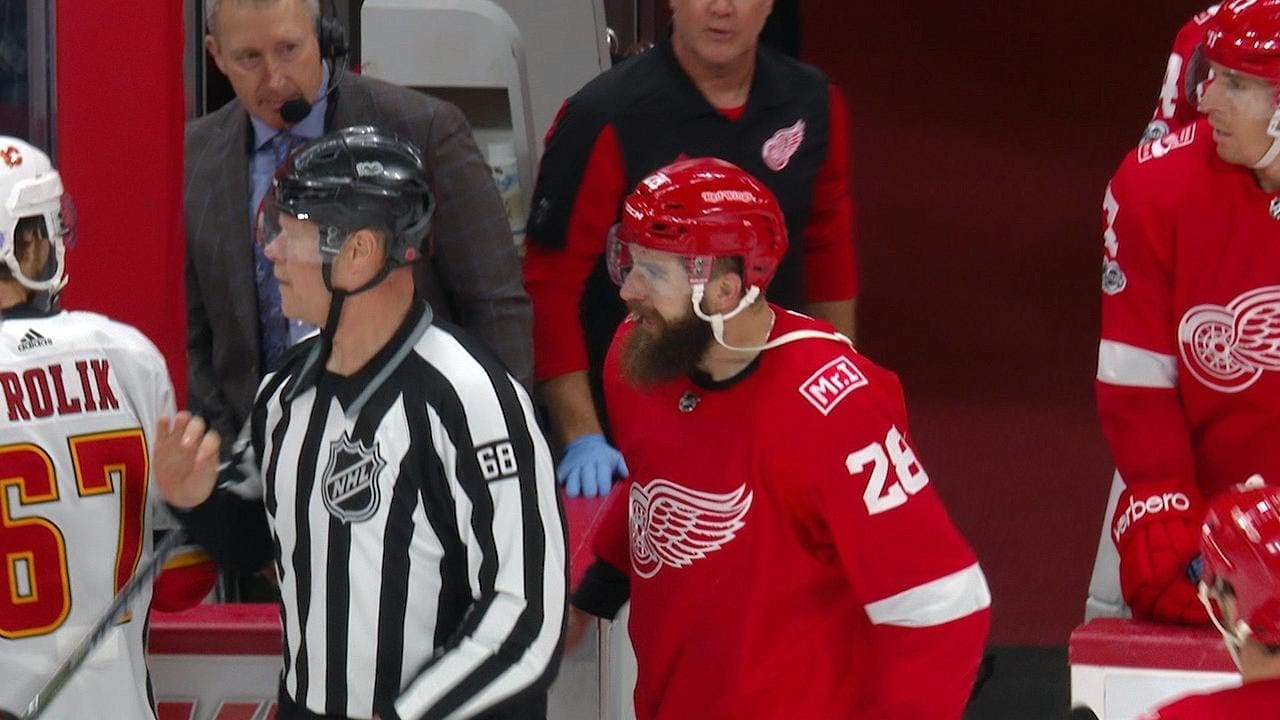 There was a time when Luke Wtikowski played for the Detroit Red Wings against the Calgary Flames, and let's just say things got a little heated.
The Wings recalled Witkowski, the 31-year-old veteran defenseman/forward/tough guy from the AHL Grand Rapids Griffins on Saturday. Detroit is beginning a three-game Western Canada road swing Saturday against the Flames at the Saddledome.
UPDATE: The Red Wings on Saturday recalled defenseman Luke Witkowski from the Griffins. #GoGRG

Details >> https://t.co/5sYkodcxMI pic.twitter.com/HBMJzubjKq

— Grand Rapids Griffins (@griffinshockey) March 12, 2022
Witkowski will be filling the roster spot made available by the absence of forward Tyler Bertuzzi. Unable to play in Canada because he hasn't been vaccinated for COVID-19, Bertuzzi is considered to under suspension and therefore does not count as part of the 23-player roster for these next three games. He'll return for Detroit's March 19 game in Seattle against the Kraken.
What Role Will Witkowski Be Filling?
This is the fourth time this season that the Wings have summoned Witkowski from GR to the big club. He's not seen any game action, however. There's no guarantee that he will this time, either.
He could simply be serving as an insurance policy against any injuries incurred while out west. Witkowski's versatility to be able to play on the blueline or the wing offer value as a reserve. His ability to throw fists might also come in handy.
BetMGM Sportsbook
States: All States Where Legal
GET THE APP
SIGNUP BONUS
UP TO $1,000!


Up To $1000 Paid Back in Bonus Bets
BET NOW
The Wings were certainly physically manhandled at times by the Minnesota Wild during Thursday's 6-5 shootout loss. Remembering back to when Calgary whitewashed Detroit 3-0 on Oct. 21 at Little Caesars Arena, the Flames also had their way physcially with the Wings. Calgary is among the hardest teams to play against in the NHL. Might the presence of Witkowski create a little more room on the ice for Red Wings players?
Ten Game Suspension
Rewinding the way back machine a bit further to Nov. 15, 2017, that was the night when Witkowski ran roughshod over the Flames. Late in an 8-2 Red Wings victory at LCA, Witkowski was issued a game misconduct following a fight with Calgary's Brett Kulak.
As he was leaving the ice to head down the runway toward the Detroit dressing room, Calgary forward Matthew Tkachuk jabbed Witkowski inthe back of the leg with the blade of his stick. Witkowski turned, charging back on the ice to confront Tkachuk.
Witkowski was suspended 10 games by the NHL for returning to the ice to participate in an altercation.