Video: Sticky Situation Involving Red Wings Larkin Just A Bit Of Fun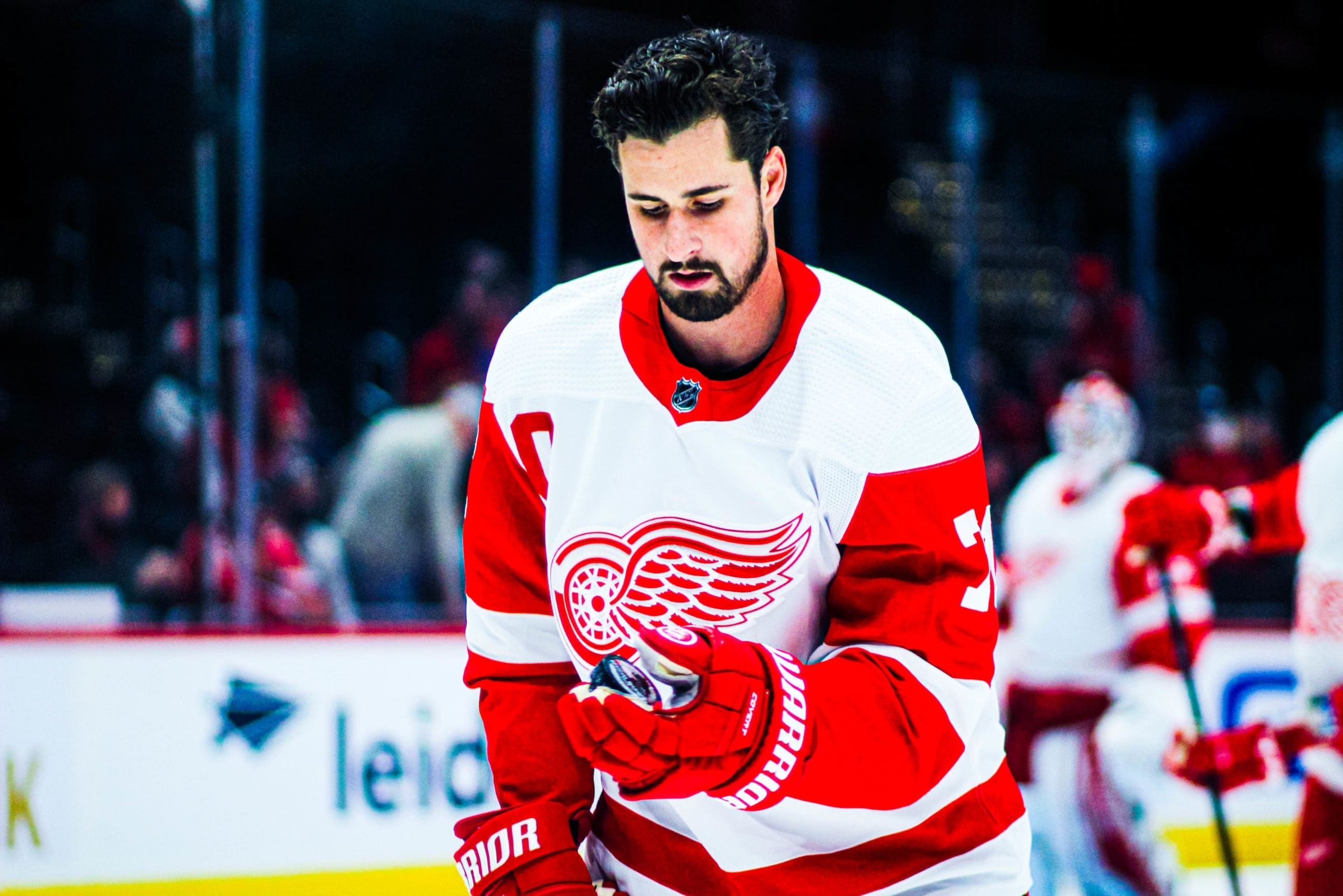 Yes, Detroit Red Wings captain Dylan Larkin swiped the stick of Calgary Flames forward Johnny Gaudreau following Saturday's 3-0 Detroit loss at Calgary. No, malice aforethought was not involved.
Tomfoolery most certainly was, however.
Video of Larkin "stealing" Gaudreau's twig was making the rounds of social media on Sunday. The episode took place as both teams lined up post game to shake the hand of veteran NHL referee and former Red Wings defenseman Dean Morton. He'd just worked his last game and was heading into retirement.
As is so often the case, the keyboard warriors were getting all worked up into a froth for no reason whatsoever. They were making much ado about nothing.
It Was All A Lark For Larkin And Gaudreau
This was nothing more than a bit of fun between two fast friends.
Look closely at the footage. It starts with Gaudreau giving Larkin a playful jab in the back side with his stick. Larkin is laughing as he tugs away at Gaudreau's stick. Gaudreau is also chuckling as he playfully seeks to prevent Larkin's thievery.
Dylan Larkin steals Gaudreau's stick at the end of the game😂 #Flames pic.twitter.com/AF1A1hsSgG

— 13 enthusiast ❼ (@19flames_) March 13, 2022
The fact of the matter is that the two players are thick as thieves. They've been frequent teammates.
Larkin and Gaudreau first teamed up on the North American team at the 2016 World Cup of Hockey. Gaudreau (11 points) and Larkin (10), finished 1-2 in scoring for the USA at the 2017 World Championship. They also played together at the 2018 and 2019 world tourneys.
There's a mutual admiration between the two talented Americans. Larkin is effusive in his praise of Gaudreau's talents.
BetMGM Sportsbook
States: All States Where Legal
GET THE APP
SIGNUP BONUS
UP TO $1,000!


Up To $1000 Paid Back in Bonus Bets
BET NOW
"He's so dynamic," Larkin said. "Really when you think you got him, you don't. He's so good at cutting back and controlling the puck and finding space.
"He's one guy that people are always like, 'Why don't you just hit him?' It's not that easy. He just spins off and makes space for himself and his linemates. He's got a pretty deceptive shot as well. He finds the little pocket that the goalie gives him and then usually hits it."
Both Gaudreau (78 points) and Larkin (57 points) lead their respective teams in scoring.