How might Yzerman's Past Trades Predict What Happens Next?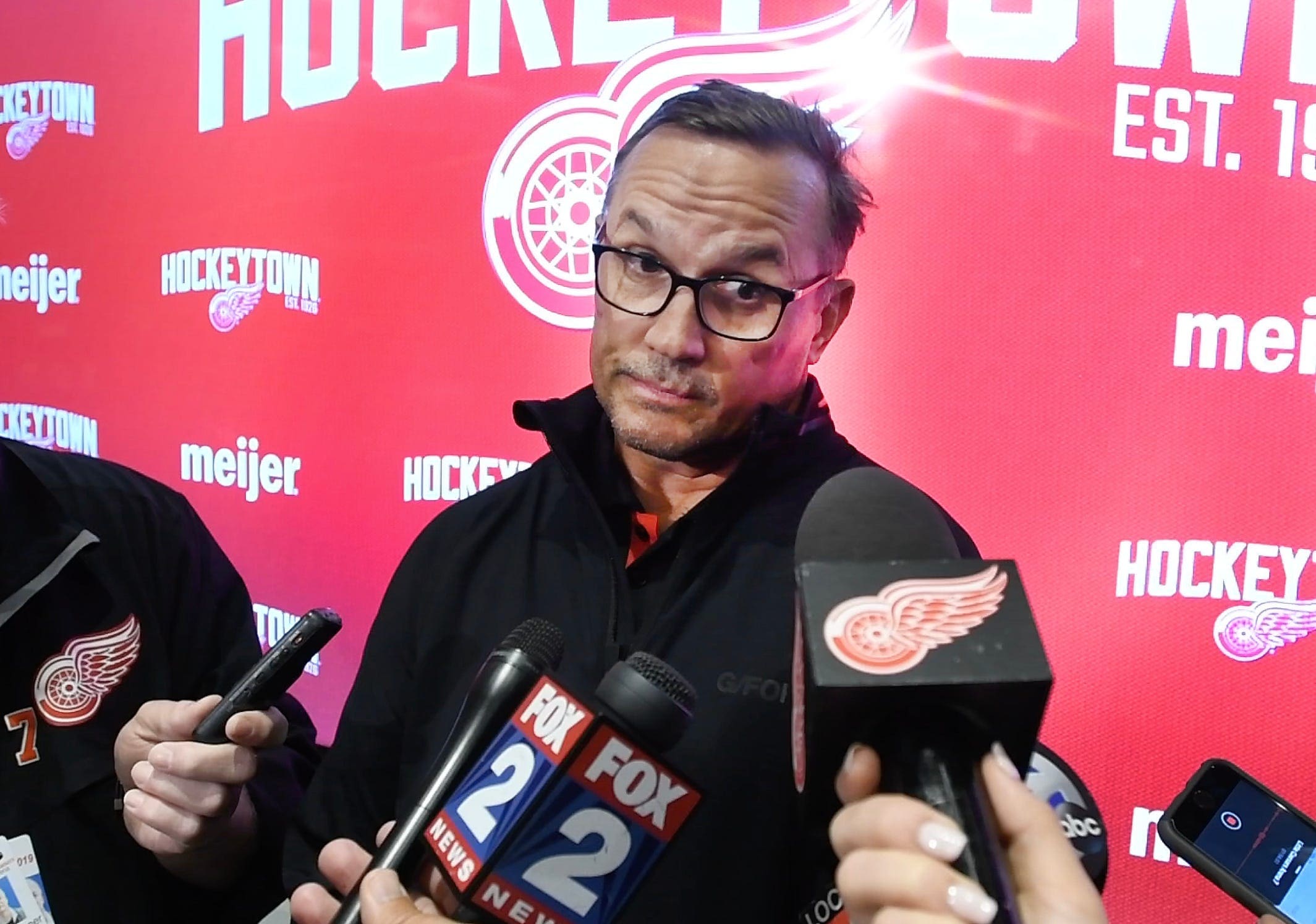 Trade speculation continues to ramp up as the Detroit Red Wings fall further out of the playoff race. With just three days before the trade deadline, Steve Yzerman will certainly be watched closely.
It's just no one knows what Yzerman will do.
The recent report from Frank Seravalli certainly had the attention of everyone–beyond just the Detroit fanbase. If Yzerman has the Red Wings open for business, things can heat up quickly.
In three seasons at the helm, Yzerman has made 13 deals. Here's a look at those 13, the contextual setting, and how it might provide clues for what he does next.
The "Let's See How this Works" Division of Trades
Acquired Adam Erne from Tampa Bay for a 2020 4th Round Pick
Acquired Alex Biega from Vancouver for David Pope
Traded for Brendan Perlini from Chicago for Alec Regula
Traded for Robby Fabbri from St. Louis for Jacob de la Rose
Acquired Eric Comrie from Arizona for Vili Saarijärvi
Acquired Kyle Wood from Carolina for Oliwer Kaski
Traded for Mitchell Stephens from Tampa Bay for a 2022 6th round pick
*Author Note: Moved the Stephens trade to this division due to the pick being a 6th round pick and not a third round pick as originally written. Many thanks to Bren who commented on this and my apologies for the error! 
Of the eight trades above that marked Yzerman's early efforts, the Fabbri one stands out as an absolute heist. Erne's looked better after last year's 11 goal output, but has been a disappointing follow up after re-signing for two years. The others were transactions to ice a team or see what would work. Perlini's deal was to see if they could unlock one of the more promising players of the 2014 draft.
It didn't happen. Biega was to help a beleaguered blue line–which is still an issue in year three. Comrie was lost on waivers when he was exposed. The massive win from the Fabbri trade keeps this division on the positive side of the ledger. There was hope that Kaski would build on his good season in Liiga but it never materialized. Wood wasn't re-signed.
Finally, there's Mitchell Stephens. He's had a limited look due to injury but Yzerman flipped a 2022 sixth round pick for him.
The "Thinking About the Future" Division of Trades
Acquired Kyle Brodziak and a conditional 4th round pick from Edmonton for Mike Green
Acquired Marc Staal and a 2021 2nd round pick from New York for future considerations
Traded for Nick Leddy from the New York Islanders for Richard Panik and a 2021 2nd round pick
Traded for Alex Nedeljkovic from Carolina for Jonathan Bernier and a 2021 3rd round pick
Green was peddled to former Detroit general manager Ken Holland, who only would get two games out of the veteran defenseman. Injury would rob Green of the playoffs and he would eventually retire. Staal was another bonus for Yzerman, providing a solid leader and also netting a second round pick, which would be used in the deal for Sebastian Cossa. Nedeljkovic was had for Bernier's expiring contract and a third round pick, quite the value for a netminder who has been steady. Though his numbers have fallen off a bit lately, a sturdier defense should address that issue.
As for Leddy, he was brought into pair with Moritz Seider (initially) and then was moved off that pairing. While his numbers haven't been what Detroit hoped for, he could still be moved to fetch a pick or a prospect prior to the deadline and his contract expiring. But as of the publishing of this story, Leddy was held out of Detroit's contest with Vancouver last night. It can be assumed a deal is nearing or is very close.
The "No one is Safe" Division of Trades
Acquired a 2020 and 2021 2nd round pick from Edmonton and Sam Gagner for Andreas Athanasiou and Ryan Kuffner
Acquired Jakub Vrana, Richard Panik a 2020 1st round pick, and 2021 2nd round pick for Anthony Mantha
This is what makes the Tyler Bertuzzi rumors so fascinating. After a season where the gritty 27-year-old forward has been one of the leaders on the scoresheet, there are wild cards that go with it. With only one year remaining on his deal, would he re-sign a reasonable offer? Would he even re-sign at all?
BetMGM Sportsbook
States: All States Where Legal
GET THE APP
SIGNUP BONUS
UP TO $1,000!


Up To $1000 Paid Back in Bonus Bets
BET NOW
Athanasiou and Mantha were both considered the future of the franchise. Athanasiou was dealt with an expiring contract while Mantha inked an extension prior to the season, but was shipped out regardless of that new four-year deal. Both brought in valuable draft picks, none less than a second, while Vrana was acquired through the Mantha deal. Sam Gagner also was sent along in the Athanasiou deal and has been re-signed twice since then.
Though the writing appeared on the wall for the Athanasiou deal, Mantha's trade still came as a surprise despite a benching and streaky play. Regardless, Yzerman appears to have come out ahead with both deals and showed he isn't shy making a splash.
Putting the Pieces Together to Predict 2022 Trades
Detroit is in a bit of a strange spot, far out of playoff contention but seemingly inching closer to a playoff spot within the next couple of years. But the operative word is inching. Though they hung around .500 for some time, the current six-game losing streak and hemorrhaging of goals against has led to more questions. Beyond even who's coaching the team, just how good is the talent on the roster, and will Yzerman acquire in the way of prospects, picks, or guys who can contribute now and during the eventual contender window?
That, and previous history, makes a Bertuzzi trade more believable now–whether at the deadline or later.
All that's for certain is that Yzerman will certainly be busy moving more pieces around.