Knuble Made NHL Debut For Red Wings In Fight Night At The Joe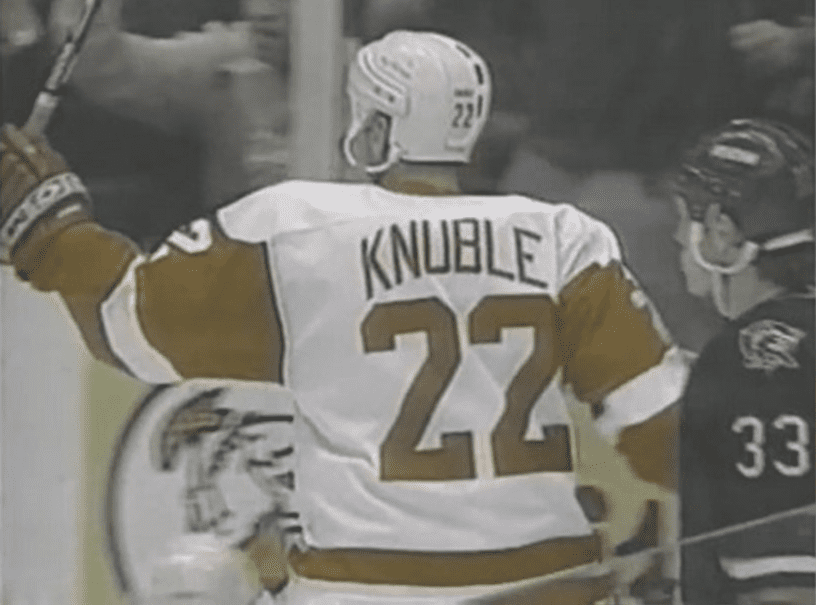 On paper, when Mike Knuble made his NHL debut with the Detroit Red Wings, it wasn't anything spectacular. He was pointless, didn't pick up any penalty minutes. He was even and managed two shots on goal.
Yet, whenever this time of year rolls around, everyone in hockey is reminiscing about Knuble's NHL bow. That's because his first NHL game came March 26, 1997 at Joe Louis Arena against the Colorado Avalanche. That was the game when Detroit's Darren McCarty exacted revenge on Claude Lemieux in what's become known as Fight Night At The Joe.
I was just saying that to my wife and she said "25 years" so it sneaks up on you a little bit. I can't believe I'm turning 50 this year.
"It's fun," Knuble said. "Every March 26, there's always some sort of chatter around.
"It's been a memorable game throughout my career and my first game. Certainly a lot of other people in the hockey world remember it fondly, so it's always kind of cool."
It was Colorado that ended Detroit's season in the 1996 playoffs. In the decisive sixth game of the Westerm Conference final, Lemieux drove Red Wings center Kris Draper head-first into the boards with a check from behind and Draper ended up suffering serious facial injuries.
There was a palpable buzz leading into that game, a sense that this would be the night when the Wings would get even with the Avs.
Knuble was oblivious to it all, for good reason.
"I was freaking out but I had my own reasons to be freaking out, I had my own issues going," Knuble recalled.
"I was pretty freaked out anyway because it was my first game and any player is half freaking out the whole game. Until the final buzzer goes, you're kind of pinching yourself the whole night."
Immediately, though, once the puck dropped and Knuble's butterflies began settling down, he could there was something unique going on that night.
Knuble Remembers A Dynamic Evening
"It was a very dynamic evening," Knuble said. "There was a buzz in the building, an electricity. Right out of the gate it came out pretty heavy.
"There were a lot of fights right away. Me coming from the American League, it looked like a typical Friday night. There were bunch of undercard fights going and then things went crazy.
"You had the right people on the ice at the time and everything sort of transpired. With everyone distracted, Darren sort of took his chance. To come back and win the game, too, was pretty amazing."
Detroit beat Colorado 6-5 on McCarty's overtime winner. The Wings would go on to win the Stanley Cup that spring for the first time since 1955.
BetMGM Sportsbook
States: All States Where Legal
GET THE APP
SIGNUP BONUS
UP TO $1,000!


Up To $1000 Paid Back in Bonus Bets
BET NOW
Knuble would go on to play another 1,067 NHL games, the first 62 of them with the Red Wings. Posting a pair of 30-goal seasons, he was also good for six other 20-goal campaigns as an NHLer.  Today, Knuble is working as an assistant coach with Detroit's farm club, the AHL Grand Rapids Griffins. He's helping to mold the future of the Red Wings and send those players on to the own NHL debut, just like the one he enjoyed 25 years ago today.
"The 20,000 people that were there, besides winning the Stanley Cup that was probably one of the most memorable games they'd seen at Joe Louis," Knuble said.