Former Red Wings Star Fetisov Facing Sanctions Over Ukraine War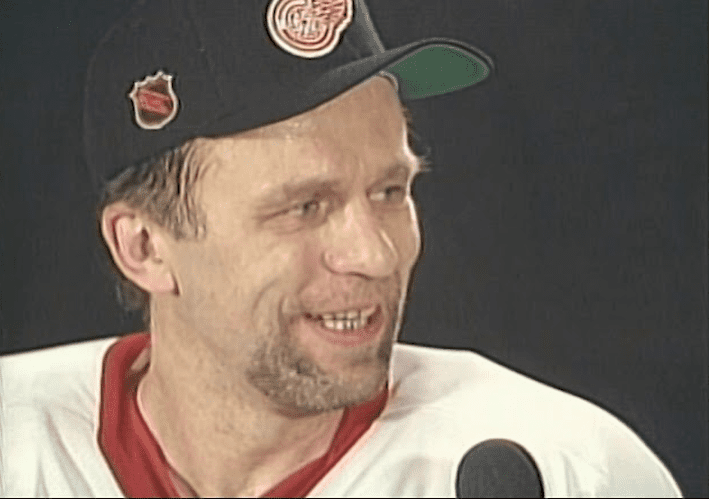 Viacheslav Fetisov was once welcomed with open arms. He was a beloved figure to Detroit Red Wings fans. Papa Bear was a hero in Hockeytown, a member of the famed Russian Five.
Today, he is a member of the Russian 328, meaning he is persona non grata in the USA.
Thursday saw the US Department of the Treasury's Office of Foreign Assets Control (OFAC) releasing a new list of Russians who were being sanctioned over the ongoing Russian invasion of Ukraine. On that list were 328 members of the Duma, the Russian parliament.
Reading though the alphabetical list of those being sanctioned by the USA, this entry appears:
FETISOV, Vyacheslav (Cyrillic: ФЕТИСОВ, Вячеслав), Russia; DOB 20 Apr 1958; nationality Russia; Gender Male; Member of the State Duma of the Federal Assembly of the Russian Federation (individual) [RUSSIA-EO14024].
Fetisov is a member of the Russian Duma.
US and European allies sanction 300 members of the Russian Duma, 40 Russian defense companies https://t.co/shncpLEqVd

— Daily Mail US (@DailyMail) March 24, 2022
"These members supported the Kremlin's violations of Ukraine's sovereignty and territorial integrity, including through treaties recognizing the self-proclaimed independence of Russian-proxy controlled areas of eastern Ukraine, the so-called Donetsk People's Republic (DNR) and Luhansk People's Republic (LNR)," US Secretary of State Antony J. Blinken said in a statement announcing the sanctions against the Duma members.
Fetisov Helped Free Soviet Stars
Back in the late 1980s, it was Fetisov and Russian teammate and future Red Wings teammate Igor Larionov who went to battle with the oppressive Soviet system. They literally were risking their future. Both were opting to challenge to the government of the Soviet Union. Their goal was to free the country's hockey stars to play in the NHL. As a result, both were removed from the national team. Consequently, they were basically placed under house arrest.
Fetisov was fighting 30 years ago for his right to play in the NHL and he challenged a totalitarian system. Just like others (Tretiak, who retired to protest when he was not let go) Fetisov has become part of the system. https://t.co/Ohn8gfRFmB

— Szymon Szemberg (@Sz1909_Szemberg) March 24, 2022
"Every time there was a knock at the door, you were afraid it was KGB, coming to take you away," Fetisov once explained.
Most importantly, they won their battle. Their risk ended up paving the way for Russian stars to suit up for NHL teams.
Helping the Wings win back-to-back Stanley Cups in 1996-97 and 1997-98, Fetisov gained legendary status. He was able to return from injuries suffered in a 1997 limousine crash. That same crash ended the career of his defense partner Vladimir Konstantinov.
What Do Sanctions Mean?
Firstly, the sanctions mean that Fetisov is inadmissable to the United States. Secondly, the sanctions also impose an asset freeze and dealings prohibition. There is a prohibition on any person in the USA and any American outside the USA to:
Deal in any property, wherever situated, held by or on behalf of the designated person
Enter into or facilitate, directly or indirectly, any transaction related to such a dealing
Provide any financial or other related services in respect of such a dealing
Make any goods, wherever situated, available to the designated person
Provide any financial or related service to, or for the benefit of the designated person
BetMGM Sportsbook
States: All States Where Legal
GET THE APP
SIGNUP BONUS
UP TO $1,000!


Up To $1000 Paid Back in Bonus Bets
BET NOW
Moreover, Fetisov is also facing similar sanctions from Canada, the United Kingdom and the European Union.