Red Wings Smith A Contender To Lead NHL In PIM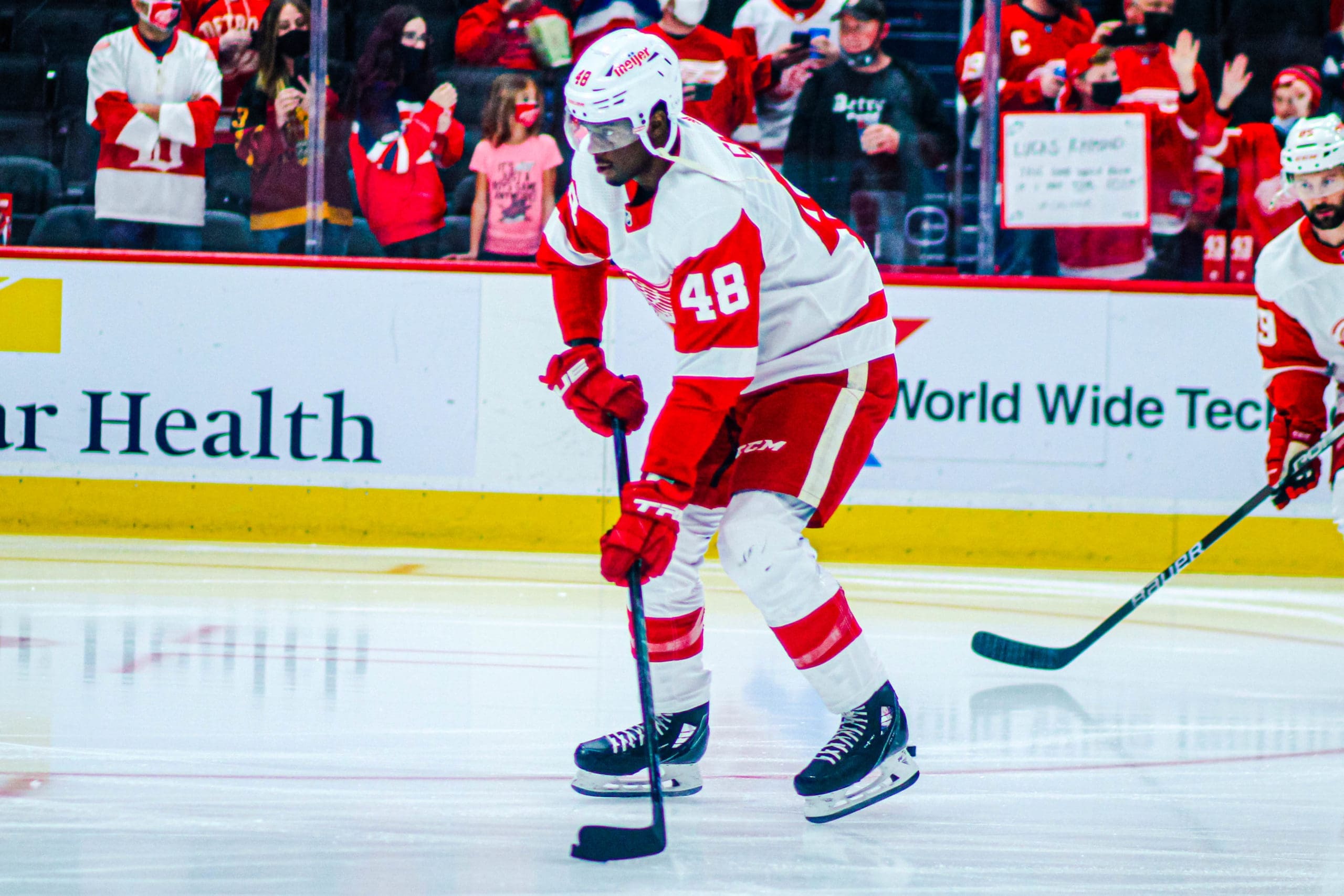 It's been a disappointing second half of the season for the Detroit Red Wings to say the least. But they do have a chance to boast a league leader at the end of the campaign.
Right winger Givani Smith is currently sitting second overall in the NHL with 108 penalty minutes. He's trailing only Nashville Predators defenseman Mark Borowiecki (114 PIM).
Anotha member of the 100 Pims Club! Welcome future Trasher Givani Smith to the #100PIMS Club! #FutureTrasher pic.twitter.com/203coXoqVS

— Danbury Trashers Fight Club (@DanburyTrasherz) March 23, 2022
Unfortunately, currently sidetracking Smith's pursuit of the title is an undisclosed injury that's keeping him out of the lineup. He's been missing the past two games. Smith is showing as day-to-day as the Wings are preparing to to clash with the Pittsburgh Penguins on Sunday (5 p.m. ET) at PPG Paints Arena.
Smith is the first Red Wings player to hit the century mark in PIM since Justin Abdelkader (120) in 2015-16.
Learning On The Job
In his first full NHL season, he was playing perhaps his best hockey of the season when Smith was injured.
"He's growing into his game," Red Wings teammate and sometimes Smith linemate Sam Gagner said. "He understands what's expected of him. I think he's starting to create a little offense and he's been good on the forecheck and hunting pucks back and making plays.
"He continues to get better and he works hard at it."
With his toughness and willingness to mix it up with opponents, the 6-foot-2, 215-pound Smith certainly brings a presence to the Detroit lineup that few others on the roster are capable of delivering.
SIGNUP BONUS
UP TO $250


BONUS MONEY
BET NOW
"Whatever your role is, you gotta find a way to make an impact," Gagner said. "Not every guy can be a 20-minute-a-night guy, play on special teams, play big minutes. You still have to find a way to have an impact.
"I think Smitty's done that. He gets under opponent's skins, he's been really good at getting in on the forecheck and creating havoc for teams trying to break the puck out. In his opportunities I really think he's done a great job."
Smith Enthusiastic About Dropping The Mitts
Another factor that Smith is providing to the Detroit lineup is a willingness to answer the bell and drop the gloves. It could be when he's of the opinon that teammates are being wrongfully victimized, or if he senses a need to be creating a momentum shift in a game.
He's been a willing combatant with several NHL heavyweights. Smith has fought Philadelphia's Zach MacEwen and Calgary's Milan Lucic twice each. He's also tangled with Borowiecki, as well as Minnesota's Nicolas Deslauriers and Jacob Middleton.
"He obviously brings a different element in the fact that he's such a good fighter," Gagner said. "He's done a great job there every time he's answered the bell."
With nine fights this season, Smith is on the brink of becoming the first Red Wings player with 10 fights in a season since Brad May in 2009-10. The last Red Wings player to fight 11 times in a single season was Darren McCarty in 1997-98.
Smith Could End 34-Year Red Wings Drought
You have to go back to the days of the Bruise Brothers to locate a Red Wings player leading the NHL in penalty minutes. It was Bob Probert who did so in 1987-88. collecting a club-record 398 PIM in the process. Two seasons earlier in 1985-86, Joe Kocur (377 PIM) also topped the league.
Bob probert pic.twitter.com/adOU8xvqWf

— Terry K (@terrykack23) March 20, 2022
Howie Young in 1962-63 (273 PIM), Jack Stewart in 1945-46 (73 PIM), Jimmy Orlando in 1942-43 (89 PIM) and 1940-41 (99 PIM) and Harvey Rockburn in 1930-31 (118 PIM) are other Detroit players to have finished an NHL season leading the league in penalty minutes.