The Red Wings' Seider and Veleno Ham It Up on MoJoe Show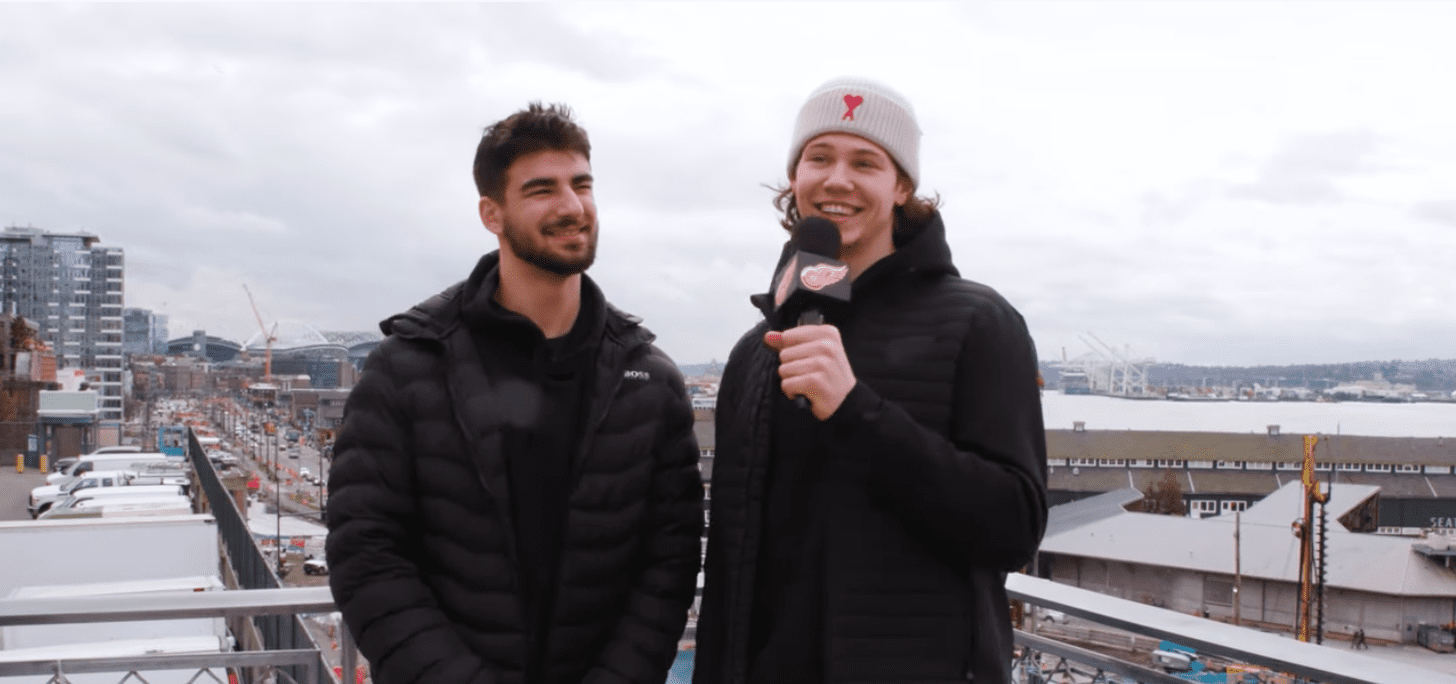 The latest installment of the Detroit Red Wings' MoJoe Show is its longest running episode yet. It's provided the fanbase a fun distraction in what has been a tough stretch on the ice. 
During the fifth installment of the show featuring Moritz Seider and Joe Veleno, both banter back and forth as they go over a variety of topics. Veleno's more reserved co-hosting duties is paired with the camera savvy Seider, who in the latest episode, takes viewers through Seattle. Fans witness a foul mouthed juice employee, Veleno hauling in a fish, and Seider tasting apple cider for the first time.
All of it adds up to a humorous journey that reveals the personalities of some of the Red Wings' youngest stars.
 Red Wings Social Media Smash Hit
With each new episode, the views continue to rise.  The first episode, which featured Seider dogging Veleno about his use of the prop mic, has 11,000+ views. The second episode (14,000+ views) featured Seider ribbing fellow rookie Lucas Raymond, which led to Raymond making a cameo on the third episode.  Raymond is bleeped when responding to a Seider query, which sets a mischievous tone for the episode, and has nearly 28,000 views.
Episode four revealed the following one liner that became an instant quotable for Detroit fans:
"Oh yeah..sun was shining–so was Moritz."
By the fifth episode, which dropped today, fans were thrilled to see a nine minute show.
one does not simply "watch" the mojoe show, you have to pause and dissect and post meme content and live tweet as you go through the JOURNEY of the mojoe show

— mol (@molfully) April 4, 2022
MoJoe Show Highlights the Young Stars' Personalities
Media interviews can be an art form in saying something without revealing anything. It's quite the opposite with the Seider and Veleno show. The forward and defenseman have a balanced chemistry that keeps fans wanting more.
Joe: big brother energy
Mo: little brother energy
😂 https://t.co/2ektaZXa1X

— Devin L. (@HockeyWithDevin) April 4, 2022
Add in appearances from Raymond, and it's gold for Detroit Red Wings fans. Sports go beyond the playing surface now more than ever. The MoJoe show provides fans access to two of Detroit's up and coming players.
For a fanbase needing a reprieve from a couple rough months of hockey, they've certainly found a tonic.