Red Wings Captain Dylan Larkin Wearing Heartbreak On His Sleeve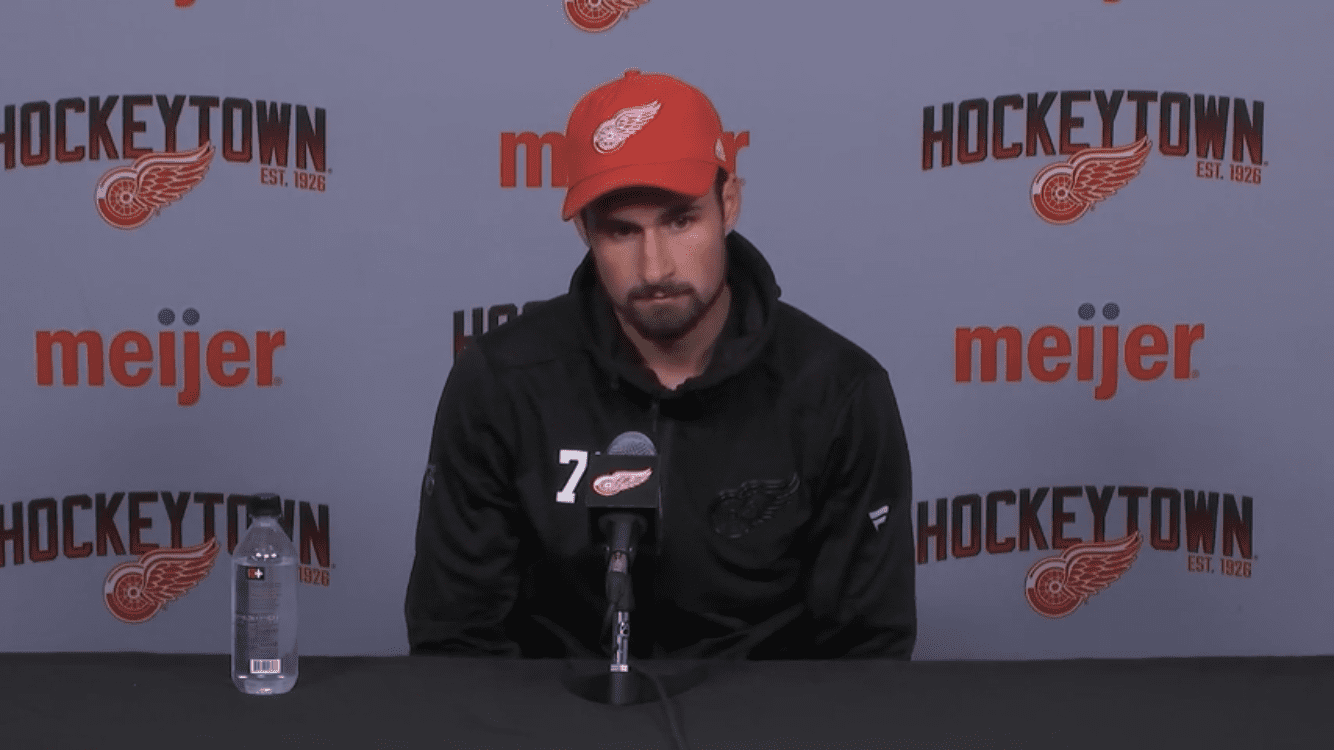 As the Detroit Red Wings fought an uphill battle on Sunday in Ottawa against the Senators, it was captain Dylan Larkin who led the charge.
Down 3-1 in the third period, Larkin was playing like a man possessed. Singlehandedly, he was trying to will his team back into the game. The Detroit captain pursued every puck, and battled for every inch of the ice as if his life depended upon it.
Sadly, though, with each passing game, it appears more like Larkin is leading the charge of the light brigade.
Dylan Larkin with his 29th on the season #ProBlue https://t.co/RPn0IGiCNi

— Michigan Hockey (@umichhockey) April 4, 2022
Following a 5-2 setback, Detroit's sixth successive loss, the pain was evident in Larkin's face. The heartbreak was apparent as he sought to find words to explain away another stunning setback.
"In years past it's gone the opposite way," Larkin said. "We've played well at the end. This year it's the opposite.
"We were right there and we haven't been playing well enough and things are not going our way, so it is frustrating. It really hurts."
Larkin Once Played Playoff Hockey For Red Wings
Detroit will miss the playoffs for a sixth straight season and Dylan Larkin is among the few Wings who've been on board for this entire ride down into the depths of the NHL. He and defenseman Danny DeKeyser are the only current Detroit players who've experienced playoff hockey while wearing a Red Wings jersey.
This season, for a time, they dared to dream that the experience might be arrivivng again. As recently as mid-February, the Wings were within seven points of a playoff spot. Today, that distance is 23 points.
"We were the closest we've been in a couple of years," Larkin said. "We were playing well, we played well at home and then we've just really fallen off. It is frustrating."
"I look around and I dont see alot of joy, I don't see anyone having fun." – Dylan Larkin

This is by far the most serious indictment leveled at everything and everyone near the team by a captain in quite some time, no?#LGRW

— Lars Thorsell (@LarsThorsell) April 3, 2022
It isn't merely that the Wings are losing. It's the manner in which they are being defeated that is most alarming. They are 3-12-3 over the past 18 games and have allowed 92 goals, or 5.11 per game.
Larkin is sounding the alarm about what he is witnessing inside the Detroit locker room.
"I don't see a lot of joy," Larkin said. "I don't see a lot of guys having fun and we need to change that and enjoy playing hockey."
Red Wings Need To Change Course
With 13 games to play, Larkin is urging his teammates to embrace all they have left to play for, even as another season of disappointment winds to a close.
"Everyone in our locker room is playing for something," Larkin said. "There's roles on the team next year, there's contracts. You're playing for a lot here.
"If that's not enough, you gotta play for the love of the game. Come out and enjoy it, enjoy the grind of it."
BetMGM Sportsbook
States: All States Where Legal
GET THE APP
SIGNUP BONUS
UP TO $1,000!


Up To $1000 Paid Back in Bonus Bets
BET NOW
The captain fears what the long-term effects could be if the Red Wings don't chart a more upbeat course the rest of the way.
"We've gotta get something here positive to end the season on," Larkin said. "We can't go into the summer like this and into next year. We gotta find a way to get something positive.
"We've gotta remember how close we were and what the games were like when we were 4-6-8 points out of the playoffs. We gotta find a way to string together wins and hopefully we get to take a learning lesson out of that."