Red Wings' Daniella Bruce Adds Voice to Women Making Their Mark in the NHL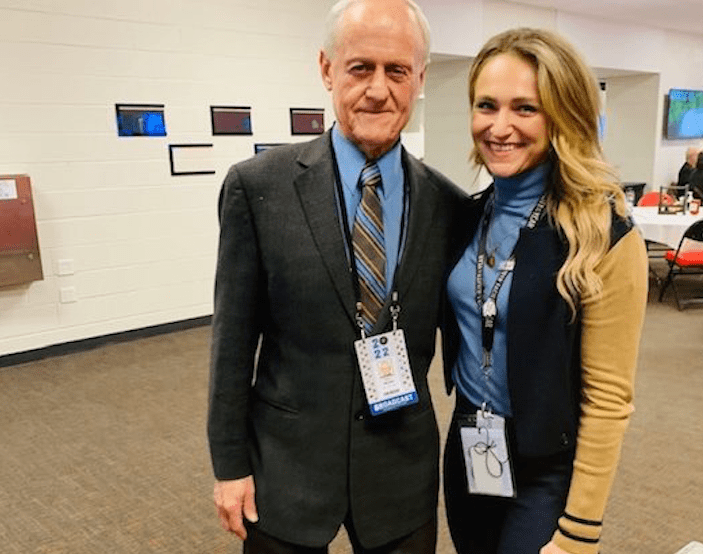 Long-time Detroit Red Wings radio analyst Paul Woods stayed within his sport to find the right comparison to explain what it was like for him to do NHL play-by-play earlier this week.
"I haven't done it that many times," Woods joked. "It is kind of like a defenseman trying to play goal. You may understand what you need to do, but it is not the same when you have to do it."
Woods was called into service because his broadcasting partner Ken Kal tested positive for COVID-19. Kal reported on Twitter that he had no symptoms. However, he will be away from the microphone until Saturday when the Red Wings are home against the Columbus Blue Jackets.
Kal's positive test changed Woods' job description for last Sunday's game against the Senators. It also put Detroit Red Wings digital reporter Daniella Bruce back in the radio booth to take Woods' usual role as analyst. She made Red Wings history in January when she became the first female to work in the Red Wings' radio booth. At that time, Woods was home because he tested positive for COVID-19.
Woods is an encyclopedia of hockey information. He's perfect for the analyst role. He's less comfortable as a play-by-play guy.
"It was just survival mode — that's all it was," Woods said about his NHL play-by-play stint. "It was like when I was playing. Sometimes you get in situations where it's not the best, but you have to figure it out."
For Bruce, it was another opportunity to expand her broadcasting experience. Although she was a broadcasting major at Michigan State, she didn't see didn't foresee ending up in the radio booth this season.
Rave Reviews
"I had no idea that I was going to be the back-up so to speak if someone was needed to jump in on radio," Bruce said.
Grand Rapids Griffins broadcaster Bob Kaser did play-by-play Tuesday for the game against the Bruins and will be behind the microphone for the away game tonight in Winnipeg. Woods is back in his familiar analyst role.
Although Bruce had no previous radio experience, she hosted the Red Wings' pregame and between-period shows that play on the Little Caesars Arena big screen during games. She has been in the booth with Kal when they streamed Red Wings' development camp. Also, she was the analyst when the Red Wings' streamed their games from the Traverse City prospect tournament.
"She is a professional," Woods said. "It worked well. it was back-and-forth and that is the key."
Bruce has a reputation for being obsessively well prepared for her work. She earned rave reviews on social media for her first radio stint. Social media is a tough crowd, but she got high marks for her work.
"That was probably the best thing and that was the part  I was most nervous about — the reaction of the Red Wings' fans," Bruce said. "They are passionate. They love this team. Love their announcers. Love their personalities on Bally. Ken Kal and Paul Woods — they're iconic. So I was worried that the fans weren't going to accept me into this role. But they did."
Opening Doors
Bruce's groundbreaking debut on Red Wings' broadcast comes at a time when more and more women are finding roles in the NHL. This season, Leah Hextall is working for ESPN as the first woman in a regular play-by-play role as part of an NHL national TV broadcast.  Bruce is clearly ready to step up.
"We are in the generation that is breaking that barrier for the women who are up and coming," Bruce said.
Bruce clearly appreciates her radio work this season because she believes in opening as many doors as possible.
"Even before I had the radio opportunity, if you had asked me exactly what I want to do, I don't know if I could have pinpointed it for you," Bruce said, "because I've learned that you are never going to be able to predict the opportunities that are going to come your way. The radio opportunity was the perfect example of that. I didn't expect it. But I'm sure glad I did it and that I opened that door for myself. I don't want to close any doors."