What's A Realistic Goal Expectation For Red Wings' Jakub Vrana?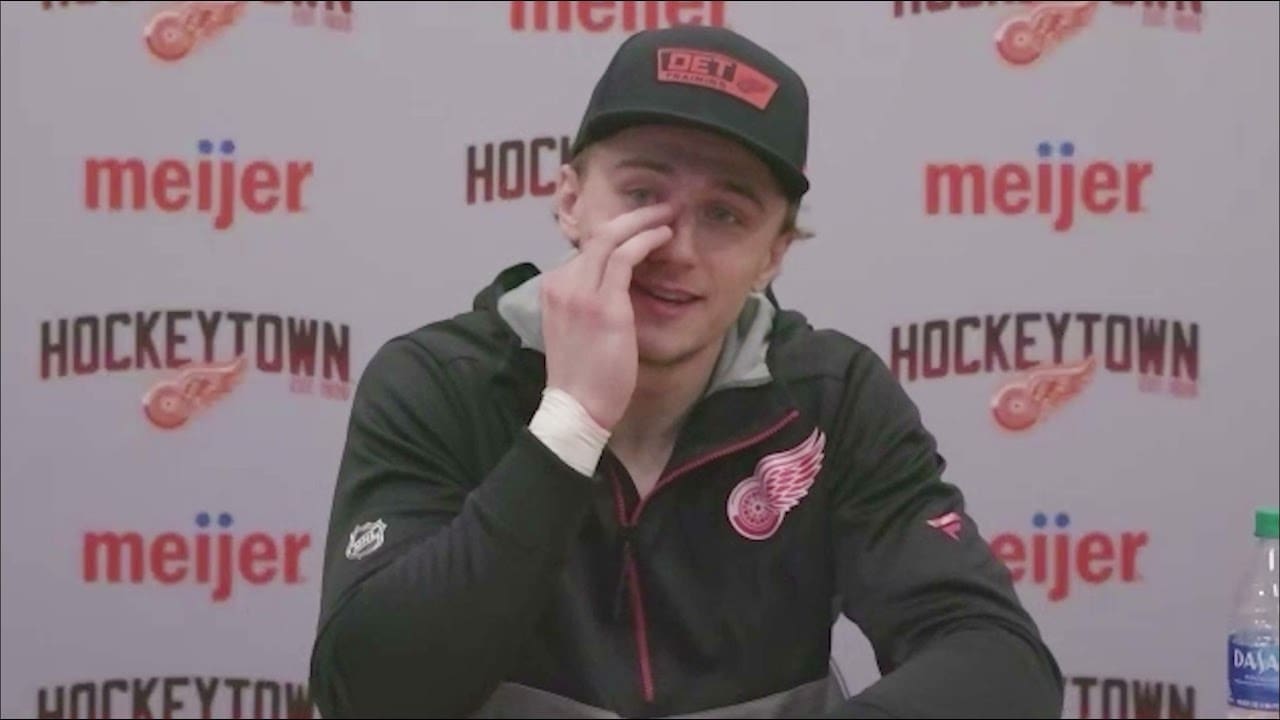 It's clearly evident that the Detroit Red Wings don't have another player who's anything like Jakub Vrana. When it comes to finishing school, Vrana's graduation was certainly among the top 1% in the class. You give him a chance on net and more often than not, it ends up in a goal.
"It just adds another dynamic to our team," Red Wings coach Jeff Blashill said. "It is impressive that it seems out of nowhere he gets his once chance and it's in the net.
"He's a sniper and that's what we need him to do."
Jakub Vrana was born to score goals. #LGRW | @DetroitRedWings pic.twitter.com/Ob2FyRPPHb

— Sportsnet (@Sportsnet) April 10, 2022
How often could Vrana snipe were he to go on a snipe hunt over a more prolonged length of time? Both of his Detroit campaigns so far are, as Blashill likes to say, small sample sizes.
Jakub Vrana ended up playing 11 games last season after arriving in an NHL trade deadline deal with the Washington Capitals. He finished the season scoring eight times over those 11 contests.
This season, it was shoulder surgery in training camp sending Vrana to the shelf until last month. So far, he's managed to play in 16 games with the Wings. His tally is 10 goals.
That's 18 goals over 27 games as a Red Wings player. Over an 82-game regular season, that would be translating into a 55-goal campaign. In franchise history, just three players – current GM Steve Yzerman (three times), Sergei Fedorov and John Ogrodnick – have scored 55 or more goals in a single season.
Is it realistic to think that Vrana could be joining this elite squad? Probably not.
Where should the expectations bar be situated in terms of Vrana's goal-scoring exploits? That's the more intriguing notion to ponder.
Jakub Vrana Is A Goal Scoring Machine
The term pure goal scorer isn't often thrown around in desciption of a player. In Vrana's case, the adjective affixes easily.
"He's a true sniper," Blashill said. "It's nice to have that."
Saturday's two-goal effort against the Columbus Blue Jackets was Vrana's third multi-goal game of the season. Last season against the Dallas Stars Vrana posted a four-goal performance. That was the most goals scored by a Detroit player in a single game since Johan Franzen netted five times against the Ottawa Senators on Feb. 2, 2011.
"We know from last year and from playing against him he can score," Red Wings captain Dylan Larkin said of Vrana. "He has a great release. Like with any goal-scorer when they get one, he starts feeling it and carrying the puck more and making plays.
"It would have been nice to have that goal-scoring this year. We were in a lot of close games and he seems to get his once chance and snipe and we need to keep that going into next year."
How High Can Red Wings' Jakub Vrana Go?
It seems patently ridiculous to suggest that Vrana could be a 50-goal scorer. Detroit hasn't seen a player ascend to those goal-producing heights since Sergei Fedorov and Ray Sheppard both did it during the 1993-94 season.
One concern could be that the majority of games he's played for the Wings have been late-season contests, often meaningless in the standings for both teams. Will he prodcue as efficiently when there's more at stake?
Vrana's best NHL season came with the Washington Capitals in 2019-20. He scored 25 goals over 69 games. That's a 30-goal season when a full 82-game slate in being factored into the equation.
Another element to consider is power-play opportunity. Vrana is the trigger man with Detroit's top man-advantage unit. That was never happening in Washington with Alex Ovechkin on the team.
In his 16 games this season, Vrana has accounted for a career-high four power-play goals. He was good for six PPG through his first 295 NHL games.
SIGNUP BONUS
UP TO $250


BONUS MONEY
BET NOW
It might also be a reach to anticipate 40 goals for Vrana. That hasn't happened in Detroit since Marian Hossa in 2008-09.
Still, pencilling in a healthy Vrana for 30-35 goals next season is a reasonable assessment at the low end of expectations for him.
The Wings definitely can't wait to see what Vrana can accomplish over a full campaign wearing the winged wheel.
"Yeah, I'm really excited," Blashill said. "I'm sure he's excited as well. I think time will tell on that.
"He's a guy that he's been traded and he wants to prove something for this team and this league. I'm excited for him and hope he can continue going for next year."