Five Takeways: Rats! Red Wings Go Down To Defeat In Record-Setting Fashion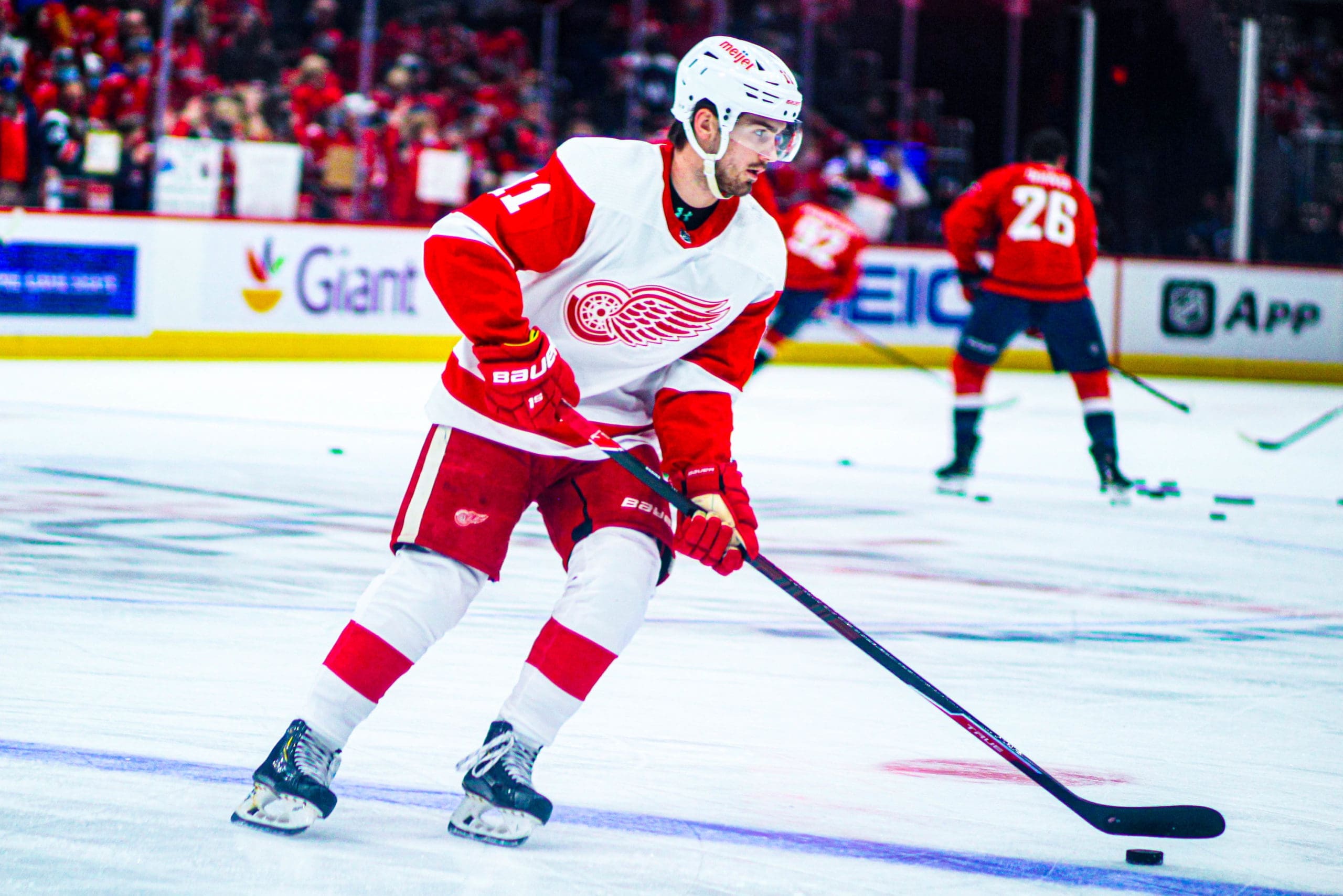 It was a record-setting night for the Florida Panthers but it was business as usual for the Detroit Red Wings.
And in the case of the Wings, when it's business as usual, business is not good.
A 5-2 loss to the Florida Panthers on Thursday was a franchise-record setting 12th win in a row for Florida, whose fans, following a long-held Panthers tradition, showered the ice with celebratory plastic rats.
For the Red Wings, it marked the 31st time this season they've surrendered five or more goals in a game. And coming on the heels of Tuesday's 4-3 win at Tampa, it also means that the most recent time this season the Wings won successive games played on the road remains Oct. 24-27.
It's the second loss to Florida in three games. The Panthers whipped the Wings 6-1 in Detroit on Sunday.
Five takeways from Detroit's fifth-last game of the 2021-22 NHL campaign.
Short-Staffed Red Wings Get Shorter
Already without captain Dylan Larkin (core surgery) and winger Robby Fabbri (knee surgery), the Wings lost another top-six forward when Filip Zadina was a late scratch with a non-COVID illness.
"We're undermanned right now, and obviously Zadina's illness doesn't help that," Wings coach Jeff Blashill said.
Detroit was left to suit up 11 forwards and seven defenseman. Defender Jordan Oesterle took some shifts as a forward.
Good Start Fizzles
Slow starts frequently have handicapped the Wings this season but that wasn't the case on Thursday. They opened the game strongly. Detroit outshot Florida 9-3 from the drop of the puck, grabbing a 1-0 lead on Sam Gagner's goal.
"We played well in the first period, did a good job of staying above them and making good plays with the puck, which allowed us to create chances," Gagner said. "I thought we got away from it a bit in the second and allowed them to kind of turn the tide."
Late Period Collapses Punish Red Wings
The last five minutes of play in each of the first and second periods were fatal to the Red Wings. After Noah Acciari scored to make it 1-1 midway through the opening frame, Aleksander Barkov and Mason Marchment scored 46 seconds apart in the final 1:07 of the first period.
Tyler Bertuzzi narrowed the margin to 3-2 in the second period but again, late in the frame Detroit faded. At one point, the Panthers rotated through three sets of forward units without the puck exiting the Red Wings zone. MacKenzie Weegar's goal at 15:09 increased Florida's lead to 4-2.
"They're different stylistically then some other teams we've played," Gagner said. "They seemingly can create offense out of nothing. Even when you feel like you are playing well against them, they find ways to create odd-man breaks. Their defense, they're as good as any at finding guys up ice open."
Oh Oskar, Oskar, Oskar
Even at 4-2 down entering the third period, the Wings weren't dead in the water until Detroit forward Oskar Sundqvist lost the plot. Early in the third period, Sundqvist delivered a baseball-swing slash across the hands of Florida defenseman Lucas Carlsson.
Sundqvist was assessed a slahing major and game misconduct. Sam Reinhart scored on the ensuing power play to make it 5-2.
Oskar Sundqvist is assessed a 5 minute major + game misconduct for this slash. #LGRW pic.twitter.com/6hsA46rRfw

— Ryan Hana (@RyanHanaWWP) April 22, 2022
Overall, Florida was 2-for-4 with the man advantage. Detroit was 0-for-2 Thursday and is 1-for-18 on the power play in recent games. The best chance during a Red Wings power play was a shorthanded breakaway by Panthers forward Jonathan Huberdeau.
"Special teams ultimately cost us," Gagner said. "Obviously taking the five-minute major doesn't help with creating momentum and trying to fight back in a game."
Seider Scare
Late in the second period, Red Wings star rookie defenseman Moritz Seider was struck in the head by Acciari. At the start of the third period, he briefly wasn't on the Detroit bench.
Hit to the head of #LGRW rookie sensation Moritz Seider. No call, because of course. pic.twitter.com/hjxnfzZbGd

— ross 🐙 (@HardAppleSeider) April 22, 2022
"I couldn't tell," Blashill said. "To be honest with you I saw it kind of late and I knew he was coming to the bench.
"I knew he had to be evaluated and ultimately, he was okay."