Five Takeaways: Bert Nets 30, Blashill Meeting with Yzerman Not Set Up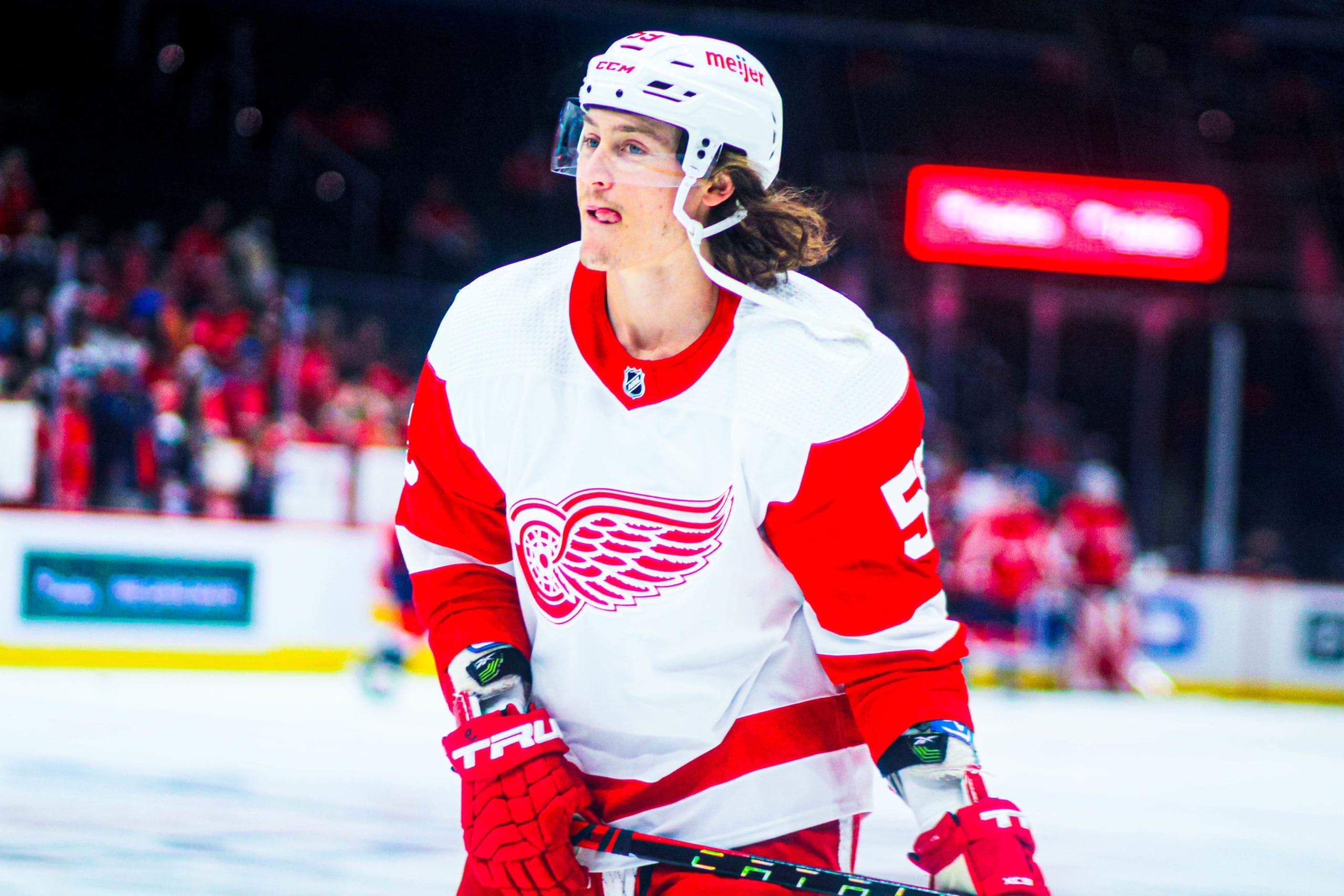 In a season marked by ups and downs, the Jeff Blashill-coached Detroit Red Wings found a way to end it on a positive note. Rookies Moritz Seider and Joe Veleno scored. Tyler Bertuzzi netted his 30th. And Swedish goalie Magnus Hellberg earned his first NHL win in five years in a 5-3 win against the New Jersey Devils.
The Red Wings finished with a 32-40-10 record.
The game could have been the last Red Wings game for coach Jeff Blashill. His future will be decided by general manager Steve Yzerman over the next few days. Veteran defenseman Danny DeKeyser, with an expiring contract, is not likely to be re-signed.
Blashill said he doesn't yet have any meeting set up with Yzerman.
"We've just been focused on the season," Blashill said. "Obviously, the game just ended. I'll plan on watching some girls lacrosse and boys hockey tomorrow."
Here are five takeaways:
Hellberg wants to be a Red Wing
Six-foot-six Hellberg looked solid, particularly for a player who hadn't played a game in more than two months. He's 31 and a Kontinental Hockey League veteran. He is a candidate to be a Red Wings goalie next season because Thomas Greiss is an unrestricted free agent. His previous NHL experience is one game for the Nashville Predators and three for the New York Rangers. His last NHL start was 2016-17.
"For not playing in a couple of months, I am happy how it went," Hellberg said.
Blashill said he doesn't have a strong sense of Hellberg's game because he was only with the team two weeks. The Red Wings didn't practice much in that time.
Hellberg was only signed for the final two weeks of this season, but he said after the game that he would like to play in Detroit.
We'll see what happens in the future," Hellberg said. "This is the league I want to be in for sure."
Promise of Tomorrow
Even though the Red Wings sputtered in the second half of the season, the play of Moritz Seider and Lucas Raymond gives the franchise much hope for a strong future. The two rookies both played all 82 games. They will provide a strong foundation for years to come.
"I don't think there's any doubt the arc of the organization is headed in the right direction," Blashill said. "So I
think there's positives to be looked at from the year."
Seider, who scored his seventh goal in the game, is the first Detroit rookie defenseman to register 50 points since Nicklas Lidstrom totaled 60 in 1991-92.
On a television interview,  Seider said when he was "spitballing" with family members about what kind of production he might have as a rookie he was hoping for 40 points.
Blashill's Endorsement
Now that the season is over, Blashill can be more effusive in his praise of Seider.
"Seider for me is hands down the Calder winner with the minutes that he's had, the defensive and
the offensive responsibilities he's had," Blashill said. "Raymond would be right there,
should be in my mind second."
Bertuzzi Overlooked
Bertuzzi scored his 30th goal into an empty net.  Earlier, he set-up Veleno for his goal. The strong play of Raymond and Seider overshadowed Bertuzzi's stellar season. He finished with 62 points in 68 games.
Teammates worked hard to set up Bertuzzi for the 30th. He's popular with them.
"Our guys are good people and they care about each other," Blashill said. "Our guys were very aware of where he was at. They were working hard to try to get him that one. Bert's had a heck of a year and it was
important to all of us on the bench to see if he can get that. It was great for him to be able to do it."
One of the big questions for the summer is whether GM Steve Yzerman can get Bertuzzi re-signed. He becomes an unrestricted free agent after next season. If the Red Wings can't re-sign him, they may consider dealing him because his value is through the roof.
Rasmussen Nets 15th
Michael Rasmussen was probably the team's most improved player in the second half of the season. He grew more comfortable with his role as a checking center.  Anyone who watched him earlier in the season would not have guessed he would finish with 15 goals.
BetMGM Sportsbook
States: All States Where Legal
GET THE APP
SIGNUP BONUS
UP TO $1,000!


Up To $1000 Paid Back in Bonus Bets
BET NOW
"He's got that big body and those big bodies take longer at times to develop," Blashill said. "I still think he can have a heck of a summer in the weight room and continue to build that power and strength that he's going to need to be real impactful.