Red Wings GM Yzerman Approaching Coaching Search With Clean Slate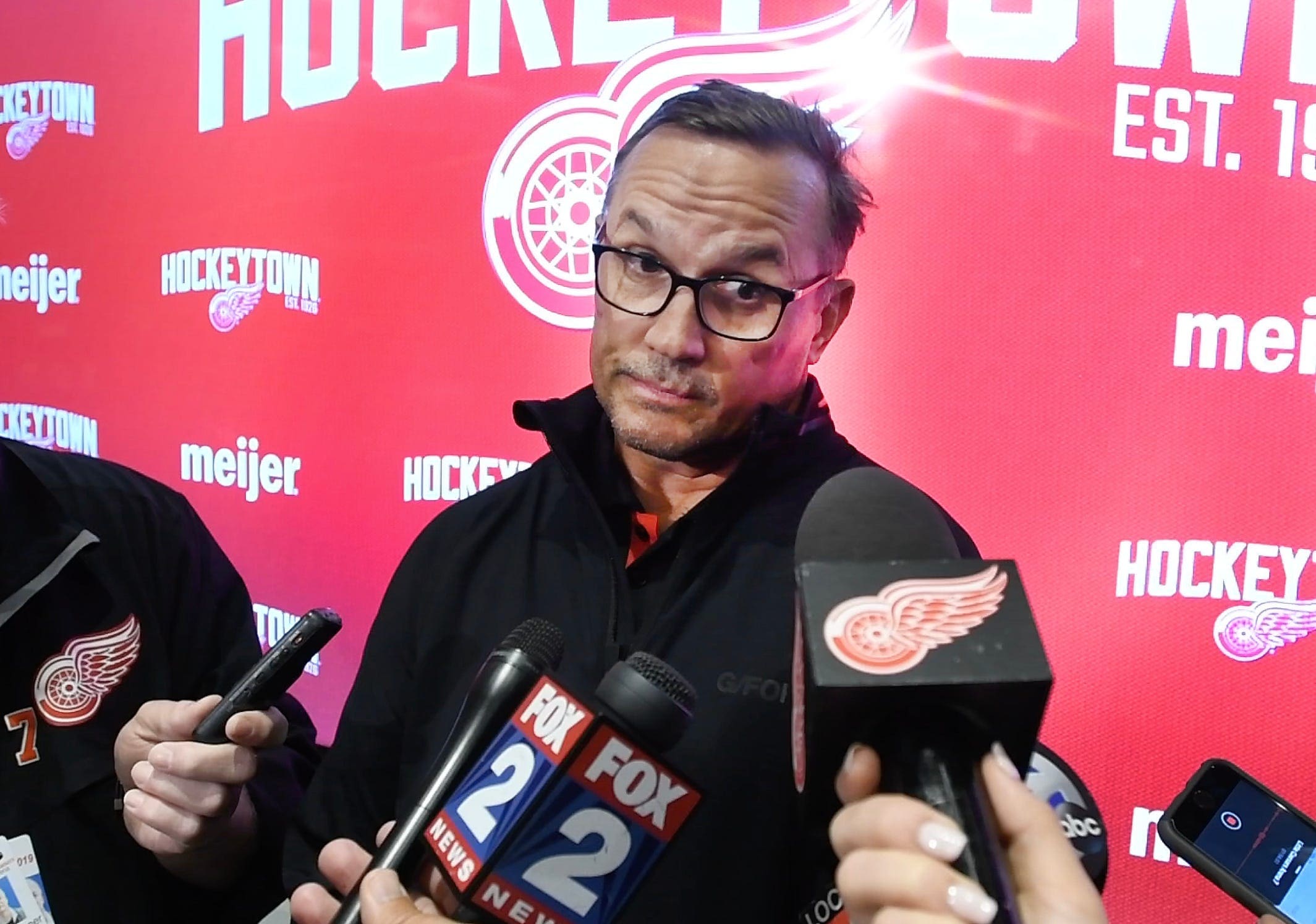 Steve Yzerman is taking an interesting approach as he begins his search for a new coach for the Detroit Red Wings.
The Detroit GM is starting with a clean sheet, a blank slate if you will as he seeks a replacement for Jeff Blashill. He's open to any and all possibilities and it would appear, suggestions from far and wide.
Got a coach in mind that you think is ideal for the Red Wings job? You might want to let Stevie Y in on the secret.
"I would say at this stage I don't have a list yet," Yzerman said. "I've got a few names kind of bouncing around him my head. It's been a busy couple of days here.
Steve Yzerman on what led to his decision to make a coaching change, and what he'll be looking for in the Red Wings' next head coach #LGRW pic.twitter.com/LwCFm1D9fT

— Barstool Detroit (@BSMotorCity) May 2, 2022
"At this stage I'm not going to restrict my search or my long list to any particular criteria as he has to be a head coach, he has to have NHL experience, this or that. I'm just gonna put a long list of names together from the people that I talk to, from articles that are written with names that come up that maybe any of you know that I'm not familiar with, or that I hadn't thought of.
"Write them all down and do my own background work on them all. And then put together a shorter list of guys that for various reasons I think I want to talk to. And we'll go from there. But I'm not going to today kind of restrict it to any particular tight, narrow set of requirements I guess, or experience or lack of experience for that matter."
Yzerman Seeking To Keep An Open Mind
In fact, both of Yzerman's coaching hires when he was GM of the Tampa Bay Lightning – Guy Boucher and Jon Cooper – were taking over their first NHL bench. Take a look at some of the top teams in the league today – the Florida Panthers (Andrew Brunette), Toronto Maple Leafs (Sheldon Keefe) and Colorado Avalanche (Jared Bednar) – are all first-time NHL head coaches.
In his current search, Yzerman is ruling out nothing. Taskmasters, defensive gurus, motivators, European, North American – all are going to be taken into consideration.
… @DetroitRedWings GM Steve Yzerman held court with the media Monday to talk about the coaching change and more. #LGRW pic.twitter.com/zMqlHGfJgD

— Bally Sports Detroit (@BallySportsDET) May 2, 2022
"My experience has been there's different personalities and different ways of coaches being successful," Yzerman said. "I intend to look at all different avenues or different leagues or different backgrounds of coaches.
"I'm not going to restrict myself to any particular resume in who I determine the next coach will be."
Stevie Y Admits To Personal Bias
Yzerman is also admitting that it could prove difficult to be following his gameplan. He'll need to be ignoring some of his own character traits. Anyone who knows Yzerman is aware that he surrounds himself with trusted lieutenants and runs a tight ship.
Yzerman willingly acknowledges the thought of bringing someone new and unknown into the close orbit of his inner circle makes him uneasy. It's challenging to his personal bias.
"I'm kind of revealing a little more than I really care to," Yzerman explained. "I find it difficult to really hire people that you don't really know, that you haven't worked with. That's a bit of a challenge. I'm going to have to overcome that."
BetMGM Sportsbook
States: All States Where Legal
GET THE APP
SIGNUP BONUS
UP TO $1,000!


Up To $1000 Paid Back in Bonus Bets
BET NOW
Should we be reading that as working to the advantage of Islanders assistant coach Lane Lambert, a Detroit teammate of Yzerman's, or Tampa Bay assistant Derek Lalonde, who was hired by Yzerman?
Not according to Yzerman.
"I learned don't limit yourself to a specific criteria," Yzerman said of his past coach hiring experiences. "Don't say he has to have head coaching experience. Don't say he has to have coached in the NHL.
"I really think you do your homework on the people. You look at their track record, where they've been as a player, where they've been as a coach. I'll try to talk to a lot of people that have worked with them. People that know me and kind of know my personality and the way I work and see if there's a potential for there to be a fit.
"I guess ultimately what I've learned is don't limit yourself to any specific requirements for the job."