Dylan Larkin: 'We're In Better Spot Today Than We Were A Couple of Years Ago'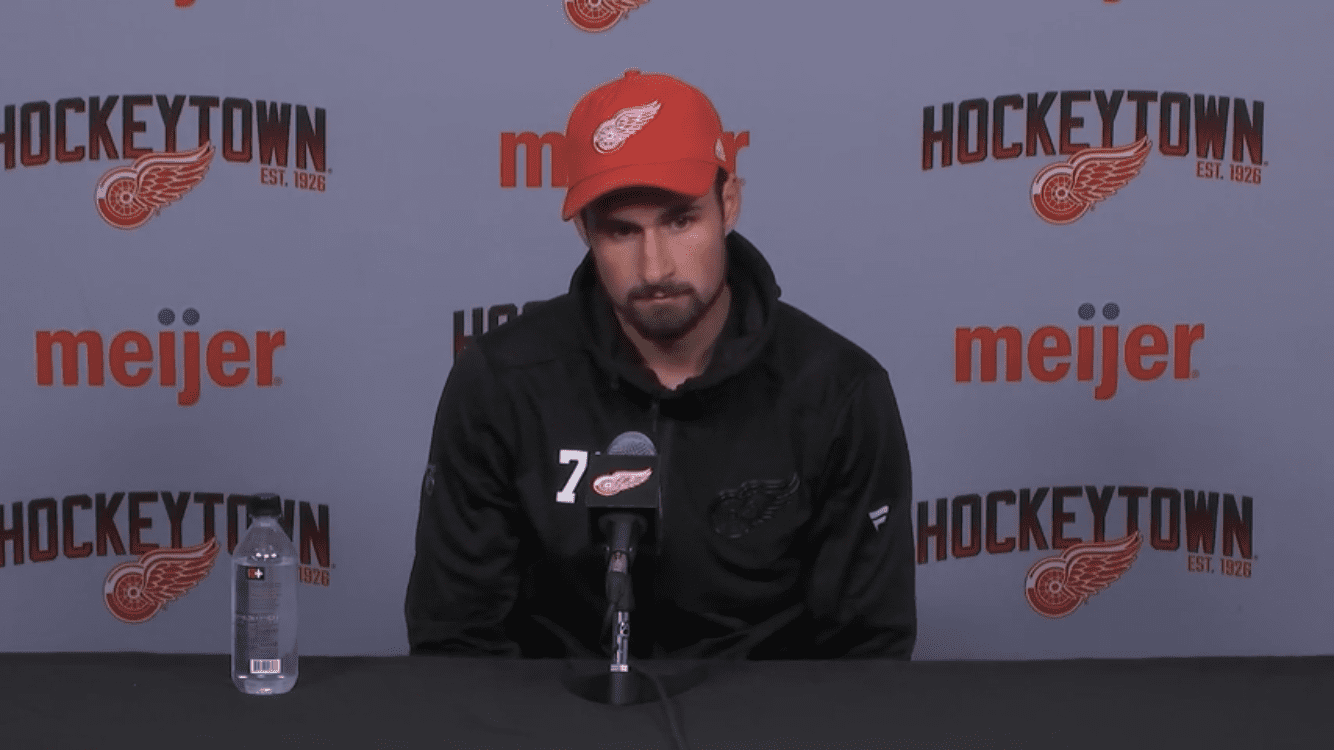 When Detroit Red Wings captain Dylan Larkin was watching the NHL playoffs on television Monday night he received confirmation of what he believed went wrong with his team last season.
More than once Larkin told the media in postgame interviews that he felt like the players' lack of communication was undermining the Red Wings defensive play.
"I talked about communication a lot, especially after some tough losses," Dylan Larkin said. "…Last night you watched the teams that are there, the 16 teams. I think about how they play. They work together so well by communicating and moving the puck. When they're going back for pucks on breakouts, they get out of the zone pretty quick. When they do get stuck in there, they're all talking and pointing and screaming at each other. I think as a young team we lacked in that. There wasn't a lot of talk out there. I think guys have to learn that the more you talk, the more it just helps everyone."
The Red Wings ranked 31st in goals-against average (3.78), and were last in penalty-killing (73.85) and high-danger scoring chances against (10.74 per game). The Red Wings gave up five or more goals in 31 of 82 games this season.
Did the Wings Plateau?
In general manager Steve Yzerman's end of the season press conference, he said he felt the Red Wings plateaued in the second half of the season.
"As a player I don't think we ever got that sense. We knew what we had done and we knew what our game was like when we were playing well," Larkin said. "We just continued to search for it and tried a lot of different things. Changed up structure, changed lines, a lot of things. It just didn't get back there. At times it did but it didn't consistently get back there. We didn't string enough wins together to keep us in the race and keep us competitive."
BetMGM Sportsbook
States: All States Where Legal
GET THE APP
SIGNUP BONUS
UP TO $1,000!


Up To $1000 Paid Back in Bonus Bets
BET NOW
Larkin was clear that the second half shortcomings were not from a lack of effort. Whatever was going on, it wasn't complacency. Coaches and players were trying to solve the problem.
"I listened to Steve's comments," Larkin said. "I really do believe and agree with what he said about Jeff and how he really kept this thing together. Like everyone knows he's a great person. Coming to the rink, we knew what we were gonna get. He was consistent with that. I thank him for his seven years."
Larkin said he heard about Coach Jeff Blashill's dismissal through his agent.
"It's a tough feeling," Larkin said. "You don't want to see anyone get fired or lose their job. It's another emotion to another disappointing end to the season. We don't want to continue to be in this spot too much longer. I think everyone heard what Steve had to say yesterday and they're all looking for different answers and it's a bit of a wake-up call for us again."
Larkin Recovering From Surgery
Dylan Larkin's season was cut short by core muscle surgery.  He said he's feeling "good" now. Larkin expects to be ready to play by training camp.
"The first week was really tough," he said. "I'm up moving now and upright. I've been doing treatment at the rink. I think I'll be on the ice hopefully when I'm scheduled to, when they give me the green light to go out there."
Dylan Larkin doesn't believe the Red Wings took a step backwards in their rebuild last season. Based on the play of rookies Moritz Seider and Lucas Raymond, there was some progress.
"I think reflecting on the season we're in a better spot today than we were a couple years ago," Larkin said. "You draft players and for the last number of years we've been acquiring a lot of draft picks. It gets frustrating when you don't see that. You lose NHL players and you don't get anything in return. And now to finally see the Lucas Raymonds and Mo Seiders come into our lineup and have an impact, it certainly gives me hope for the future because they're really good players, really good people, really high-character guys."
In his role of captain, Larkin said he had a message for the other players on this team.
"When they were leaving to go home or go to the World Championships, (my message) was 'You got your feet wet this year," Larkin said, "but next year we got to start to take this thing over."