Red Wings Goalie Nedeljkovic: Time To Win Is Now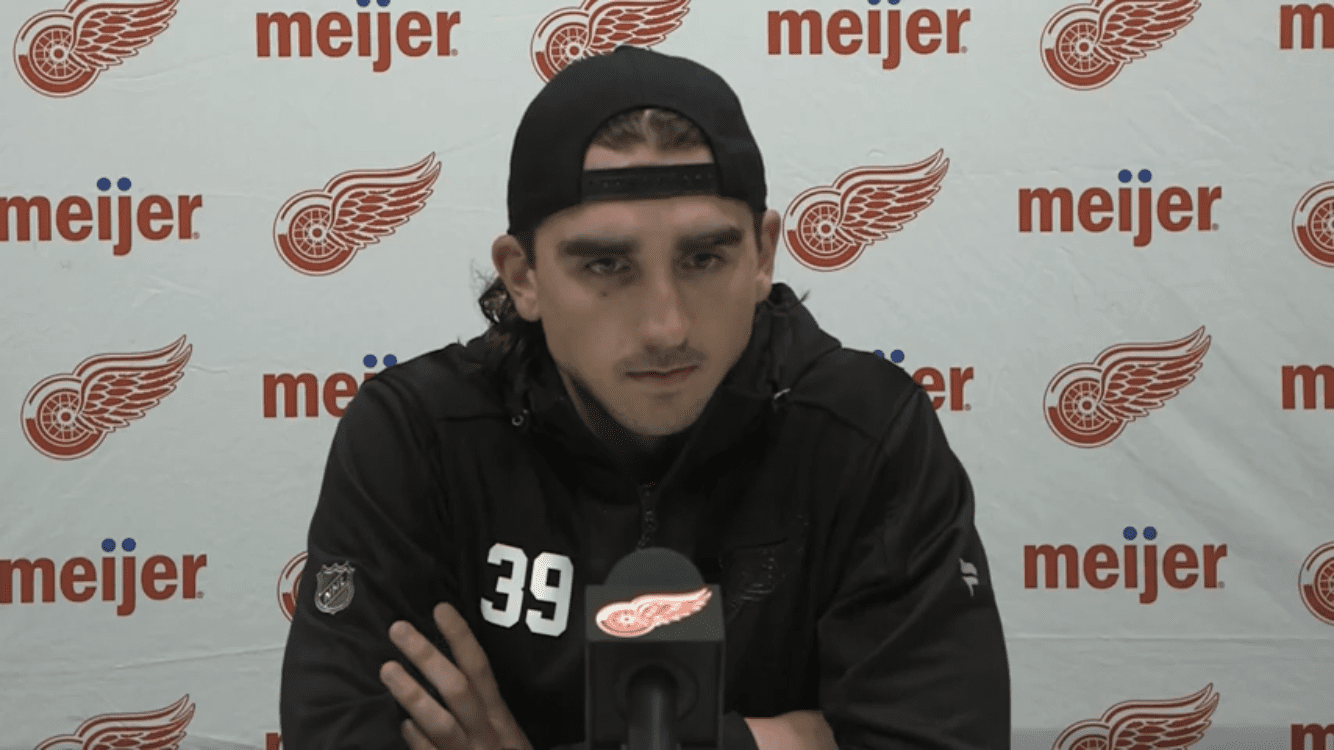 Detroit Red Wings GM Steve Yzerman recognizes that he can't endlessly place his team on the rebuilding treadmill. There must be signs of legitimate progress. Indications that the club is indeed moving forward.
"For me, I've got to show some improvement," Yzerman acknowledged. "I can't sit here forever, saying 'Hey, be patient everybody. We're gonna get there, we're gonna get there.'"
Consistency is 🔑

🎥 » https://t.co/CiLaGF8356 pic.twitter.com/u7gm8eQkv4

— Detroit Red Wings (@DetroitRedWings) May 4, 2022
Yzerman, though, can afford to build through incremental stages. As a GM, he's a big picture guy.
His players, on the other hand, aren't able, or for that matter, interested in waiting for a long-term solution. Athletes are dealing with a finite window of opportunity. Their careers can be over in a flash.
"You never know when you're last game's gonna be," Red Wings goalie Alex Nedeljkovic said. "You never know under what circumstance that's gonna be."
Time Already Running Out For Some Red Wings
It's great to get excited by the arrival of rookies Moritz Seider and Lucas Raymond this season but as the outcome to the campaign ended up displaying, their presence wasn't enough to be a difference maker. And realistiically, moving beyond those two pieces, other key parts of Detroit's current core are just arrving at the prime of their playing careers.
Nedeljkovic is 26, the same age as 30-goal scorer Tyler Bertuzzi. Captain Dylan Larkin is 25. They don't have another 3-5 years of their careers to invest while this club is trying to turn the corner and move toward respectability.
Reliving the best moments of the 2021-22 season as chosen by… you! 🤩#LGRW pic.twitter.com/FOqbcoAi3o

— Detroit Red Wings (@DetroitRedWings) May 5, 2022
"It's difficult to be in this position again," said Larkin, who's missed the playoffs six years in a row. "… I don't think anyone wants to be in this position forever, for much longer certainly. There is frustration but I do understand what Steve is trying to do and what the end goal is and that's try to win the Stanley Cup for our fans and for the City of Detroit. I believe in that and I'm excited for the future."
At the same time, these players recognize that the biological clock on their playing days is ticking. For them, that future can't get here quickly enough. Perhaps the arrival of a next coach next season can be the element to ignite a spark.
"You don't want it to drag on," Nedeljkovic said. "You have to take advantage of it. We are what we are as an organization and as a team and that is what it is but I think as individuals, especially as players, we can't just accept that."
Red Wings Nedeljkovic Not Interested In Lengthy Rebuilding Process
In Nedeljkovic's mind, there's no better time like the present to start winning again. He's of the opinion that the Red Wings need to go into next season, into every season, with the utmost belief that their time is now.
"To me it doesn't make sense to say, 'We're in a rebuild. We're not gonna make playoffs this year. We're not expected to make playoffs next year. It is what it is and let's just get through the season,'" Nedeljkovic said. "I think that's a terrible outlook. I don't think anybody should have that kind of outlook. And to be honest with you, if anybody in that locker room has that kind of outlook, I don't really want to have time for you.
"I'm here to win a Stanley Cup. My goal is to win the Stanley Cup every year. On a smaller level, my goal is to win every single night. If you don't have that same mindset, if you don't have that same goal, you're not really helping this team out and I don't think you're really helping yourself out."
SIGNUP BONUS
UP TO $250


BONUS MONEY
BET NOW
Accepting the way it is for the Red Wings simply isn't acceptable to their goaltender.
"It's not what you need," Nedeljkovic said. "You need somebody, you need guys in that room that want to do it every night and I think we do have guys in that room who want to do it every night, that want to succeed. They don't want to waste their career away trying to rebuild and things like that.
"Organization, management, they have to do what they have to do to obviously help this organizaiton get to that point. But I think as an individual, as a player, you should already have that mindset (that they can be a playoff team next season).
"If you don't then there's not much time for you."