Soderblom on World Championship: Would Be 'Enormously Cool And Big'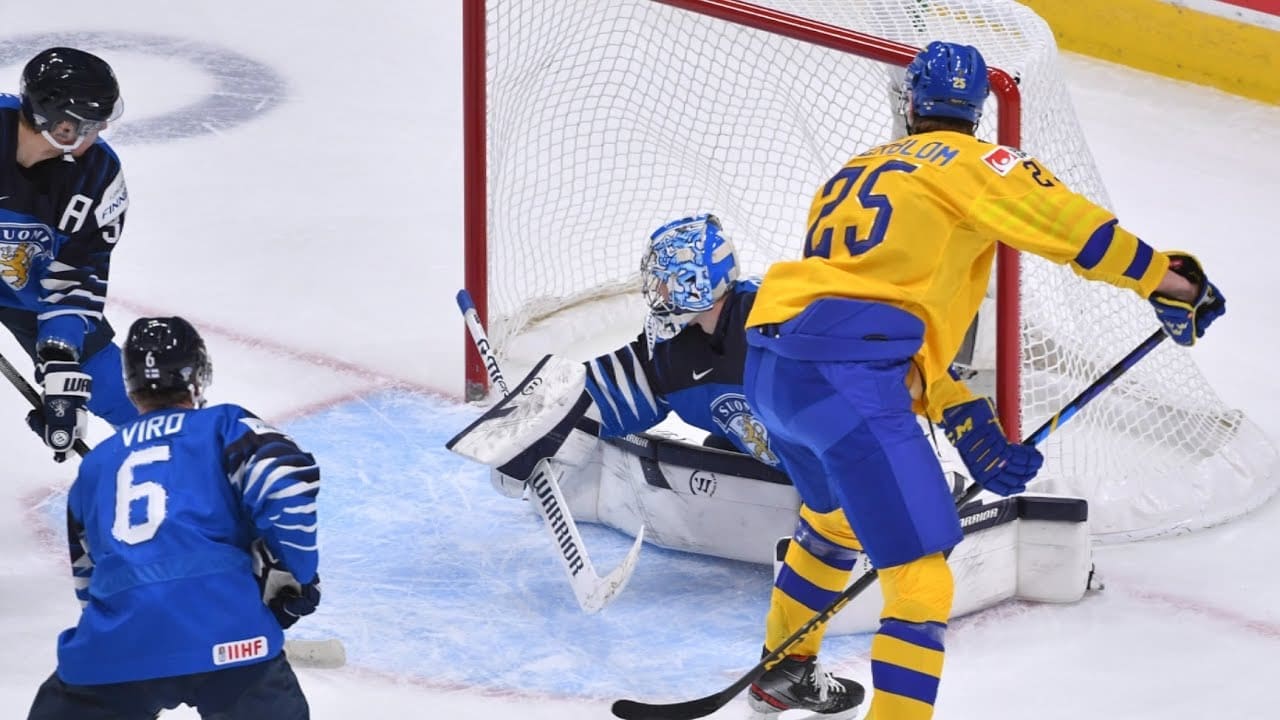 When he was invited to play with the Swedish national team in pre-tournament games leading up to the IIHF World Championship, the thinking was that Detroit Red Wings prospect Elmer Soderblom would be serving as nothing more than a place holder.
He was being given much-needed experience with the senior national team but he'd certainly be giving way once the NHL reinforcements were arriving.
That hasn't happened yet. And in fact, there's growing speculation that Soderblom has done enough to carve himself out a spot on the Swedish squad that will play for the world title from May 13-29 in Finland.
Soderblom Can't Contain Excitement
Just the thought of suiting up for his country on the world stage is enough to set Soderblom's massive 6-foot-8, 249-pound frame to shuddering with excitement.
"It would be enormously cool and big," Elmer Soderblom told Aftonbladet.se. "It is something you have dreamed of since you were little to play a World Cup for Sweden so I would be extremely happy."
Elmer continues to give reasons to be included on the World Championship roster #lgrw pic.twitter.com/afcJzXKr5M

— IcehockeyGifs (@IcehockeyG) May 7, 2022
That being said, Soderblom, 20, isn't completely modest about what he thinks he can provide to his country's national team. After all, he did score a team-leading 21 goals for Frolunda HC in the SHL this season.
"I feel that I have a special style of play with my height and weight," Soderblom said. "So only if I get it out in full and play as well as I know I can do, I think I have a chance to take a place."
Gross finish here from Elmer Soderblom pic.twitter.com/7ZK3FQfZDP

— Spittin' Chiclets (@spittinchiclets) December 26, 2020
Soderblom won't go as far to promise any spectacular highlight-reel goals such as the two between-the-legs tallies he registered for Sweden in World Junior Tournament play.
"Haha, I do not know," Soderblom said with a laugh. "It's just what happens."
Endorsement From Former NHLer
Soderblom has at least one expert who's in his corner. Former NHLer Jonas Andersson, working as an analyst for SVT on the broadcasts of Sweden's pre-tournament games, is endorsing the inclusion of Soderblom on Sweden's roster.
"He has qualities, Soderblom," Andersson said. "He adds something, he can stand in front of the goal and do things."
Soderblom Thinking About NHL
When his season is over, Soderblom will most certainly be signing an entry-level contract with the Red Wings and coming to play in North America next season. Detroit made the hulking left winger the 19th selection of the 2019 NHL entry draft.
Soderblom is already envisioning what playing in the NHL might be like. He has added incentive to get to the show. His older brother Arvid Soderblom, a goalie in the Chicago Blackhawks system, got into three NHL games with the Blackhawks this season.
BetMGM Sportsbook
States: All States Where Legal
GET THE APP
SIGNUP BONUS
UP TO $1,000!


Up To $1000 Paid Back in Bonus Bets
BET NOW
"It would be really cool," Elmer said of the possibility of playing in the NHL with his brother. He also envisions both he and Arvid suiting up together for their homeland.
"My brother is doing really well, so eventually he will probably also get the chance here because he is that good," Elmer said. "It has also been a dream to play with my brother."