Red Wings Seider A Calder Trophy Finalist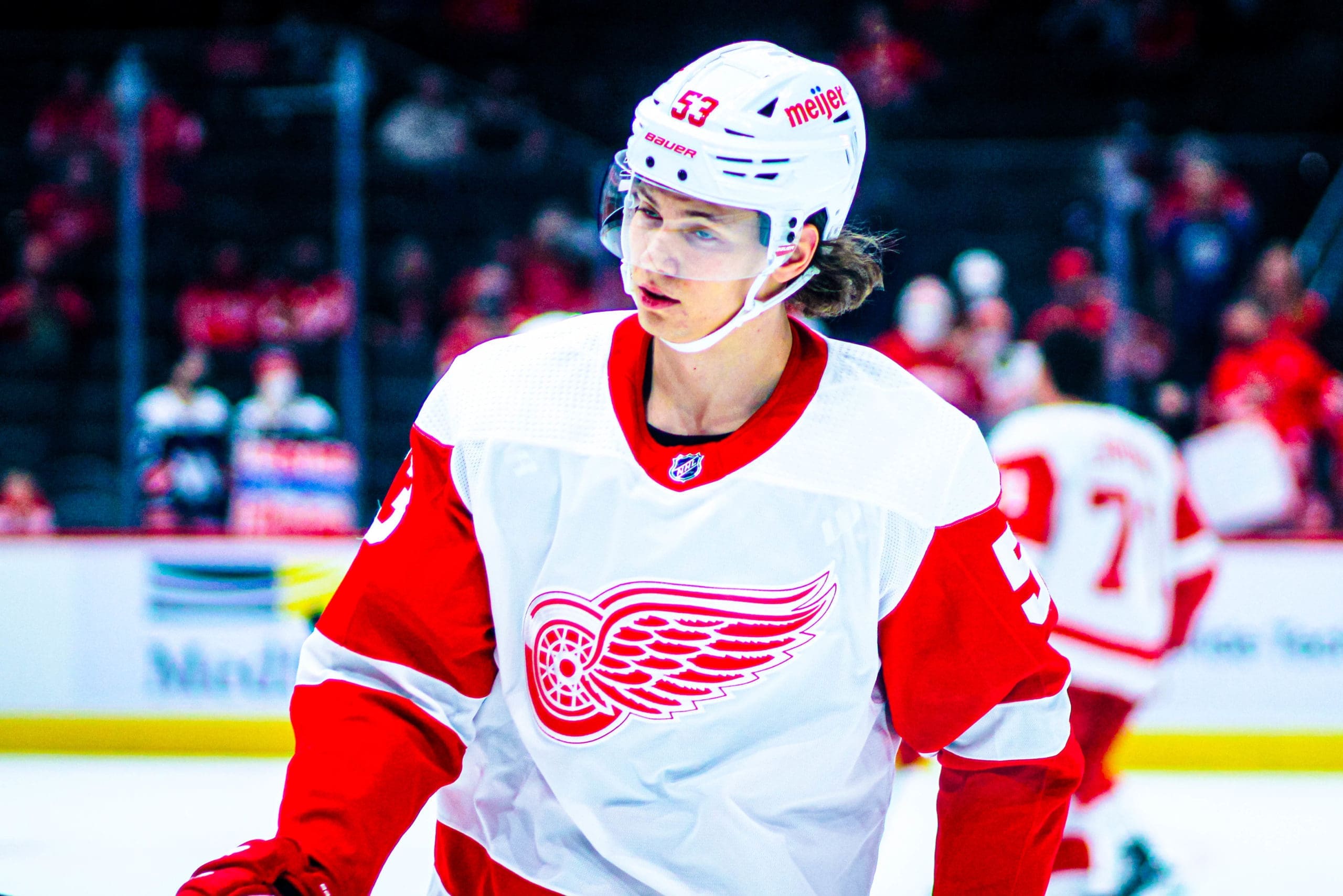 Following a spectacular rookie campaign in which he was a dominant performer for the Detroit Red Wings, to no one's surprise, Moritz Seider is one of the three finalists for the Calder Trophy as the NHL's top first-year player.
In making the announcement on Wednesday, the NHL was revealing that joining Seider as Calder finalists would be forwards Michael Bunting of the Toronto Maple Leafs and Trevor Zegras of the Anaheim Ducks. Bunting (63 points) and Zegras (61) finished 1-2 in NHL rookie scoring.
Seider, though, is the clear favoite to win it all.
"I think it's fascinating how he's so big and so strong but still so mobile on his skates," teammate and fellow rookie Lucas Raymond said of Seider. "I think those are the toughest D to play against, big Ds that still are very good at skating. And then he has a really good shot, too and great vision.
Why I think Moritz Seider is already a franchise PP1 quarterback. Full length video's on my youtube channel. https://t.co/OILkBMAE1R pic.twitter.com/Ddb4TcJtuE

— Anthony Guzzardo (@GuzzardoAnthony) May 7, 2022
"It's a lot of fun playing with him. We connect good out there. Yeah, he's had a really impressive year."
Seider Put Up Numbers For Red Wings
This season, Seider ranked among the NHL's top rookie defensemen with 7 goals (2nd), 43 assists (1st), 50 points (1st), 2 power-play goals (Tie-1st), 21 power-play points (1st), 2 overtime goals (1st), 4 game-winning goals (1st), 185 shots (1st) and 23:04 time on ice (1st). His 43 assists are the second-most helpers in a campaign by a Detroit rookie defender. Nicklas Lidström (49 in 1991-92) tops the list.
"I think Mo earned a ton of respect around the league this year, not only from his teammates but from opponents," teammate Sam Gagner said. "Just the way he played, the way he carried himself.
Who should win the Calder Trophy?

You voted.

🥇 Moritz Seider
🥈 Trevor Zegras
🥉 Michael Bunting pic.twitter.com/yVhxld2Vxh

— JFresh (@JFreshHockey) May 1, 2022
"I think you look back to the first game of the year against Tampa and he was already kind of commanding that respect, not afraid of the moment. He just continued to grow. It's a long year when you haven't played in the NHL before. There's a lot of ups and downs. Specifically with our season, with the struggles we went through in the second half, it makes it feel even longer and Mo just kept playing, kept improving.
"He played huge minutes on the penalty kill, power play, even strength, going up against top lines. He really did it all for us. From an off-ice perspective, he's already become a leader for us. He understands the leadership aspect of it and isn't afraid to be himself. I think the sky's the limit for him. We have a ton of respect for him within our room. Just looking forward to seeing what he can do in the future here."
A Dominating Presence Along Detroit Blueline
The youngest player among the defensive crew, it quickly became apparent that Seider was the best defender in the Detroit lineup. He was welcoming of the expectations people were placing upon his shoulders. He was embracing the opportunity to excel.
"Every night he was in the spotlight, every night he was being talked about," Red Wings goalie Alex Nedeljkovic said. "And he showed up every single night and he did something special. If he didn't score, he was solid defensively. There wasn't a lot of times where we got scored on and unfortunately, we got scored on a lot. He wasn't on the ice for it. He was taking away scoring chances and he was tying guys up, or he was being physical."
What really makes Seider stand out in the crowd among what is definitely a deep 2021-22 NHL rookie crop is his ability to perform with such dominance and be filling a No. 1 D role in what is clearly the toughest position on the ice for a rookie to play.
BetMGM Sportsbook
States: All States Where Legal
GET THE APP
SIGNUP BONUS
UP TO $1,000!


Up To $1000 Paid Back in Bonus Bets
BET NOW
"Everybody needs a solid No. 1 guy on that blueline and obviously he showed he was that guy this year and I think he can be that guy for a long time," Nedeljkovic said. "And hopefully he just keeps getting better and better. If he can get better next year, the season that he had this year, he had 50 points as a rookie. Imagine what he can do next year? It's exciting to see the potential."
The last time Detroit was producing a Calder Trophy winner was in 1964-65. Goaltender Roger Crozier won the award.