Next Up For SHL Champion Albert Johansson? Earning His Place With Red Wings
A Swedish Hockey League championship secured, Detroit Red Wings prospect Albert Johansson has his sights set on earning a place in the NHL.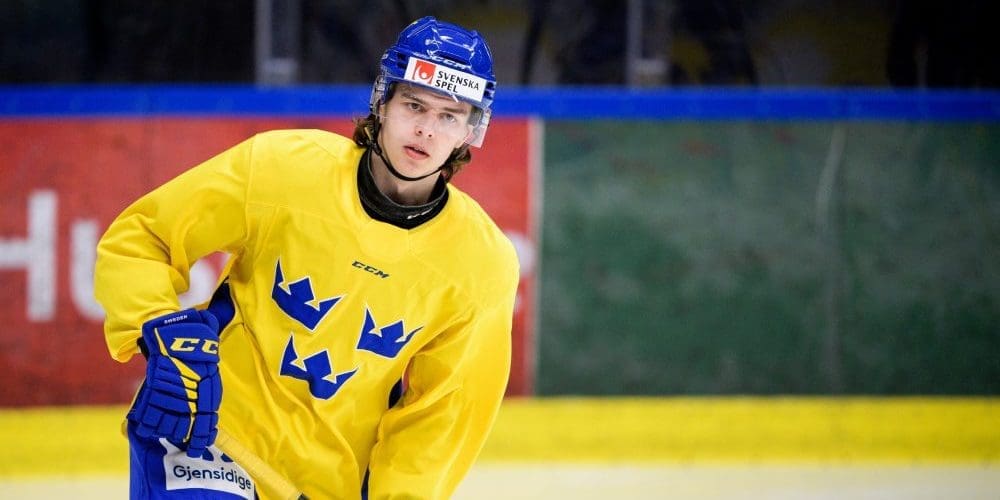 The Swedish Hockey League title secured, a gold medal dangling from his neck, Albert Johansson was already setting his sights on another objective – cracking the lineup of the Detroit Red Wings.
"I feel ready and want to go over this autumn and test my luck over there," Johansson told Expressen.se after helping Farjestad to a 3-0 victory over Lulea in Game 7 of the SHL championship final.
The Red Wings selected Johansson 60th overall in the 2019 NHL entry draft. Signed to an entry-level contract with Detroit, he spent the past two seasons on loan to Farjestad.
This season, Johansson, 21, counted career-high 5-20-25 totals in 52 regular-season games. Posting 2-6-8 numbers in 19 playoff games, he was helping Farjestad to a surprise SHL title.
Congrats Albert Johansson! 🏆

SHL Champs! pic.twitter.com/cIufR9QgUU

— Detroit Red Wings (@DetroitRedWings) May 12, 2022
"That was the idea when I got the chance and the opportunity to stay here," Johansson said. "I saw all the players who signed. Of course, it looked very interesting. It has been a long journey, a lot of ups and downs, a lot that has happened in the association. Everything from being tipped for gold already this summer to no one believing in us. 'Färjestad will not win any gold.'
"Somewhere in the last 10 matches at the end of the season, then in the playoffs we have stepped up and shown what capacity we have in this team. Now we are here as winners. I am very proud of the guys in there and what we have done this season. What a trip."
Johansson Ready To Challenge For Place On Red Wings
Achieving his objective of a Swedish title, like all great athletes, Johansson, the son of former NHL defenseman Roger Johansson, is seeking to follow in his father's footsteps.
"Of course, this is the second season I have been on loan now, so we will have a chat when all the celebrations have subsided," Johansson of the Red Wings. "I feel ready and want to go over this autumn and test my luck over there. I think they also think they have the time now to pick over me and give me a chance over there and hopefully be there for a few years."
Johansson is part of a rich crop of European defensive prospects in the Red Wings pipeline. There's also fellow Swedes Simon Edvinsson and William Wallinder, along with Finland's Eemil Viro.
Good chance Albert Johansson makes the NHL right away. One of Detroit's best prospects. Perfect production growth since he was drafted. https://t.co/XjPkVIBYUq pic.twitter.com/AyY3wXxDx3

— Byron Bader (@ByronMBader) May 13, 2022
"It's the NHL you want to play in," Johansson said. "You want to fight for those places but I cannot stand here and say now what it will be. I would guess that I go over, then it's training camp, rookie tournament and all that's called over there. Then you have to take it from there."
If that means a stint with AHL Grand Rapids similar to the one spent this season by Swedish forward Jonatan Berggren, then Johansson is down with that. He's ready to do what it takes to make the grade in the world's best league.
SIGNUP BONUS
UP TO $250


BONUS MONEY
BET NOW
"It is clear that my goal is to get into the NHL one day but if you end up in the AHL I do not think I will return home because of it," Johansson said. "I want to give it an honest chance and be over there, learn the culture and life over there. Grow as a person and hockey player. Then you will see how it ends."