Gotta See It: Linesman Scores On Red Wings Hellberg
A goal scored on Red Wings netminder Magnus Hellberg in the Swednen-Norway world tourney game was waved off as it went in the net off one of the linesmen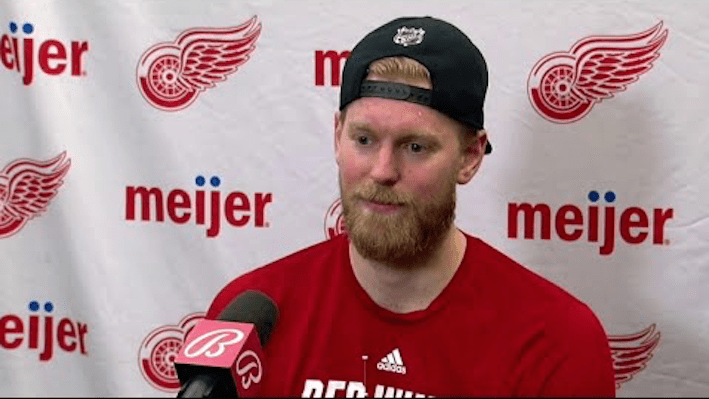 Playing for Sweden at the IIHF World Championship, goaltender Magnus Hellberg is hoping to make a good impression. Hellberg, who ended up finishing the 2021-22 NHL season with the Detroit Red Wings, is an unrestricted free agent. He's seeking to convince the Wings to ink him to a new deal.
"I think Detroit has a really bright future and of course it would be a place that I would like to be a part of in the future," Hellberg admitted.
However, getting scored on by a linesman probably isn't an ideal way to win friends and influence Red Wings GM Steve Yzerman to open up his checkbook.
Sweden was playing Norway in Group B action on Sunday. The Swedes has just scored to go ahead 6-1. From the ensuing faceoff, Norwegian player Michael Haga drove the puck along the boards into the Swedish zone.
Leaving his crease to halt progress of the rim around behind his net, Hellbeg helplessly watched as the puck changed direction and entered his vacated goal.
Immediately, he was racing up the ice to register a complaint about the tally. After a huddle of the game officials, the goal was waved off. The puck had gone in off the skate of one of the linesmen. Under the rules of hockey, the play is ruled dead if the puck goes into the net off a game official.
After the game, a 7-1 victory by the Swedish, Hellberg could laugh about the comical play.
"I think I have never seen that during my hockey career," Hellberg told Sportbladet.se. "Ten out of ten times you go out as a goalkeeper and stop the puck behind the goal. But now it took on the referee's skate and went straight into the goal. I was a little put off."
Hellberg Impressive
With the victory, Hellberg improved to 4-0 with a shutout, a 1.47 goals-against average and .932 save percentage for the tournament.
"Yes, yes but I'm just a small part of the big picture," Hellberg told Hockeysverige.se. "That we win every match, of course it says something. I think I have an incredibly good collaboration. We are a team to be reckoned with."
Seider Dishes A Pair
With Red Wings defenseman Moritz Seider collecting two assists, Germany improved to 5-1 via a 5-4 win over Kazakhstan.
Switzerland and Detroit center Pius Suter improved to 6-0, rallying from 2-0 down to drop France 5-2.
The Swiss and Germans are 1-2 in the Group A table.