Red Wings Role Call: Moritz Seider's Detroit Future
Red Wings defenseman Moritz Seider is a Calder Trophy finalist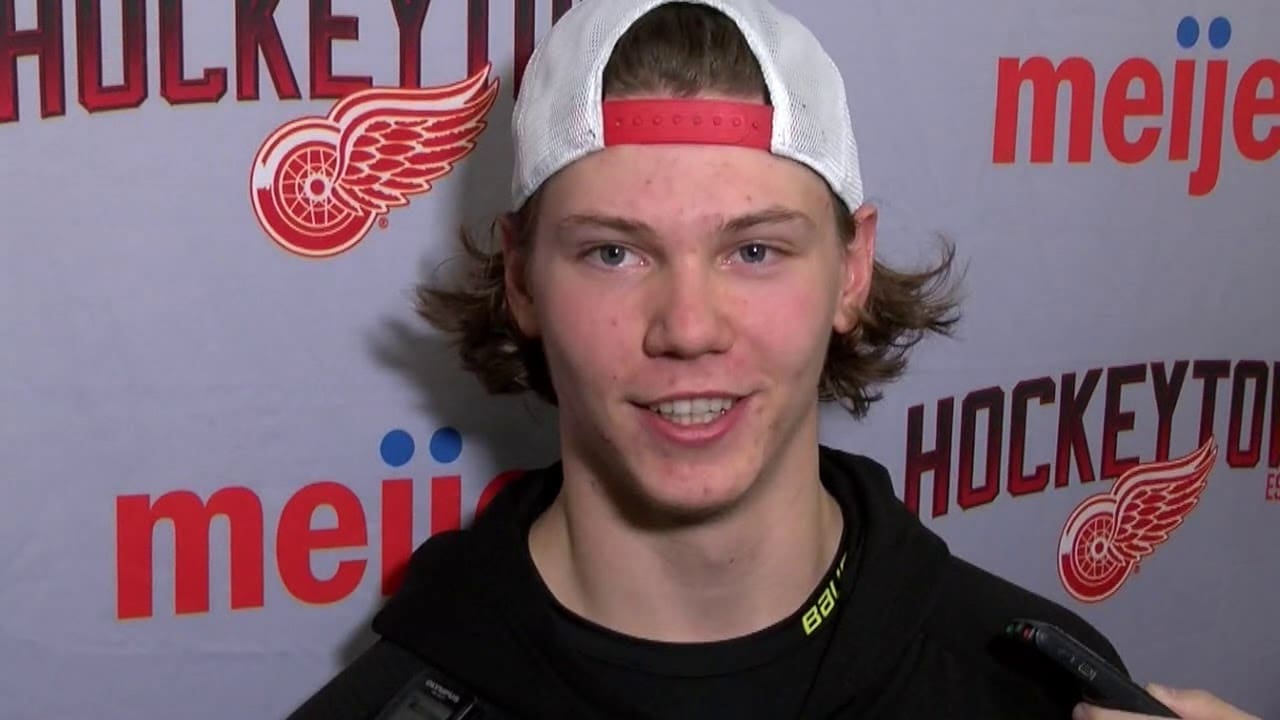 Red Wings Role Call is assessing every player who held a significant place in the fortunes of the 2021-22 Detroit Red Wings season. We'll be looking at the highs and lows they experienced during the just-completed campaign, as well as what the future holds for them in Detroit. Today, we feature defenseman Moritz Seider
Moritz Seider
Position: Defenseman
2021-22 totals (GP-G-A-P): 82-7-43-50
Contract Status: Two seasons left at $863,333 AAV
Season Synopsis
Former Red Wings coach Jeff Blashill said late in the season that he had high expectations for Moritz Seider coming into the season and Seider still managed to exceed them.
Early in his rookie season, he was already the team's top defenseman. On many nights, he was Detroit's best player. He ended up leading the team in time on ice (23:01) and blocked shots (161). Seider was second in hits (151) and shots (187).
"It's actually remarkable the season he's had, given the fact that he's had to to go up against the other team's best on a nightly basis," Blashill said.
His season was capped by his selection as a finalist for the Calder Trophy, given annually to league's top rookie. He is considered the favorite.
#RedWings defenseman Moritz Seider helping boost his Calder Trophy case at the end of the second period. #LGRW pic.twitter.com/yzPzLfYZcX

— Bally Sports Detroit (@BallySportsDET) March 18, 2022
2021-22 Red Wings Highlights
Seider set a franchise record with the longest point streak by a rookie defenseman, compiling 12 points (1-11-12) and a plus-six rating in an eight-game span from Feb. 9-March 4. He became the fifth different Red Wings rookie, of any position, to record a point streak of eight-or-more games, and the first Detroit
defenseman to record a point streak of eight-or-more games since Nicklas Lidstrom did it twice in 2010-11.
FIRST CAREER NHL GOAL.
OVERTIME GAME-WINNER.

MO. SEIDER. pic.twitter.com/yJkDR5CGCE

— Detroit Red Wings (@DetroitRedWings) November 7, 2021
Seider was the second player – and first defenseman – in Red Wings history to net his first career goal in overtime when he
scored on Nov. 6 at Buffalo. The other: Mud Bruneteau (Dec. 14, 1935 at Toronto).
2021-22 Red Wings Lowlights
He was -4 in a lopsided home loss to Arizona on March 8. Also, Moritz Seider's strong play was not enough to prevent his German team from being eliminated from the World Championships by a 4-1 loss to Czechia in the quarterfinals.
Germany is eliminated in the quarterfinals by Czechia, final score 4-1. Moritz Seider, named one of Germany's best players in the tournament, finishes with 7 points in 8 games. #LGRW pic.twitter.com/05Ijm9uGJM

— IcehockeyGifs (@IcehockeyG) May 26, 2022
What Does His Detroit Future Hold?
Seider is a such a superb young player for the Red Wings that the only logical basis for comparison is Nick Lidstrom. No one expects him win seven Norris Trophies. But it's not unreasonable to believe Seider could have a similar impact on the franchise.
They are different players to be sure. Their styles are different. Seider is bigger and plays more physical. Lidstrom's defensive prowess was more polished at a younger age.
SIGNUP BONUS
UP TO $250


BONUS MONEY
BET NOW
Seider's teammates have been impressed, maybe even 'wowed', by his composure and drive.
"I didn't know much about him coming in, just the buzz and talk around the room and the media about him. It was special to watch," Robby Fabbri said. "It's not every day you see a defenseman like that come in and have the impact on each and every game, in the D-zone, in the offensive zone that he had and just getting better and better as the year went on. He lived close to me so we carpooled a lot. He was a really good friend this year and it was a lot of fun to see him and I was happy for his success."
Seider was the first Red Wings defenseman since 2010-11 to register 50 or more points. The last defenseman to do it, of course, was Lidstrom. Seider's 50 points were the most by a rookie Detroit defenseman since LIdstrom posted 60 in 1991-92.
What's Seider's ceiling on points? You don't put ceilings on players like Seider. Once he starts getting more comfortable joining the rush, his point totals will grow. The one thing we do know is that Seider has a history of exceeding expectations.