No Love For Red Wings Forward Vrana From Czech Media
Detroit Red Wings forward Jakub Vrana is hearing plenty of criticism after scoring just one goal for Czechia during the recent IIHF World Championship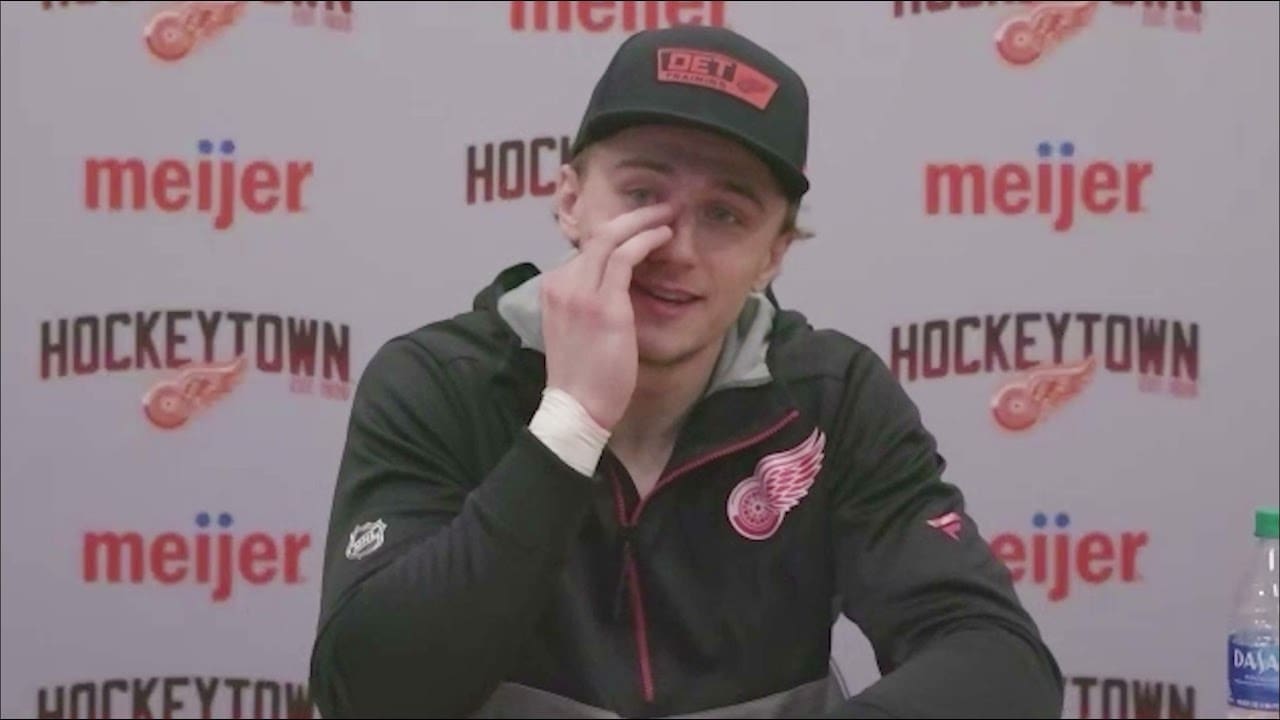 The Czech website iSport.cz offered an assessment of each player from the Czechia team at the recently-completed IIHF World Championship and they didn't hold back when it came to Detroit Red Wings forward Jakub Vrana.
Vrana suffered through a disappointing tournament, finishing with one goal and no assists in 10 games. With the Red Wings this season, Vrana wound up scoring 13 goals in 26 games.
While Detroit fans debate just how high Vrana can go in the goals department, Czech fans were left wondering where did all those goals go?
🇨🇦 #SeaKraken Chris Driedger stops 🇨🇿 #LGRW Jakub Vrána on the breakaway. pic.twitter.com/njdkwFxh4J

— Hockey News Hub (@HockeyNewsHub) May 28, 2022
"He searched, he searched, but he did not find," was the iSport.cz accounting of Vrana's performance. "If you should name one real disappointment in the Czech team, then you would probably point to Vrana. In Detroit, he scored in every second game of the season. Now he has hit once in Finland. He didn't believe in himself. He was frustrated."
By the end of the tournament, Vrana found himself skating on Czechia's third line. "Not even the most elite teams can fit all the stars in the first two attacks," noted iSport.cz writer Jan Denemark. "Someone just has to take on a role that doesn't smell so good."
BetMGM Sportsbook
States: All States Where Legal
GET THE APP
SIGNUP BONUS
UP TO $1,000!


Up To $1000 Paid Back in Bonus Bets
BET NOW
Even management of the Czech squad was at a loss to explain why the Detroit sniper was firing blanks on the world stage. In 16 previous games for Czechia at the world tourney, Vrana was good for six goals and three assists.
"It's a mystery for all of us," said Czechia GM and former NHL star Petr Nedved.
Praise For Red Wings Defenseman Hronek
At the 2019 world tourney, after producing 11 points Red Wings defenseman Filip Hronek was receiving the nod as the tournament's best rearguard. Even though he was limited to two assists and a -3 rating in this year's tournament, iSPort.cz was praising Hronek's performance in the bronze-medal win by Czechia.
They felt Hronek was putting personal objectives aside for the greater benefit of the team, which has to bode well as he comes back to Detroit for the 2022-23 NHL season.
#Detroit Red Wings: ##IIHFWorlds bronze! Congrats, @hronas71 & @jakubvrana! ##LGRW…
https://t.co/J6G5xxkM1a
#DetroitRedWings #Hockey #IceHockey #Michigan #NationalHockeyLeague #Nhl #NHLEasternConference #NHLEasternConferenceAtlanticDivision #RedWings pic.twitter.com/5Ve03TRo0z

— Raw Chili (@raw_chili) June 1, 2022
"Three years ago you were ecstatic about his eleven points from Bratislava," the site noted. "If you expected the same, you are disappointed. On the other hand, he left holes in Bratislava as he took risks.
"Now he wanted to be more responsible. He accepted a role in the system."