Howe Enduring: Mr. Hockey's Long Connection to the Stanley Cup Final
The first time a Gordie Howe teammate played in the Stanley Cup final was in 1938. The last time was in 1992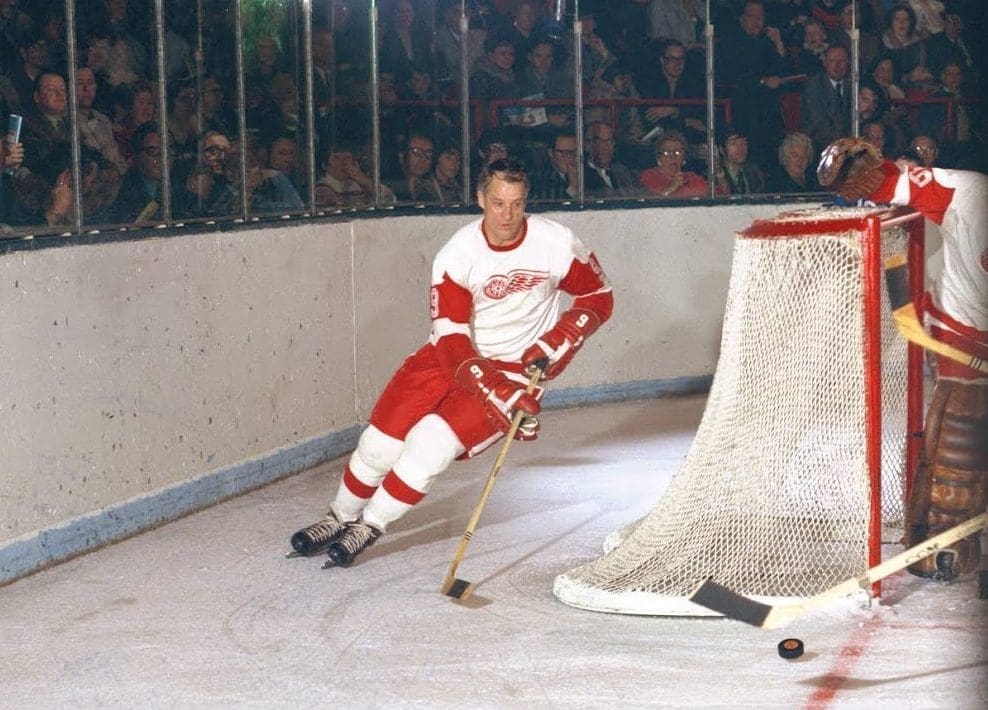 When the Tampa Bay Lightning and Colorado Avalanche begin the 2022 Stanley Cup final on Wednesday, Jaromir Jagr's ties to the event will finally be coming to a halt. For the first time since the 1979 final between the Montreal Canadiens and New York Rangers, there won't be a former Jagr teammate skating in the series.
Gordie Howe visits the Leafs dressing room to congratulate coach Punch Imlach following the 1963 Stanley Cup Final. pic.twitter.com/USTXK1ctZR

— Hockey Hall of Fame (@HockeyHallFame) May 16, 2016
That's 42 years in a row and without a doubt is an impressive feat. However, when it comes to anything involving hockey and longevity, it takes a back seat to the legacy of Gordie Howe.
Gordie Howe's Stanley Cup Legacy
Mr. Hockey played his first NHL game in 1946 and his final one in 1980. Howe's future NHL teammates began appearing in Stanley Cup final series in 1938, eight years prior to his NHL debut. They were still skating in the final battle for Lord Stanley's mug in 1995, 15 years following his retirement.
BetMGM Sportsbook
States: All States Where Legal
GET THE APP
SIGNUP BONUS
UP TO $1,000!


Up To $1000 Paid Back in Bonus Bets
BET NOW
Between 1938-79, the only year that a Howe NHL teammate didn't appear in a Stanley Cup final series was in 1944, when the Montreal Canadiens beat the Chicago Blackhawks. Amazingly, Detroit-born Gordie Roberts, whose parents named him after Howe, played in the 1991 and 1992 Cup final series with the Pittsburgh Penguins. Roberts and Howe were teammates with the 1979-80 Hartford Whalers.
WHA, IHL Extend Streak
However, take into account Howe's teammates from his six WHA seasons and his Stanley Cup streak grows even more impressive. John Tonelli, who played in the WHA with Howe on the Houston Aeros, appeared in every Cup final series from 1980-84 and again in 1986. Gordie's son Mark Howe, who played on the 1979-80 Whalers, skated in the 1985 and 1987 finals with the Philadelphia Flyers and in 1995 with the Red Wings. After missing out on the 1988 and 1989 final series, Howe's Hartford teammate Ray Neufeld played for the 1990 Boston Bruins.
Gordie Howe's Game Winning Goal from the 1955 Stanley Cup Finals.#LGRW #ThrowbackThursday pic.twitter.com/taQu0x0Cmv

— Red Wings SPORTalk (@SPORTalkWings) March 31, 2016
In fact, if you take into account Howe's one-game appearance for the IHL's Detroit Vipers during the 1996-97 IHL season, the streak gets unbelievably astonishing. Jimmy Carson was with those Vipers and suited up for the Los Angeles Kings (1993) and Vancouver Canucks (1994). Sergei Samsonov also played for the 1996-97 Vipers. Samsonov skated in the 2006 Stanley Cup final for the Edmonton Oilers – 26 years after Howe's farewell NHL appearance.
Gordie Howe Teammates In Stanley Cup Final
| Stanley Cup Final | Gordie Howe Teammate(s) |
| --- | --- |
| 1938 | Hal Jackson (Chicago) |
| 1939 | Roy Conacher (Boston) |
| 1940 | Billy Taylor (Toronto) |
| 1941 | Roy Conacher (Boston); Eddie Bruneteau, Sid Abel, Jack Stewart, Hal Jackson (Detroit) |
| 1942 | Billy Taylor, Bob Goldham, Gaye Stewart (Toronto); Sid Abel, Jack Stewart, Adam Brown, Doug McCaig (Detroit) |
| 1943 | Bep Guidolin (Boston); Sid Abel, Jack Stewart, Adam Brown, Hal Jackson (Detroit) |
| 1944 | None |
| 1945 | Eddie Bruneteau, Ted Lindsay, Hal Jackson (Detroit) |
| 1946 | Jimmy Peters Sr (Montreal), Roy Conacher, Bep Guidolin (Boston) |
| 1947 | Gaye Stewart, Gus Mortson, Bud Poile, Bob Goldham (Toronto) |
| 1948 | Gus Mortson (Toronto); 20 Red Wings teammates |
| 1949 | Gus Mortson (Toronto); 19 Red Wings teammates |
| 1950 | Tony Lewswick, Nick Mickoski, Dunc Fisher (New York Rangers); 22 Red Wings teammates |
| 1951 | Calum McKay (Montreal); Gus Mortson (Toronto) |
| 1952 | Calum McKay (Montreal); 16 Red Wings teammates |
| 1953 | Lorne Davis, Calum McKay (Montreal); Leo Labine, Bill Quackenbush, Real Chevrefils, Jack McIntyre (Boston) |
| 1954 | Calum McKay, Gaye Stewart, Lorne Davis (Montreal); 17 Red Wings teammates |
| 1955 | Calum McKay (Montreal); 16 Red Wings teammates |
| 1956 | Jean-Guy Talbot (Montreal); 19 Red Wings teammates |
| 1957 | Jean-Guy Talbot, Andre Pronovost (Montreal); Don McKenney, Leo Labine, Jerry Toppazzini, Leo Boivin, Vic Stasiuk, Real Chevrefils (Boston) |
| 1958 | Marcel Bonin, Ab McDonald, Junior Langlois, Jean-Guy Talbot, Andre Pronovost (Montreal); Don McKenney, Leo Labine, Jerry Toppazzini, Leo Boivin, Vic Stasiuk, Bronco Horvath, John Bucyk, Larry Hillman (Boston) |
| 1959 | Marcel Bonin, Ab McDonald, Junior Langlois, Jean-Guy Talbot, Andre Pronovost (Montreal); Billy Harris, Frank Mahovlich, Gerry Ehman, Carl Brewer, Barry Cullen, Marc Reaume, Bob Baun, Noel Price (Toronto) |
| 1960 | Marcel Bonin, Junior Langlois, Jean-Guy Talbot, Andre Pronovost (Montreal); Billy Harris, Frank Mahovlich, Johnny Wilson, Carl Brewer, Barry Cullen, Red Kelly, Bob Baun, Gerry Ehman (Toronto) |
| 1961 | Glenn Hall, Bobby Hull, Ron Murphy, Ab McDonald, Ed Litzenberger, Al Arbour (Chicago); 18 Red Wings teammates |
| 1962 | Glenn Hall, Bobby Hull, Bronco Horvath, Ab McDonald, Gerry Melnyk (Chicago); Billy Harris, Frank Mahovlich, Carl Brewer, Red Kelly, Bob Baun, Dave Keon, Al Arbour, Ed Litzenberger (Toronto) |
| 1963 | Billy Harris, Frank Mahovlich, Carl Brewer, Red Kelly, Bob Baun, Dave Keon, Al Arbour, Ed Litzenberger, John MacMillan, Kent Douglas (Toronto); 19 Red Wings teammates |
| 1964 | Billy Harris, Frank Mahovlich, Carl Brewer, Red Kelly, Bob Baun, Dave Keon, Al Arbour, Ed Litzenberger, Larry Hillman, Kent Douglas, Don McKenney, Andy Bathgate, Gerry Ehman (Toronto); 19 Red Wings teammates |
| 1965 | Red Berenson, Jean-Guy Talbot (Montreal); Glenn Hall, Bobby Hull, John McKenzie, Matt Ravlich, Gerry Melnyk (Chicago) |
| 1966 | Noel Price, Jean-Guy Talbot (Montreal); 21 Red Wings teammates |
| 1967 | Jean-Guy Talbot (Montreal); Terry Sawchuk, Frank Mahovlich, Bob Baun, Dave Keon, Larry Hillman, Marcel Pronovost, Pete Stemkowski, Red Kelly, Larry Jeffrey (Toronto) |
| 1968 | Mickey Redmond (Montreal); Red Berenson, Craig Cameron, Al Arbour, Tim Ecclestone, Don McKenney, Jean-Guy Talbot, Bill McCreary, Gerry Melnyk, Glenn Hall (St. Louis) |
| 1969 | Mickey Redmond, Larry Hillman (Montreal); Red Berenson, Craig Cameron, Al Arbour, Tim Ecclestone, Ab McDonald, Jean-Guy Talbot, Bill McCreary, Gerry Melnyk, Glenn Hall (St. Louis) |
| 1970 | John Bucyk, Gary Doak, John McKenzie (Boston); Red Berenson, Al Arbour, Tim Ecclestone, Jean-Guy Talbot, Bill McCreary, Ron Anderson, Glenn Hall (St. Louis) |
| 1971 | Frank Mahovlich, Pete Mahovlich (Montreal); Bobby Hull, Pit Martin (Chicago) |
| 1972 | John Bucyk, John McKenzie (Boston); Pete Stemkowski, Dale Rolfe, Bruce MacGregor, Gary Doak (New York Rangers) |
| 1973 | Frank Mahovlich, Pete Mahovlich (Montreal); Pit Martin (Chicago) |
| 1974 | John Bucyk, Al Sims (Boston) |
| 1975 | Roger Crozier, Don Luce (Buffalo) |
| 1976 | Pete Mahovlich (Montreal) |
| 1977 | Pete Mahovlich (Montreal); John Bucyk, Al Sims, Gary Doak (Boston) |
| 1978 | Al Sims, Gary Doak (Boston) |
| 1979 | Nick Fotiu (New York Rangers) |
| 1980 | John Tonelli (New York Islanders)* |
| 1981 | John Tonelli (New York Islanders)* |
| 1982 | John Tonelli (New York Islanders)* |
| 1983 | John Tonelli (New York Islanders)* |
| 1984 | John Tonelli (New York Islanders)* |
| 1985 | Mark Howe (Philadelphia) |
| 1986 | John Tonelli (Calgary)* |
| 1987 | Mark Howe (Philadelphia) |
| 1988 | None |
| 1989 | None |
| 1990 | Ray Neufeld (Boston) |
| 1991 | Gordie Roberts (Pittsburgh) |
| 1992 | Gordie Roberts (Pittsburgh) |
| 1993 | Jimmy Carson (Los Angeles)** |
| 1994 | Jimmy Carson (Vancouver)** |
| 1995 | Mark Howe (Detroit) |
| 2006 | Sergei Samsonov (Edmonton)** |
*WHA teammate
**IHL teammate