Like Father, Like Son? In Red Wings Past . . . And Future, That's Often The Case
Four current Detroit Red Wings prospects are the sons of ex-NHL players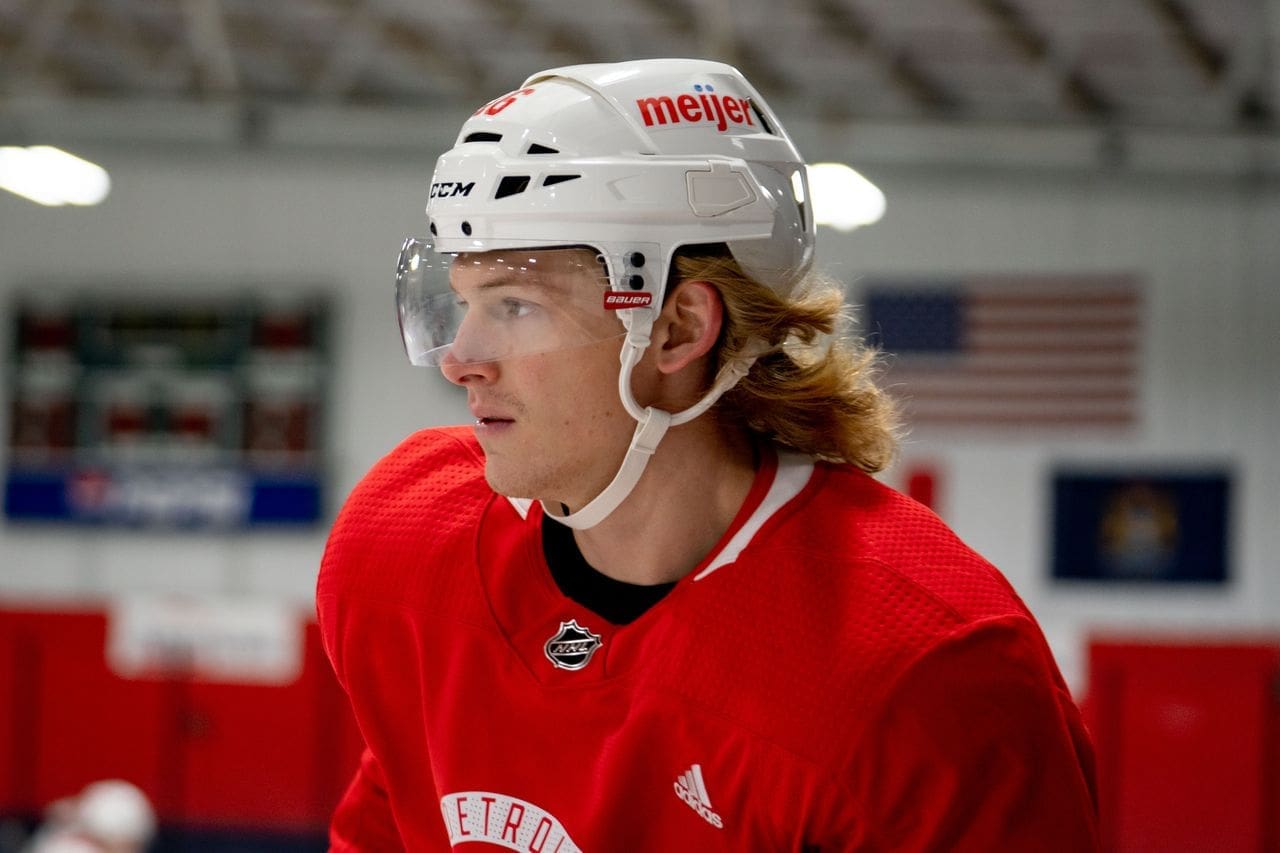 When Detroit Red Wings legend Gordie Howe netted his first NHL goal, it was the launching point for an unparalleled Hall of Fame career.
It also set a tone for what is commonplace certainly in hockey and definitely with the Red Wings. All three players who figured in that goal would father sons who would also play for the Red Wings.
#Tbt When NHL goalies raced stock cars in the summertime. Andy Brown, Detroit Red Wings. pic.twitter.com/thbeFq3G0r

— John Bisci (@JohnBisciJr) December 12, 2020
Howe's son Mark followed him to Detroit and into the Hockey Hall of Fame. Sid Abel, who won the faceoff that led to the goal, later coached his son Gerry on the Red Wings. Adam Brown, who drew the other assist on the goal, saw his son Andy play goal for the Red Wings in the 1970s.
The Sons Also Rise For Red Wings
On Father's Day, it seems worthwhile to note that hockey, more than any other sport, is populated by father-son relationships. Consider the 1950-51 Red Wings. Five players on that team – Howe, Abel, Lee Fogolin, Max McNab and Jimmy Peters – would father NHL players. Two others – Leo Reise and Ted Lindsay – were the sons of NHL players.
Lindsay's father Bert was the goalie for the 1917-18 Montreal Wanderers during the NHL's first season. When Lindsay suited up with Detroit for his NHL debut on Oct. 29, 1944, he became the first son of an original NHLer to skate in the league.
Red Wings Father Son Combinations
| Father (Detroit seasons) | Son (Detroit seasons) |
| --- | --- |
| Sid Abel (1938-39 to 1942-43; 1945-46 to 1951-52) | Gerry Abel (1966-67) |
| Adam Brown (1941-42 to 1943-44; 1945-46 to 1946-47) | Andy Brown (1971-72 to 1972-73) |
| Chris Chelios (1998-99 to 2008-09) | Jake Chelios (2018-19) |
| Bill Dineen (1953-54 to 1957-58) | Peter Dineen (1989-90) |
| Per Djoos (1990-91) | Christian Djoos (2020-21) |
| Gordie Howe (1946-47 to 1970-71) | Mark Howe (1992-93 to 1994-95) |
| Jim Peters Sr. (1949-50 to 1950-51; 1953-54) | Jim Peters Jr. (1964-65) |
It's a tradition that is continuing. During the 2021-22 NHL season, there were three Red Wings players who were sons of former NHLers – forwards Sam Gagner (Dave), Vladislav Namestnikov (Evgeny) and Chase Pearson (Scott).
"Honestly, I wouldn't be here today without him," Chase Pearson said of his dad, who was a first-round draft pick of the Toronto Maple Leafs in 1988. Scott Pearson played 292 NHL games between 1988-2000.
"He spent countless hours with me on the ice before school. Four days a week when I was younger and then after school I practiced. All that extra time, he didn't have to come do that, but having him out there, he kind of knows what it takes to get to the next level.
"He's been through it all and he just guides me through all of that and gives me advice on what to do in training camp, how to stand out, how to make a good first impression. Growing up with a dad like that really helped me get to where I'm at right now."
Gagner Goes Past Dad
Last season, Sam Gagner surpassed his dad Dave's career total of 946 NHL games. Over the span of his own NHL career, Gagner, 32, has been witness to change in the relationship he's forging with his father.
"I think we talk a little differently to each other now," Sam Gagner said. "I've got three kids of my own now so you kind of have a different perspective. I understand that probably at times when you're leaning on your parents it's a lot to handle for parents, too. And I see that as a father myself now.
SIGNUP BONUS
UP TO $250


BONUS MONEY
BET NOW
"He's been so supportive. As you go through a career, you go through a lot of ups and downs. It's really important to have that support system. I'm thankful for that."
Could Drapers Be Next Red Wings Father-Son Duo?
Chase Pearson is among four players currently in the Red Wings prospects pool who are seeking to follow their fathers in fashioning NHL careers. Defenseman Albert Johansson's dad Roger was also a rearguard with the Calgary Flames and Chicago Blackhawks from 1989-95.
Forward Red Savage is the son of Brian Savage. His dad played 674 NHL games and a was a five-time 20-goal scorer. Son is already emulating father by playing college hockey at Miami.
"My dad told me to be prepared for anything," Red Savage said. "You kind of have to block out some of the distractions when you can and soak it in when you're riding the highs."
Watch out! Kienan Draper sends the water bottle flying after a great deke in the slot 🚀 🎯@Chiefs_Hockey | @saveonfoods pic.twitter.com/9QpG7WcJ9I

— BCHL (@BCHockeyLeague) February 10, 2022
Perhaps the most intriguing father-son combo, though, is Kienan and Kris Draper. At the 2020 NHL entry draft, the Red Wings utilized their final selection, 187th overall, to tab Kienan Draper. His dad was a 20-season Red Wings center and a four-time Stanley Cup winner. He's also currently Detroit's director of amateur scouting.
Ultimately, Kris made the call to draft Kienan.
"He didn't get my approval," Red Wings GM Steve Yzerman said of Draper selecting his son. "He didn't ask for my approval.
"Kris and I had a brief conversation about it. Initially I said, 'Are you sure you want to put your son in that position?' Then ultimately my answer to him was your obligation is to do what you think is the right thing for the Detroit Red Wings and I trust your judgment. And I know that he did that.
"These scouts really take pride in some of these kids turning pro (from) later in the draft. None of them are gonna pick a name just because it's somebody's son or somebody's friend. Their jobs are on the line."