Red Wings Daily: Meeting Roman Josi Almost as Big a Deal to Seider as Winning Calder
For Red Wings D Moritz Seider, meeting Norris Trophy winner Roman Josi at the NHL Awards was almost as much fun as winning the Calder Trophy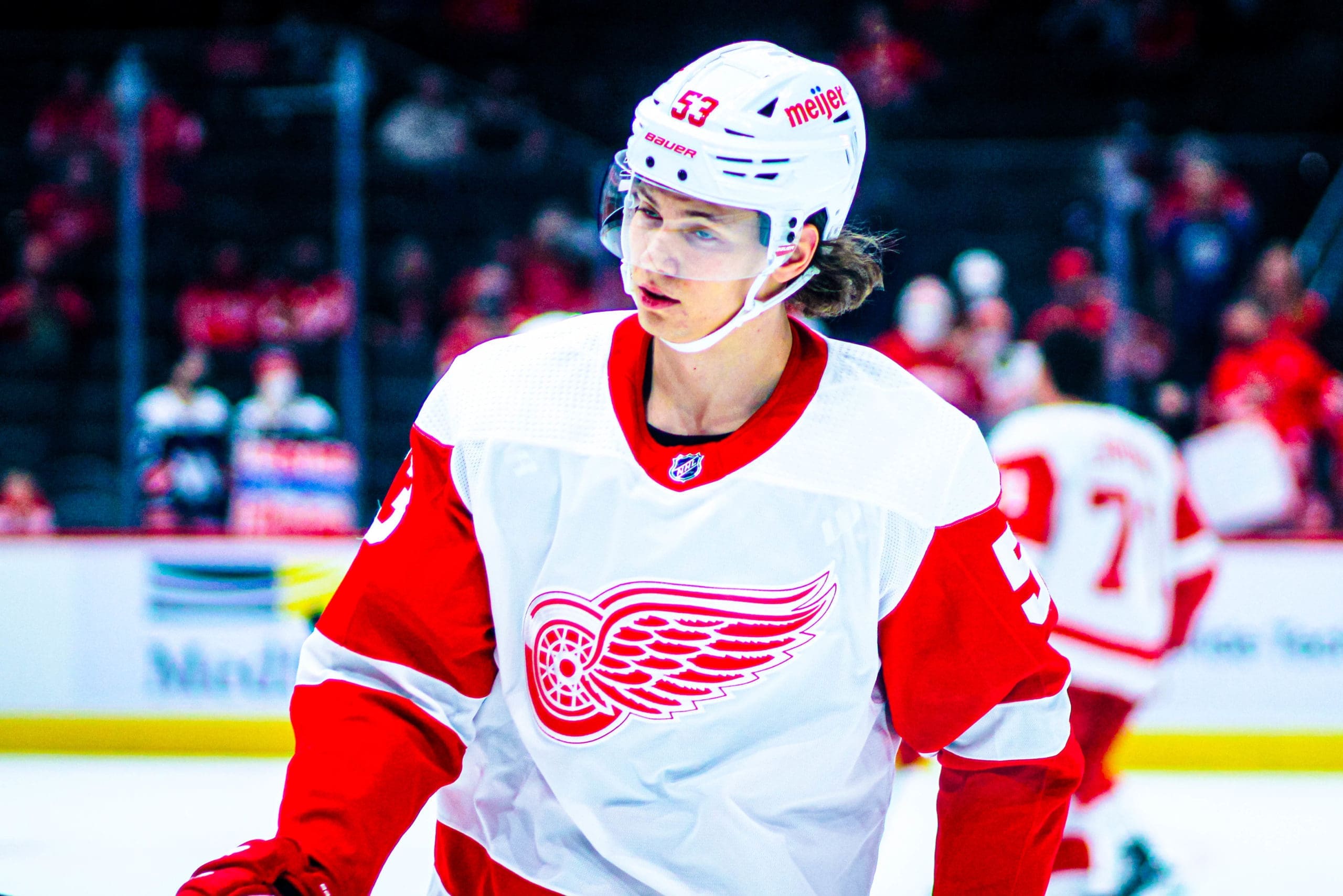 There was a lot going on during NHL Awards night for Detroit Red Wings defenseman Moritz Seider. He was winning the Calder Trophy for starters. The Red Wings surprised him by flying in the brass and captain Dylan Larkin to share in the moment with him.
Seider also got to meet his NHL idol. He's a big fan of Nashville Predators defenseman Roman Josi, who was on hand for the big show as a Norris Trophy finalist.
"He's very big, a good skater and he plays hard. He gives good passes and is strong on the power play. An unbelievable player for his age"–Roman Josi on Moritz Seider. https://t.co/xRBx9XGmu9

— George Malik (@georgemalik) December 10, 2021
"Yeah, meeting Roman Josi for the first time was not as exciting as winning the award but still pretty special," Seider admitted. "It was a really cool moment.
"When you watch a guy for so many years and finally meet him and are congratulating him on a great season, it's a pretty cool feeling,"
Josi, the 2019-20 Norris winner, led all NHL defensemen in assists (73) and points (96) last season. Although he received the most first-place votes (98), it was Cale Maker of the Colorado Avalanche who won the 2021-22 Norris Trophy.
Red Wings In Case You Missed It
Hockey Now Network
Pittsburgh: Brian Burke, president of hockey operations for the Pittsburgh Penguins, insists the team desires to be signing both Evgeni Malkin and Kris Letang to new contracts.
Vancouver: President Jim Rutherford and GM Patrick Allvin, the head hockey ops guys for the Vancouver Canucks, aren't showing a litany of success through their work at recent NHL entry drafts.
Montreal: The Montreal Canadiens hold five of the first 70 selections in the 2022 NHL entry draft.
Boston: While published reports are saying David Quinn will be the next coach of the Boston Bruins, the team is continuing to conduct interviews for the position.
SIGNUP BONUS
UP TO $250


BONUS MONEY
BET NOW
Philadelphia: Will ailing Philadelphia Flyers defenseman Ryan Eliis (pelvic injury) be ready for the team's 2022-23 training camp?
Washington: Former Red Wings forward Anthony Mantha of the Washington Capitals still frankly admits he doesn't know what it takes to win in the NHL.
Islanders: Led by New York Islanders prospect William Dufour, the Saint John Sea Dogs won the Memorial Cup.
Florida: An Achilles injury will be costing Florida Panthers forward Anthony Duclair at least the first few months of the 2022-23 NHL season.
Colorado: Pending UFA Nazem Kadri is saying that the ownership of the Colorado Avalanche is making it clear to him that they want him to stay with the Stanley Cup champs.
San Jose: The vacant San Jose Sharks GM's job looks to be coming down to a choice between Detroit-born Mike Grier and former Red Wings forward Ray Whtiney.
Vegas: The Vegas Golden Knights are adding Sean Burke, John Stevens and Mike Rosati to the staff of head coach Bruce Cassidy.