Red Wings Haven't Officially Decided Cossa Destination for 2022-23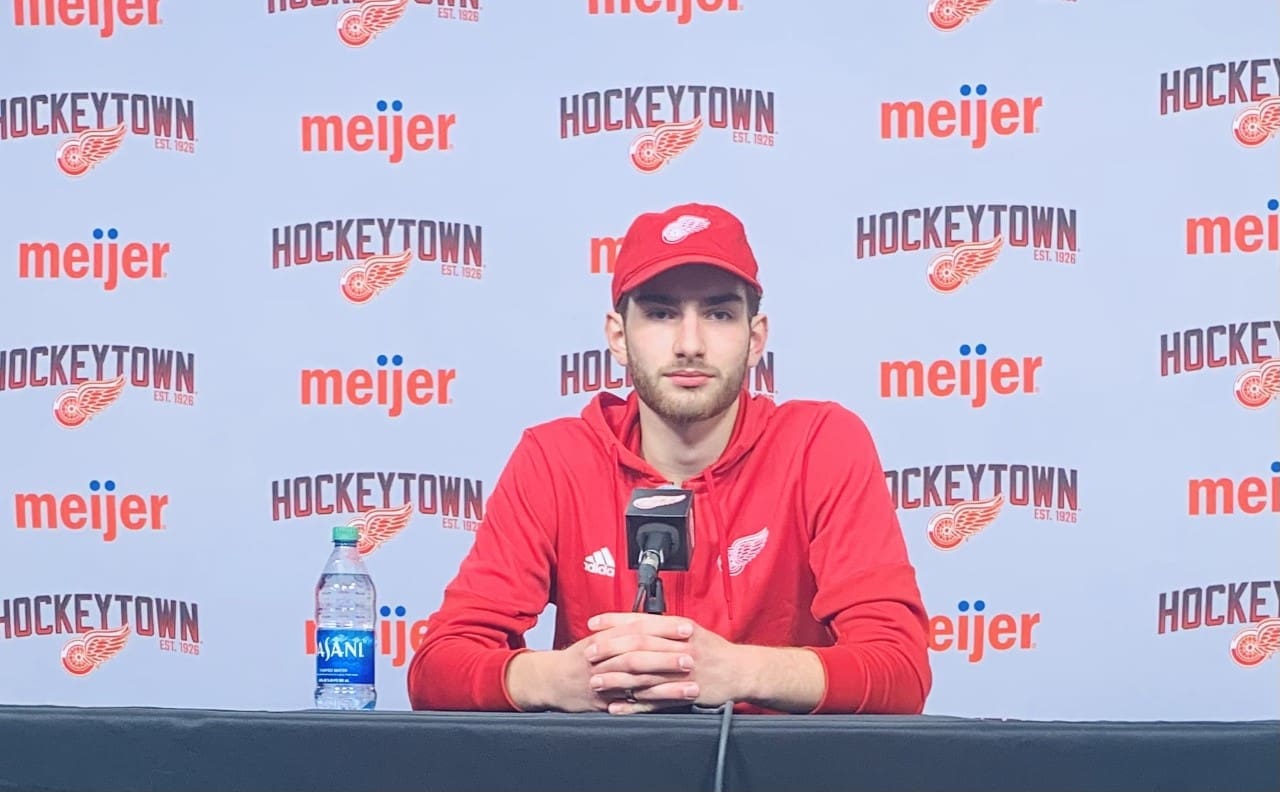 DETROIT — The Detroit Red Wings haven't yet talked to prize goaltending prospect Sebastian Cossa about where he might be playing next season.
"I'm assuming that will probably happen in the next couple of weeks here," Cossa said Monday on Day 2 of the Red Wings' Development camp. "Looking forward to that."
It's easy to presume the Red Wings will send him to Grand Rapids to let him start the learning process against American Hockey League competition. But plenty of NHL goalies didn't reach the AHL until the third season after they were drafted. That list includes Tampa Bay's Andrei Vasilevskiy, Pittsburgh's Tristan Jarry, Florida's Spencer Knight and Philadelphia's Carter Hart.
Jarry and Hart played two more seasons in the WHL after they were drafted before starting their pro career. Cossa has only played one WHL season since the Red Wings drafted him 15th overall in the 2021 draft. He will still be 19 when the 2022-23 season starts.
Even Marty Brodeur was 20 when he started in the AHL.
"I want to play at the highest level of hockey I can," Cossa said. "I think my game is going to do the speaking for me. The management obviously has that kind of say where I'm gonna be playing. I want to play at the highest level of hockey I can and compete at that level."
The Red Wings' goaltending situation has also become crowded. The signing of Ville Husso to play with Alex Nedeljkovic gives Detroit its NHL tandem. That leaves Jussi Olkinoura and Victor Brattstrom for Grand Rapids. There's also former Michigan State goalie John Lethemon for Toledo. But that is not etched in stone. GM Steve Yzerman can make room for Cossa to play in Grand Rapids if that is what he believes is best.
Nothing Left to Prove?
Yzerman always says that he doesn't hand out roster spots. They have to be earned. Maybe he will wait for training camp to decide about Cossa.
Cossa also missed some development time — playing only 17 games in 2020-21 because of COVID-19.
The argument against Cossa going back is that his Edmonton Oil Kings Western Hockey League team made it to the Memorial Cup. What does he have left to prove in the Western Hockey League? He's a confident goalie who is 71-16-9 during his junior season. He's also 6-foot-6 and he's probably ready for the physical rigors of pro hockey.
Cossa feels like he has proven himself at the WHL. He clearly wants a new challenge.
"I put a lot of work into my game," Cossa said. "I think I'm very confident in myself and in my game. For myself, I've already proven to myself. Now it's going out there and showing it and playing my game."
SIGNUP BONUS
UP TO $250


BONUS MONEY
BET NOW
Cossa was 16-3 in the postseason with a 1.93 goals-against average. But if he is sent back to the WHL, he would still have some unfinished business.
"I've won the league in the Western Hockey League but we came up short there in the Memorial Cup," Cossa said. "Obviously, no matter where I play there's something for me to prove myself. I want to win. No matter what level I'm at, when I'm playing games I've very competitive. I just want to win."