Yzerman Has Put the Red Wings in the Neighborhood of Success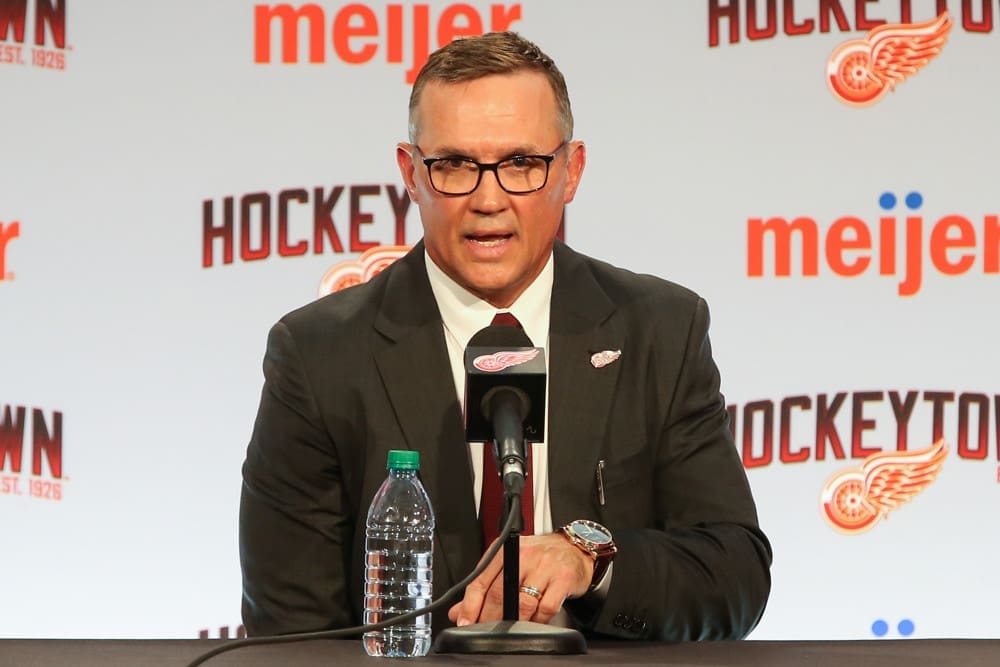 The Detroit Red Wings are not a hot property when it comes to the free agent marketplace. But the Red Wings success in landing six free agents shows they are starting to have curb appeal.
The Yzerplan. Seider and Raymond. A new coach from the Tampa Bay Lightning. The Red Wings have a long way to go. But suddenly the Red Wings look more upscale.
"It's encouraging that we were able to sign players and they were excited to come here," general manager Steve Yzerman said. "I think we are trending in the right direction…but we will see how this season plays out to gauge where we are. A lot of changes, a lot of new faces, all done with good intentions, with the hope that we are going to be better, not only this year, but be in position to keep improving the team."
All we know for sure is that Yzerman brought in players that he hopes will be make the Red Wings stingier defensively, harder to play against and more skilled on the power play.
Crowded Field
"Today, it's July 14, I think we've improved the team," Yzerman said. "But we got to go on the ice in September and play in October. I think we've addressed some needs, I'm hoping we're a better team. I think we're progressing slowly in this rebuilding of the Red Wings.
"Are we good enough to make the playoffs next year? I don't know. I'm hopeful we'll score more goals, we'll give up fewer goals. I'm hoping our power play will be a little better, our penalty kill is a little bit better, our goals against is a little bit better and that pushes us higher up the standings."
If the Red Wings improve in all of those areas, they might at least be in the hunt for the playoffs. Don't forget that Yzerman also traded for goalie Villi Husso who is coming off an exceptional season.
"Time will tell," Yzerman said. "I'm optimistic that we're progressing, but the plan hasn't really changed."
That means the Red Wings are still building through the draft and last year's first-round pick Simon Edvinsson will be given an opportunity to be a regular on defense.
"He's a great D," fellow Red Wings draft pick Theodor Niederbach says about Edvinsson. "He has size, skill and speed. He can play O-zone, D-zone, anywhere. I would say he's almost a complete D-man."
Even though the Red Wings are a rebuilding team, it will be challenging for younger players to make the team after the recent signings. Counting waiver-exempt Joe Veleno and Edvinsson, the Red Wings have 15 forwards and 10 defensemen.  However, Yzerman said Thursday that Robby Fabbri (knee surgery) and Jake Walman (shoulder surgery) will not be ready for the start of the season.
Dealing Done?
Yzerman believes strongly that youngsters shouldn't be given a roster spot until they earn it. That was how Lucas Raymond made the Red Wings last season. He was exceptional in training camp and in the preseason.
"If our young guys are really good, we are in a position that we will we will create a spot for them," Yzerman said. "Having too many good players is never a problem."
SIGNUP BONUS
UP TO $250


BONUS MONEY
BET NOW
Yzerman believes he's buying free agents. He has more than $10 million in cap space, although he still needs to re-up Wallman and Filip Zadina.
"I don't have a blockbuster in the works or anything like that," Yzerman said. " I think we get through free agency and kind of explore some teams that have to make moves in light of what's happened. It's important to keep looking around, keep communicating with other teams around the league to see if there is any potential fit, but I don't expect to announce any future signings. "