Edvinsson a Huge Reason for Red Wings' Optimism in 2022-23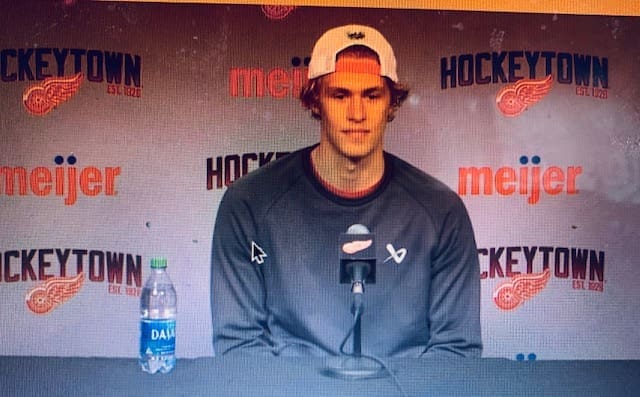 Young Swedish defenseman Simon Edvinsson hasn't stopped growing on the Detroit Red Wings.
"One month ago I grew one centimeter," Edvinsson said at the Red Wings Development Camp Thursday. "I'm at 199 centimeters right now."
That converts to 6-foot-6 and change.
General manager Steve Yzerman saw him Thursday for the first time since the 2021 draft when Edvinsson was listed at 6-foot-4.
"He's thicker than I expected, in a good way," Yzerman said. "He looks very strong. His skating is excellent. We're optimistic. We'll give him an opportunity."
Yzerman doesn't hold roster spots for rookies. The player must earn his place. Yzerman is consistent on that rule. Moritz Seider was a force from the first day at training camp. The reason why Lucas Raymond made the Red Wings last season is he performed well at training camp and during the preseason. Frankly, he surprised the Red Wings who expected he would need time in the American League.
Big Expectations
Anyone who saw Edvinsson play for Frolunda last season believes he's ready to help the Red Wings. However, Edvinsson is 19. That means he's younger and less experienced than Moritz Seider was as a rookie.
"Moritz had a year in the American League and a year in the Swedish Hockey League," Yzerman said. "Simon is a year younger and just coming one year out of the Swedish Hockey League, we'll see how he does."
Edvinsson is staying in Detroit the next three weeks to prepare to play for Sweden at the delayed World Junior Championships.
"All these experiences I think are fantastic for players," Yzerman said. "Going to these World Junior tournaments. They're great experiences individually but also for their development as hockey players playing in big games, do-or-die games, under the pressure is great. This tournament in August, what better way to prepare yourself for training camp, to play in a highly important, highly competitive tournament. So I see it as a positive."
The Seider Plan
Edvinsson is looking forward to working out in Detroit for the next three weeks.
"It was great to get to know everyone," Edvinsson said. "I like to see all the guys working here, the players, prospects. I'm going to be here for three weeks, going to be more familiar with the place, Detroit in general. It's going to be a good time."
His focus is clear.
"To take a roster place, to be in the lineup the first game," Edvinsson said. "That's the main goal."
Edvinsson is keenly aware that Seider jumped directly from the Swedish Hockey League like he is trying to do.
"He had a really great season," Edvinsson said. "He's a great player. I played against him the year before. I know how good he is. Of course, I want to make the same journey as him and also Lucas. Both really good players. I can practice hard to be able to make the same journey as they did."
Big Defense
The Red Wings want to see that happen because their objective is to make the Red Wings harder to play against. That's why they acquired 235-pound defenseman Ben Chiarot, feisty forward David Perron and defense-first 6-foot-2 defenseman Olli Maatta among others.
Yzerman sees the newcomers making a difference in Detroit's top four.
"Kind of defense-first defenders, bigger bodies, get in the way kind of hard to play against," Yzerman said. "I don't know what (Coach Derek Lalonde) will ultimately decide but I would expect those two (new defensemen) to play with Moritz and Filip (Hronek) and be good complements for them. They're big guys, they have good length, they defend pretty well, can block shots and are big bodies that are hard to play against."
What is unsaid is that Edvinsson is expected to mature into a top-pairing defenseman, although it may take some time. Adding his 6-foot-6 frame to a defense led by 6-foot-4 Moritz Seider is exciting for the team. Chiarot is 6-foot-3. The Red Wings could have a much bigger defense this season.
"If (Edvinsson is) ready to play and play a regular role that would be great for us," Yzerman said. "We'll just kind of let the whole thing play itself out, but the World Juniors will be a great stepping stone coming into training camp to try to make an impression and earn a spot on the team"