Red Wings Daily: Walman Opting For Arbitration
Detroit Red Wings defenseman Jake Walman, a restricted free agent, is filing for arbitration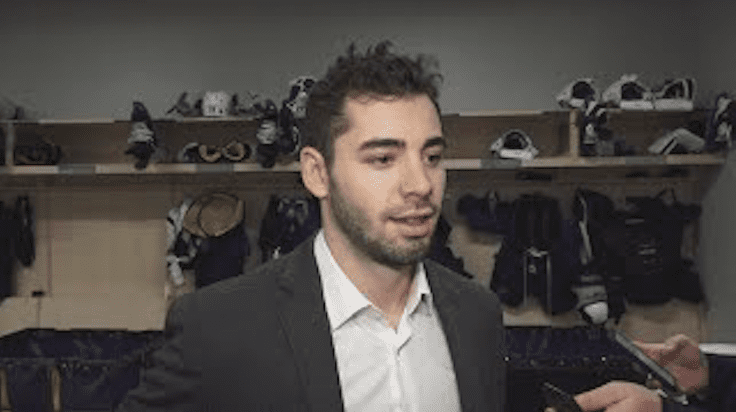 Jake Walman is one of two restriected free agents on the Detroit Red Wings roster. The defenseman is opting to file for arbitration as he seeks a new contract with the club.
Acquired at the NHL trade deadline last season from the St. Louis Blues, Walman earned the NHL minimum of $750,000 last season in the final year of his three-year entry-level contract. He ended up talling 3-7-10 numbers in 51 games last season. Playing 19 games for Detroit, Walman posted four assists.
Here are the NHL players that elected to file for arbitration before today's deadline. Clubs must elect for arbitration by 5 p.m. ET tomorrow. pic.twitter.com/kbkpdHm12Y

— Chris Johnston (@reporterchris) July 17, 2022
Walman, 26, was among 24 NHL RFAs who were making the decision to be filing for arbitration prior to Sunday's 5 p.m. ET deadline.
Arbitration hearings are scheduled to be held between July 27 and August 11. The deadline for club-elected salary arbitration notification is Monday at 5 p.m. ET.
Forward Filip Zadina is the other current RFA on the Red Wings roster.
Anticipate A Settlement
Traditionally, the Red Wings and their arbitration-eligible players reach a settlement prior to it coming down to an arbitrator's ruling. Last season, forwards Adam Erne and Jakub Vrana filed for arbitration. Both found common ground on new pacts prior to getting to the arbitration hearing. Similar outcomes were reached with Tomas Tatar in 2017 and Danny DeKeyser, Jared Coreau and Petr Mrazek in 2016.
Tyler Bertuzzi got awarded $3.5 million in arbitration.

— Pierre LeBrun (@PierreVLeBrun) October 27, 2020
The lone exception during this time period was forward Tyler Bertuzzi. He took the club to arbitration in 2020 and won a $3.5 million settlement from the NHL arbitrator.
Red Wings In Case You Missed It
Former Red Wings Dennis Cholowski and Evgeni Svechnikov are looking for work
Red Wings of Tomorrow looks at Swedish defenseman Gustav Berglund
Hockey Now Network
Vancouver: The Hockey Canada rape scandal is putting several NHL players in an unwanted spotlight, including a former Vancouver Canucks draft pick.
Montreal: Newly-acquired defenseman Mike Matheson was a client of Montreal Canadiens GM Kent Hughes when the latter was a player agent.
San Jose: Luke Kunin is ready to be playing for the San Jose Sharks.
Washington: What the future may be holding for Washington Capitals 2022 first-round pick Ivan Miroshnichenko.
Islanders: Could the New York Islanders take advantage of the Colorado Avalanche salary cap crunch to acquire defenseman Sam Girard?
Philadelphia: Forward Zayde Wisdom is expecting the Philadelphia Flyers development camp to be demanding under the direction of new coach John Tortorella.
SIGNUP BONUS
UP TO $250


BONUS MONEY
BET NOW
Florida: Forward Chris Tierney and defenseman Michael Del Zotto are the latest ex-Ottawa Senators to sign with the Florida Panthers.
Boston: An NHL source is expecting that contract extension talks between the Boston Bruins and forward David Pastrnak will be slow in reaching a resolution.
Pittsburgh: Forward Kasperi Kapanen is filing to take the Pittsburgh Penguins to arbitration.
Colorado: Do the Colorado Avalanche need to clear cap space in order to sign UFA Nazem Kadri? Might Sam Girard be the guy the Avalanche move out?