Former Red Wings Goalie Hellberg Excited to be Joining Kraken
Unable to garner a second contract from the Detroit Red Wings, Swedish netminder Magnus Hellberg is signing with the Seattle Kraken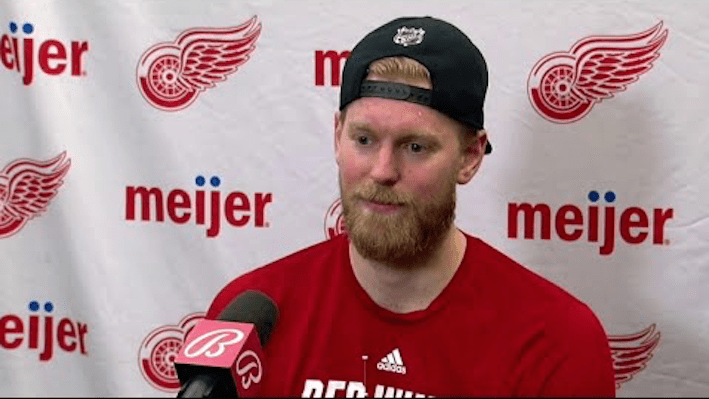 Magnus Hellberg is determined that he will be playing in the NHL next season. It didn't work out for him with the Detroit Red Wings, so his next stop will be with the Seattle Kraken.
The 31-year-old netminder, who had a one-game stint with the Red Wings last season, is signing as a free agent with the Kraken. Hellberg inked a one-year deal for the NHL minimum of $750,000.
"It is incredibly fun and inspiring," Hellberg told Expressen.se of his objective to make it as an NHL regular. "It is something I had as a goal during the last season, that next season I will make another investment and break into the NHL.
"So, of course, I am incredibly excited that this will now be the case."
We've signed goaltender Magnus Hellberg to a one-year deal (750K AAV). pic.twitter.com/qEIkuexpu5

— Seattle Kraken (@SeattleKraken) July 13, 2022
In his long appearance for the Red Wings, Hellberg beat the New Jersey Devils 5-3 on the road in the season finale for both clubs. It was his first NHL appearance since April 9, 2017, when Hellberg was with the New York Rangers.
At a stage of his career when it might be easier for him to settle into a role with the top European club, Swedish international Hellberg is determined to make his mark in the NHL.
"Now I have just turned 31 and I feel that I have my best years ahead of me," Hellberg said. "I think I have made great strides as a goalkeeper in recent years, both physically and mentally."
Seattle Familiar To Hellberg
One advantage Hellberg will have in going to Seattle is that the area is quite familiar to him.
"I actually have relatives who have lived there for a long time," Magnus Hellberg explained. "So I know it's an incredibly nice city, there's really beautiful nature too. Because I'm interested in fishing, I have a pretty good idea of ​​where there is good fishing in the world.
The #SeKraken have signed goaltender Magnus Hellberg to a one-year contract. pic.twitter.com/BB4uokjX9v

— Seattle Kraken PR (@SeattleKrakenPR) July 13, 2022
"It will be great fun. It is a new team that has an incredibly nice arena and supporters. I'm really excited to get there and show what I can do. I am incredibly happy that it will be Seattle and that I will get another chance to show myself."
Training With Pettersson
Prepping for his next go at cracking an NHL roster, Hellberg is currently training with a group that includes Vancouver Canucks star Elias Pettersson.
SIGNUP BONUS
UP TO $250


BONUS MONEY
BET NOW
"Elias . . . is a world-class player, incredibly talented, so of course it's fun to train with him," Hellberg said. "And you notice that when you put together a group of people who are all very competitive in the same gym, you lift each other all the time.
"You also get to train with good shooters who know how to score goals. It doesn't hurt either."