Red Wings of Tomorrow: Anton Johansson
Anton Johansson started last season in Sweden's J18 league and ended up playing in the SHL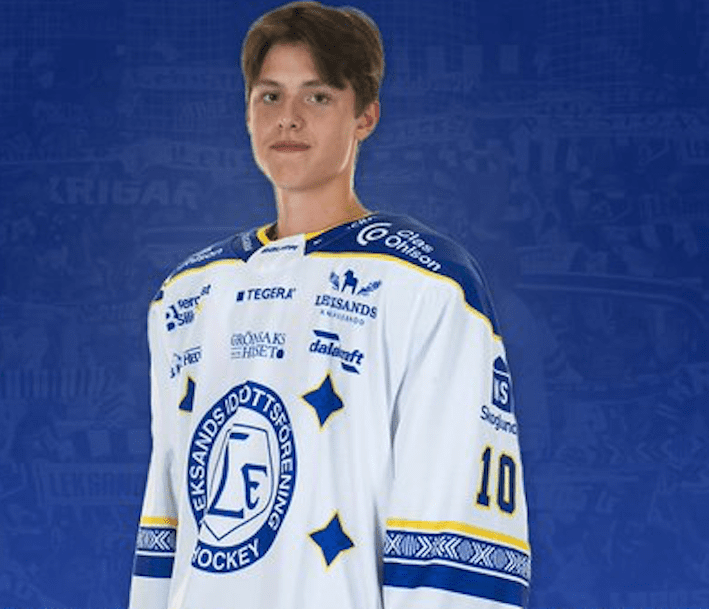 Red Wings of Tomorrow is assessing every prospect in the Detroit Red Wings system and what they are projecting to be in the future. We'll be looking at the strengths and weaknesses of their game, as well as what the future holds for them as they advance through the Detroit organization. Today, we look at defenseman Anton Johansson
Anton Johansson
Position: Defense
How Acquired: 105th pick (4th round) in the 2022 NHL Draft
2021-22 Stats: (GP-G-A-Pts) 22-6-4-10 (Leksands J20)
Contract Status: Unsigned
Anticipated 2022-23 Team: Leksands (SHL)
Prospect Synopsis
Like the lemurs in the animated film Madagascar, Anton Johansson likes to move it, move it – both on the ice and up the ladder of Swedish hockey. The Red Wings' 2022 draft pick began the 2021-22 season playing with Leksand IF in the J18 (under-18) division of Sweden. He quickly moved up to Leksand's J20 club and even played four games for their SHL squad in Sweden's top division before the year was done.
"I've had an incredible development," Johansson told hockeynews.se. "I didn't think that I was going to start on the J18 team and finish in the SHL at the beginning of the season. With patience and hard work, it paid off."
@DetroitRedWings 105th OA pick was RHD Anton Johansson #2022NHLDraft. Not to be confused with 2019 60th OA pick Albert Johansson (no relation). Anton is much bigger than Albert at 6'4" and skates really well. Has a booming shot, exhibit A (#10)#LGRW pic.twitter.com/uRnTSoxwFk

— Fantasy Hockey Lifer – Victor Nuño (@VictorNuno12) July 27, 2022
According to Draftineu.com's scouting report, Johansson gets around the ice smoothly and displays soft hands while in possession of the puck.
"I saw him play in the SHL," Red Wings director of amateur scouting Kris Draper said. "He played a lot in the J20 and we like the size, the right shot, puck-moving defenseman that we were excited to get."
Johansson also has good blood lines. His cousin is Seattle Kraken center Alexander Wennberg.
Estimated Time of Arrival in Detroit
If you look at the other European defensemen selected outside of the first round during the recent years by Detroit, the standard operating procedure is 2-3 years before they arrive in North America. Albert Johansson (no relation), a 2019 pick, is just getting here now. Ditto for Eemil Viro (2020). William Wallinder (2020) is projecting to be crossing the ocean next season.
BetMGM Sportsbook
States: All States Where Legal
GET THE APP
SIGNUP BONUS
UP TO $1,000!


Up To $1000 Paid Back in Bonus Bets
BET NOW
For all the strides he made last season, Anton Johansson still has much growing to do in his game. That includes his physical package. While already 6-foot-3, he needs to add some bulk to his current 172-pound frame.
"He was a player we identified," Draper said. "It's interesting. Now that you're a couple of years from not being able to go to the all the rinks, video is kind of accepted in our profession now.
Stort grattis till Anton Johansson som under årets NHL Entry Draft valdes som 105:e spelare totalt i draften, och tingades av @DetroitRedWings! #leksandsif #NHLDraft pic.twitter.com/QKqmNnZFFn

— Leksands IF (@leksands_if) July 8, 2022
"So you can actually watch more video than you were supposed to back in the day. When we put our list together and started talking about players, you get on video and start watching them and have dialogue. We really like the path that he's on."