Red Wings Prospect Buchelnikov Lighting it Up in Sochi Open
Red Wings prospect Dmitri Buchelniknov produced a 4-point game in Sochi Open tourney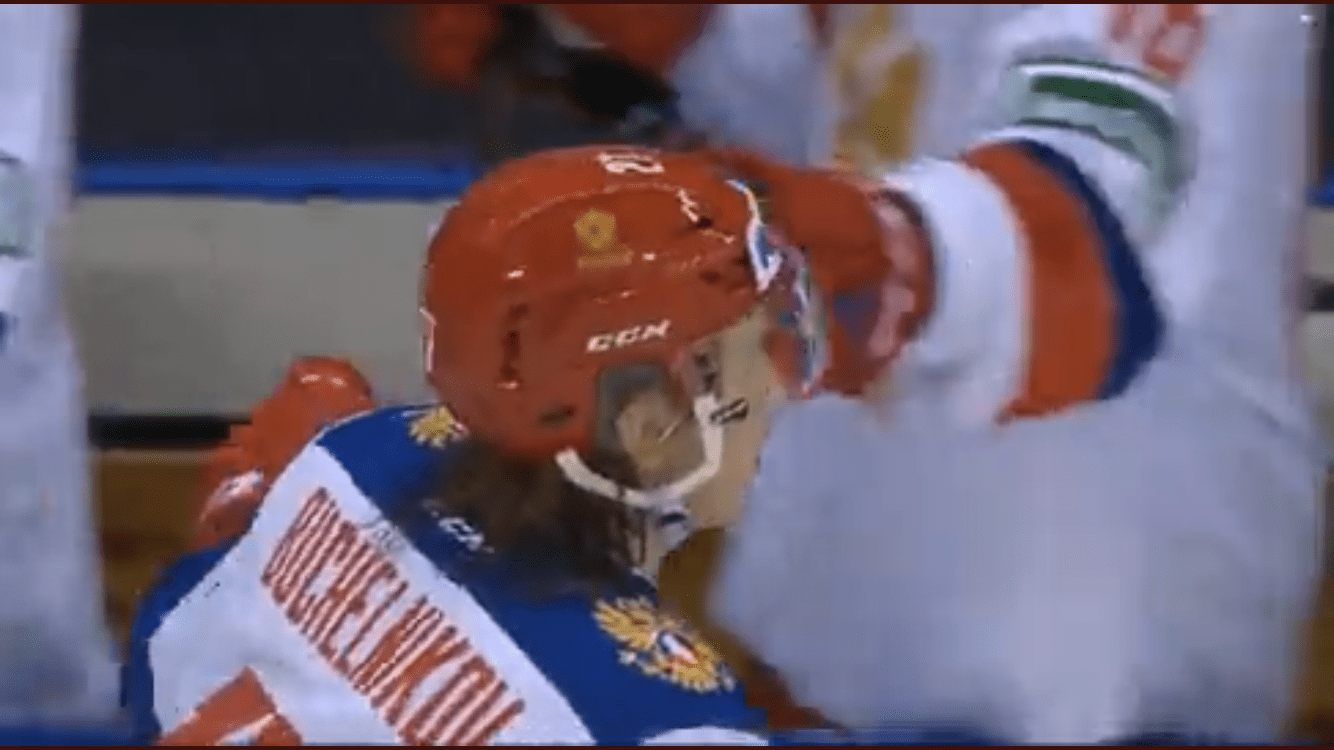 More than a few eyebrows were raising suspiciously when the Detroit Red Wings were claiming Russian forward Dmitri Buchelnikov with the 52nd overall selection of the 2022 NHL entry draft.
Many of those same eyebrows were probably arching upward again on Sunday. Watching highlights from Sunday's action at the Sochi Open KHL preseason tournamment, Buchelnikov was on fire.
Playing for the Russian Under-25 national team, Buchelnikov delivered a pair of goals and was dishing out an equal number of assists in a 6-1 rout of the host team from Sochi.
HAT TRICK WATCH
🚨 Dmitri Buchelnikov PP 2nd of the game #LGRW
4-0 Russia U25 #SochiHockeyOpen pic.twitter.com/LSIJfNlflY

— Hockey News Hub (@HockeyNewsHub) August 7, 2022
At midseason, Buchelnikov was sitting with a rating of No. 47 among European draft-eligible players according to NHL Central Scouting. However, by the end of the season, there was uncertainty regarding Russian players due to the country's war with Ukraine. Subsequently, the outcome saw Buchelnikov dropping right out of the rankings.
That didn't stop the Red Wings from calling Buchelnikov's name early on draft day.
"These are 17, 18, 19 year old kids that love to play hockey," Red Wings director of amateur scouting Kris Draper explained. "That's something we have to keep in mind.
"In the end, they just want to play hockey like any kid in North America or Sweden or Finland or wherever it might be. That's how we evaluated the Russian players this year."
Buchelnikov Puts Up Numbers
As the Russian team was racing to a 4-0 lead by the end of the second period, Buchelnikov drew assists on the first and third goals. He tallied the second – the eventual game winner – and the fourth goal.
Buchelnikov shows tremendous offensive upside. Last season, he was playing for SKA St. Petersburg in the MHL (Russian Junior League). Buchelnikov ended up second in the league scoring race with 31-43-75 totals in 56 games.
🚨 Dmitri Buchelnikov PP 🚀 #LGRW
2-0 Russia U25 #SochiHockeyOpen pic.twitter.com/an4tr8IOdF

— Hockey News Hub (@HockeyNewsHub) August 7, 2022
Since they weren't allowed inside Russia, the Detroit brass was relaying on video to assess Buchelnikov, as well as the opinion of Nikolai Vakourov, the club's Russian scout. Vakourov was pushing hard to get the Wings to make the selection of Buchelnikov.
"As the second half of the season came on, I really started to talk to Nikolai," Draper said. "Dmitri started producing, started scoring, putting up some good numbers. From there I was able to track him on video.
SIGNUP BONUS
UP TO $250


BONUS MONEY
BET NOW
"(Nikolai) said he's a player he would really like to get for our organization. We think we got a very skilled, very smart hockey player."
Through four games of the Sochi Open, Buchelnikov is showing 3-2-5 numbers. As well, he also potted the game winner in a 4-3 victory over Avangard Omsk.