Swedes Expecting Red Wings Prospect Edvinsson Back For World Junior Quarterfinals
Red Wings 2021 first-round pick Simon Edvinsson was a scratch from Sweden's lineup against Germany at the World Juniors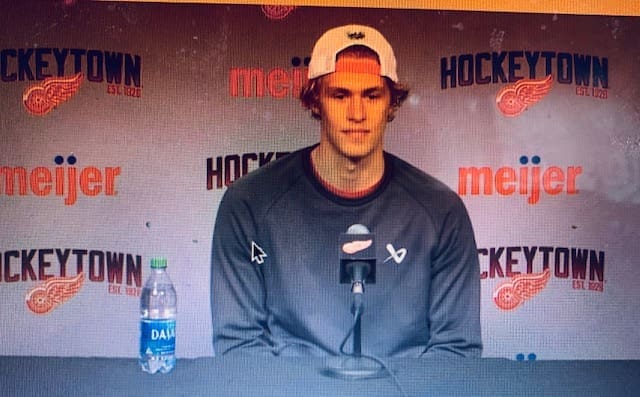 Detroit Red Wings 2021 first-round draft pick Simon Edvinsson was missing in action as Sweden was beating Germany 4-2 in the final match of pool play at the IIHF World Junior Championship on Monday in Edmonton.
The cause for Edvinsson's absence wasn't made abundandly clear by Swedish management.
"He was not fit to play," was all Swedish coach Tomas Monten was willing to share with HockeySverige.se about the condition of his star defenseman. "He just wasn't playable."
Edvinsson and Mo patrolling the blue line in Detroit is gonna be a deadly duo pic.twitter.com/berhbpyxM9

— Spittin' Chiclets (@spittinchiclets) August 12, 2022
TSN analyst Bob McKenzie was offering speculation that Edvinsson was suffering from food poisoning. For his part, Monten did suggest that it wasn't likely that Edvinsson's ailment would be keeping him out long term.
Asked by HockeySverige.se if he was worrying about Edvinsson's status going forward, Monten simply answered, "No, I'm not."
Edvinsson A Key Component For Swedes
Edvinsson is proving to be a workhorse for the Swedes during the tournament. He's logging over 22 minutes of ice time per game. Edvinsson is the leader in time on ice for the Swedish squad in all three games that he's played.
Against the USA in a 3-2 loss he was playing 22:44. During a 3-2 win over Switzerland, Edvinsson was perfoming between the boards for an impressive 26:09. As the Swedes were working to protect a one-goal advantage, he was skating 9:11 of ice time in the third period alone.
Håkan Andersson thinks Wallinder and Edvinsson have been "okay", but that "they have more in them" so far at the WJC. Edvinsson missed last game with an undisclosed injury/illness, but is supposed to be good to go for the quarterfinals. #LGRW https://t.co/JUDSk719Wv

— IcehockeyGifs (@IcehockeyG) August 16, 2022
"He's a great D," Swedish teammate and fellow Red Wings draftee Theodor Niederbach said of Edvinsson. "He has size, skill and speed. He can play O-zone, D-zone, anywhere.
"I would say he's almost a complete D-man."
Edvinsson netted the game winner in a 6-0 shutout of Austria. Contributing a goal and an assist, he's also showing a +1 rating.
Red Wings Expecting Big Things
The Red Wings were making him their sixth overall during the 2021 NHL entry draft. They will be giving the 6-foot-6, 209-pound Edvinsson every chance to crack the lineup at training camp this fall.
"All these experiences I think are fantastic for players, going to these World Junior tournaments," Red Wings GM Steve Yzerman said. "They're great experiences individually but also for their development as hockey players. Playing in big games, do-or-die games, under the pressure is great.
SIGNUP BONUS
UP TO $250


BONUS MONEY
BET NOW
"This tournament in August, what better way to prepare yourself for training camp, to play in a highly important, highly competitive tournament? So I see it as a positive."
The Swedes finished pool play second in Group B with a 3-1 record. Sweden will be facing surprising Latvia in the quarterfinals on Wednesday at 3:30 pm ET.