Swedes Salvage WJC Effort With Bronze Medal Performance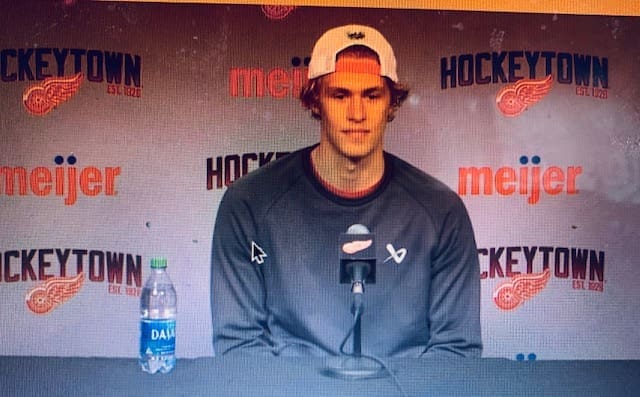 The Swedes, with three Detroit Red Wings prospects on the roster, completed a salvage job Saturday when they defeated the Czechia 3-1 to win the bronze medal at the World Junior Championships.
The Swedes are disappointed in their play. They are saying so publicly. Canada was considered the favorite to win the tournament. But the Swedes were considered a legitimate contender. They didn't play up to their potential.
That included banged-up defenseman Simon Edvinsson who also suffered food poisoning during the tournament. The Athletic listed the 2021 first-round pick as one of the disappointments of the competition in Edmonton.
Simon Edvinsson with a hit in the bronze medal game vs. Czechia #LGRW pic.twitter.com/xfHcJYAi6Y

— IcehockeyGifs (@IcehockeyG) August 20, 2022
Edvinsson looked better in December when the WJC had some games before deciding to delay until this summer. He wasn't at his best this time around. The Red Wings undoubtedly were hoping to see him play better, although a few games isn't going to alter the Red Wings' strong belief in his ability.
The plan has always been to judge him by his training camp/preseason performance. That hasn't changed.
Disappointment
The Athletic also placed the Swedish forwards on the "disappointment" list. That would include Red Wings second round pick Theodor Niederbach (51st overall, 2020). He totaled one goal and three assists for four points in seven games. Niederbach assisted on the game-winning goal.
Wallinder's performance level was inconsistent.
At one point in the tournament, Detroit Red Wings Director of European Scouting Hakan Andersson told Swedish media nearer the end of the tournament at that Niederbach and Wallinder had been "okay." But he added  "But they have more in them."
Wallinder's playing time probably wasn't as strong as he hoped it would be. Last season, he made strides in his development in the Swedish Hockey League. Neiderbach and Wallinder are both playing another season for Rogle in the SHL this season.
Håkan Andersson thinks Wallinder and Edvinsson have been "okay", but that "they have more in them" so far at the WJC. Edvinsson missed last game with an undisclosed injury/illness, but is supposed to be good to go for the quarterfinals. #LGRW https://t.co/JUDSk719Wv

— IcehockeyGifs (@IcehockeyG) August 16, 2022