The Five Most Valuable Red Wings on the Roster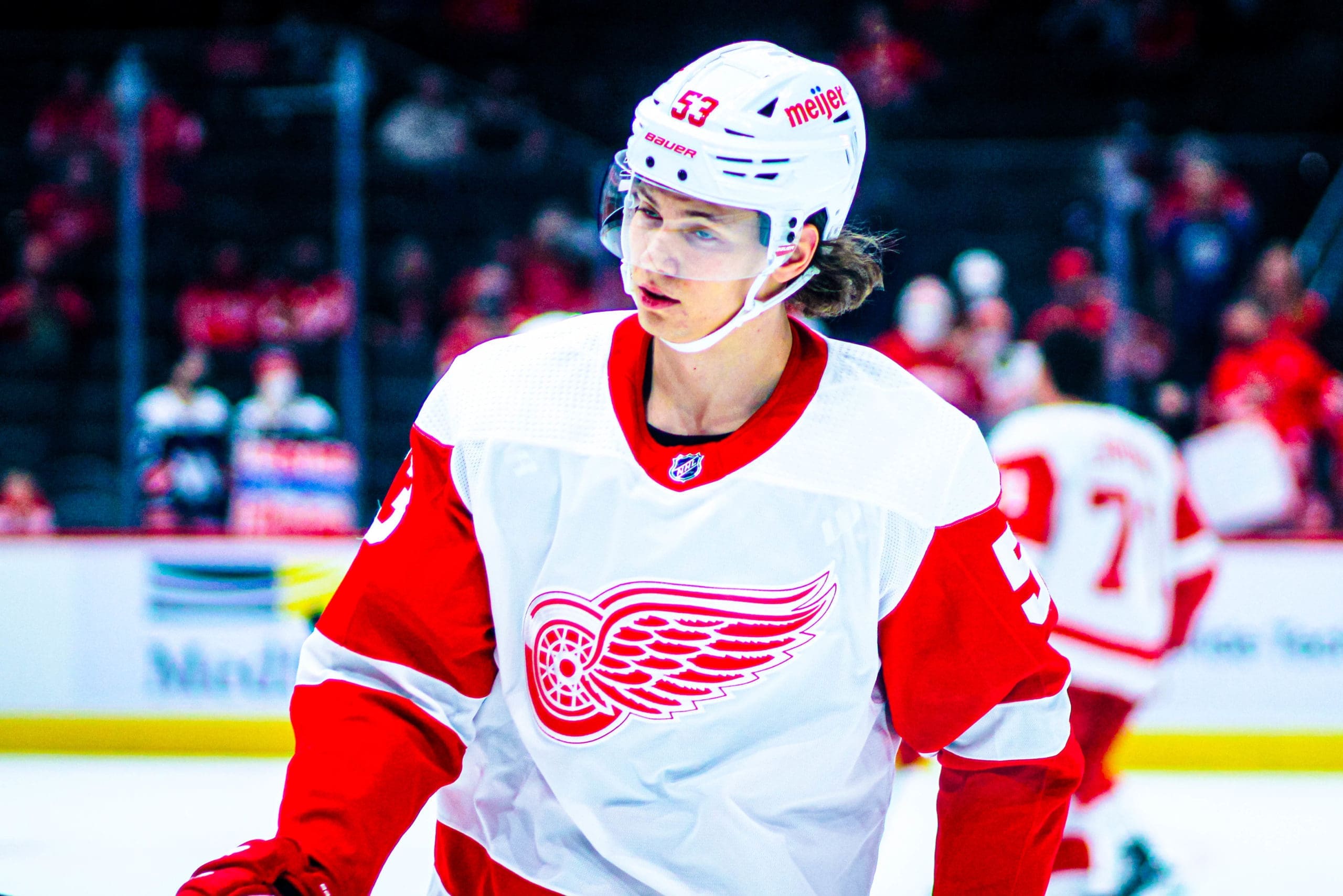 The Detroit Red Wings aggressively added talent to their roster during the offseason. It signaled one of their biggest pivots since general manager Steve Yzerman took over. Though no one is going to make any guarantees or promises as to how the team will fare, it's likely that this will be Detroit's first real shot at a playoff spot.
So with all these changes, and heading into a new season, who are the most valuable Red Wings on the roster?
In no particular order, DHN presents the case.
Moritz Seider
Perhaps the first defenseman to be mentioned as an heir apparent to the great Nicklas Lidstrom, Seider went out and won the Calder Trophy and established himself as a rising star in the league.
Night in and night out, Seider was matched against the league's very best, and he went toe-to-toe with all of them. His willingness to not back down from any player in the league immediately endeared him to the fanbase.
Penguins vs. Red Wings last night was, more than anything else, Sidney Crosby vs. Moritz Seider #LGRW pic.twitter.com/DHFVzYrv3g

— IcehockeyGifs (@IcehockeyG) January 29, 2022
Simply put, Seider is the backbone of Yzerman's rebuild effort. A strong blue line is the basis of a championship team. Just ask Colorado and Tampa Bay. Yzerman chose Seider hoping he could be a building block in that process.
He's been that and more. Seider is foundational.
Lucas Raymond
Foundational building block number two is Raymond, who stepped into training camp and skated out of it on the Red Wings' opening night roster. He was a major part of Detroit's early surge and though he slowed as the season continued, his value to the team was evident from the beginning. Accounting for 23 goals and 57 points, Detroit has its second key piece–and he's barely 20 years old.
Dylan Larkin
Arguably the heart and soul of the Red Wings, Larkin bounced back with a vengeance after being written off by some fans and analysts. With 69 points in 71 games, Larkin posted 31 goals, crossing the 30-goal threshold for the second time in his career. Playing out the final season of his expiring contract at an AAV of $6.1M, Larkin is due a hefty raise.
With every passing day an extension isn't announced, the rumor mill will churn and Larkin's name will likely join those of other elite players with deals expiring. It's conjecture at this point and beyond that, Yzerman knows the value of Larkin to the organization.
Tyler Bertuzzi
Rumors swirling around Bertuzzi seemingly have more legs but all bets are off until the season unfolds. Regardless, Bertuzzi's value to the team is evident.
A second round steal in 2011, Bertuzzi has put up 20 or more goals three times in four seasons. During the 2021 shortened season, Bertuzzi had five goals in nine games but a back injury shelved the remainder of the season for him. The gritty forward notched a 30-goal season in 2021-22, and revealed that his $4.5M AAV deal was a bargain for the production.
Now, another high-scoring season guarantees a big payday for the forward. But will it come from Detroit or from the open market? Unlike Larkin, it's not as sure a bet that he'll remain a Red Wing if previous rumors are to be believed.
Jakub Vrana
Red Wings fans for two seasons have wondered what Vrana could do with a full season in Detroit. Acquired near the end of the 2021 season, Vrana had eight goals in 11 games. After recovering from injury midway through the 2021-22 season, Vrana answered with 13 goals in 26 games. Vrana has a nose for the net, and playing at least 70 games seems to favor Vrana hitting the 30-goal mark.
🚨 RED WINGS WIN 🚨

Gagner nets the winner in the shootout and Jakub Vrana continues to dazzle with a nasty shootout goal of his own #LGRW
pic.twitter.com/G6bPnrTZJ3

— Barstool Detroit (@BSMotorCity) May 1, 2021
Combine him with with the likes of David Perron, Andrew Copp, Larkin, Bertuzzi, and Raymond. Suddenly, the Red Wings have a formidable top six.
Not to mention that a healthy Vrana in the top six allows Detroit to utilize Pius Suter, Filip Zadina and Michael Ramussen lower in the lineup,. That's offering a chance to ice a stronger bottom six. Then again, maybe Zadina and Vrana end up on a line.
Pencil him in wherever you want–Vrana makes Detroit a much better team.
Red Wings Honorable Mention: Alex Nedeljkovic
It takes a team to win and whittling it down to five players was not easy. However, the Red Wings are a much better team with the aforementioned five above. But there needs to at least be an honorable mention to Alex Nedeljkovic.
SIGNUP BONUS
UP TO $250


BONUS MONEY
BET NOW
There were several times in 2021-22 where he was outstanding in spite of a team not providing goal support. Beyond that, the defensive corps were not at the same level of what Nedeljkovic saw in Carolina.
This year could be one that takes him into that category with more talent in front of him. The returns should be encouraging.