Playing Well in Traverse City Can Launch a Red Wings' Career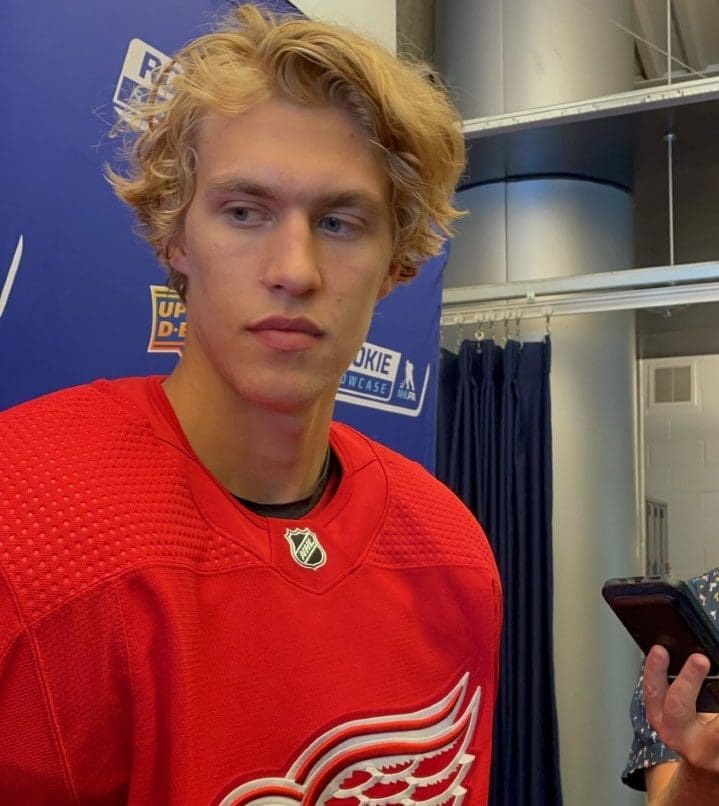 Red Wings GM Steve Yzerman knows the NHL inside and out and yet even he's never sure what to expect from rookies when they show up for their first NHL Prospect Tournament in Traverse City, Michigan.
Yzerman said it's a "little bit tricky" trying to decide when young players are ready for the NHL.
"Truthfully last year we thought Moritz would play in the NHL," Yzerman said. "We really weren't sure on what impact he would have. Lucas (Raymond) we thought would start in American League. Would he be there the start of the season or not? He didn't spend a day in the American League."
Raymond launched his campaign to make the NHL at the 2021 NHL Prospect Tournament. He netted three goals in his first two games at the tournament. Lucas Raymond was impressive in training camp and then put up numbers in preseason games. He was too good to cut.
All Eyes on Edvinsson
This weekend, a new group of promising draft picks, led by defenseman Simon Edvinsson (sixth overall, 2021) and 6-foot-8 forward Elmer Soderblom (159th overall, 2019), will be competing in the NHL Prospect Tournament trying to persuade Yzerman they are ready for the show.
Full #DRWPT roster breakdown ⤵️ pic.twitter.com/rQumj71fh9

— Detroit Red Wings (@DetroitRedWings) August 31, 2022
Edvinsson was a finalist for Swedish Hockey League Rookie of the year and Soderblom netted 21 goals in the SHL.
The tournament features the top prospects from the Red Wings, Columbus Blue Jackets, Toronto Maple Leafs, St. Louis Blues and Dallas Stars. Because the teams will play an unbalanced schedule, the tournament will not crown a champion this year.
This tournament is important for 2021 Red Wings' first-round pick Sebastian Cossa (20th overall) because Yzerman will have to make a decision on where to send him this season. Will he end up back in the Western Hockey League or in the American Hockey League?
Defenseman Albert Johansson will be playing his first pro games in North America in this tournament. He is considered one of Detroit's best prospects.
Good Start
Yzerman doesn't set aside roster spots for youngsters. He wants them to earn spots. Yzerman likes them to do what Raymond did, start off their fall by playing well at the NHL Prospect Tournament and continue playing well.
Edvinsson is expected to make the team, but Yzerman isn't penciling him into the lineup, though.
"I'd like them to push somebody out as opposed to throw them in there and if they're not ready then what do you do?" Yzerman said.
The Red Wings will play the Blue Jackets on Friday at 3 p.m., Dallas on Saturday at 6 p.m. and the Toronto Maple Leafs on Monday at 11 a.m.
In that first game, the Red Wings will face a Columbus roster that includes three first round picks: Kent Johnson (2021), David Jiricek (2022) and Denton Mateychuk (2022). Red Wings fans might know Johnson because he played last season for a very strong University of Michigan team.
Last season, Cole Sillinger and Yegor Chinakhov made a strong showing for Columbus at this tournament and then made the Blue Jackets' squad.
The Stars' roster this year includes Wyatt Johnston. He was the Stars' first round pick in 2021 and then dominated the Ontario Hockey League last season for the Windsor Spitfires. Johnston posted 46 goals and 78 assists for 124 points in 68 games. The Stars' lineup will also include 2021 second-round pick Logan Stankoven, a smallish center who produced 104 points in the Western Hockey League.
DraftKings Bet $5 Win $150
All States Where Legal
GET THE APP
SIGNUP BONUS
BET $5, WIN $150


New Player Bonus
BET NOW
The Toronto Maple Leafs haven't yet released their tournament roster.
Good Tournament History
Historically, this tournament is a good indicator of NHL participation. In the tournament's history, 728 players have played at least one NHL games.
Nineteen players who played for the Red Wings last season played in the NHL Prospect Tournament.
The 19 who played for the Red Wings in 2021-22 are Tyler Bertuzzi, Kyle Criscuolo, Robby Fabbri (St. Louis), Taro Hirose, Filip Hronek, Dylan Larkin, Gustav Lindstrom, Alex Nedeljkovic (Carolina), Chase Pearson, Michael Rasmussen, Lucas Raymond, Daniel Renouf, Moritz Seider, Gemel Smith (Dallas), Givani Smith, Marc Staal (NY Rangers), Joe Veleno, Jake Walman (St. Louis) and Filip Zadina.