Amadeus Rocks as a Detroit Red Wings Prospect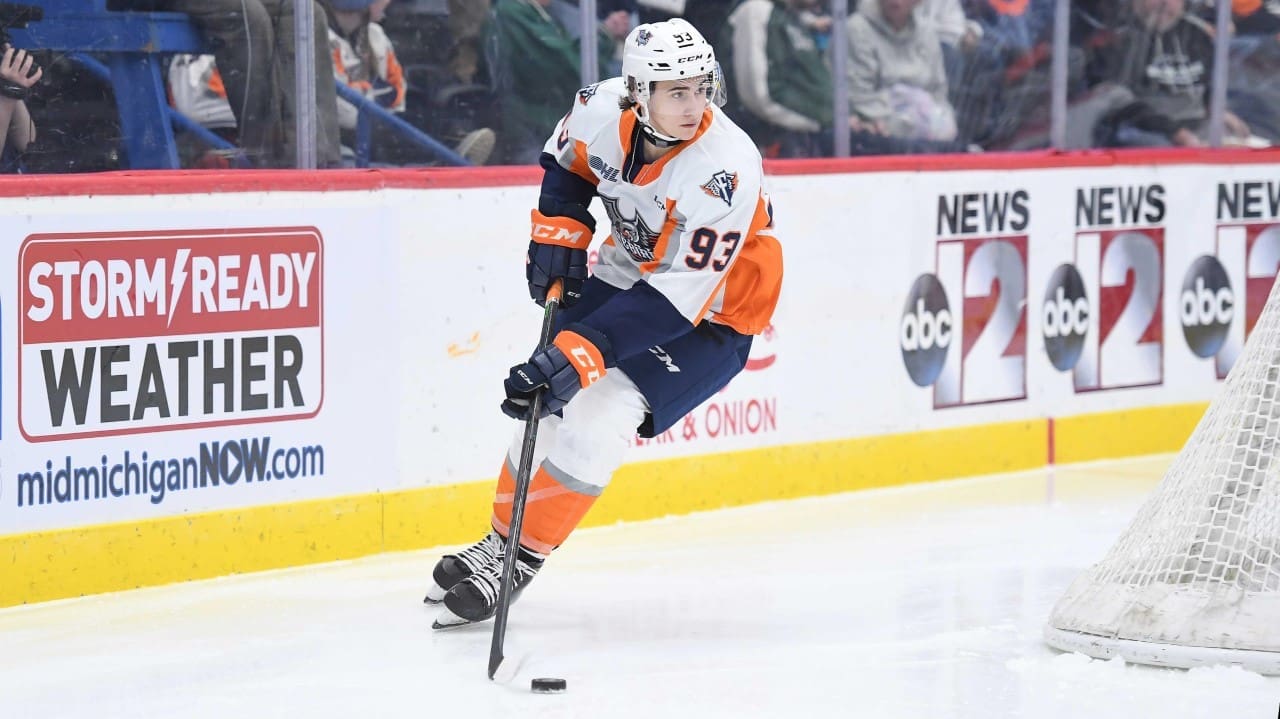 Amadeus Lombardi, by any other name, would still hit all of the right notes as a Detroit Red Wings prospect.
The 2022 fourth round draft pick (113th overall) is a fast, combative, highly competitive center who impressed the Red Wings last season with his play for the Flint Firebirds. He is a smart athlete who forces you to watch him. Fans will get their first chance to view him in a Red Wings jersey this weekend when he plays in the NHL Prospects Tournament in Traverse City, Mich.
"I remember having conversions with him during the course of the year," Firebirds coach Ted Dent said. "I was impressed with just how serious, committed and motivated he is to be successful and prove he can be a player."
#LGRW prospect Amadeus Lombardi scores a Michigan goal in the 3v3 tournament pic.twitter.com/MkPhdpNvNN

— Bored Detroit sports fan (@guylikeshockey) July 14, 2022
But no matter how impressively Lombardi plays, it's hard to discuss him without starting with his first name. Red Wings director of amateur scouting Kris Draper said he almost broke out with the Falco tune "Rock me, Amadeus" when he announced the Red Wings pick of Lombardi.
"I don't mind at all — being asked about it,"  Lombardi said. "It's not hard to answer. Everyone thinks it's about Mozart."
It's not.
Lombardi said his father is a musician and had it in his head for a long while he wanted a son named Amadeus.
"It's from the Latin words for love and god," Amadeus said. "My dad had this idea as a kid. "
Amadeus is not the only family member with a name that plays like a conversation starter. He has a brother named Ulysses and a sister named Symphony.
Multiple Tools
A unique name fits Amadeus Lombardi because he is not a run-of-the-mill player. There's something about him that sticks with you.  His playing style has an "it' factor. Lombardi brings an energy that serves his team and makes him memorable.
"He is hungry to get the puck," Dent said.
Dent said Lombardi isn't overly physical, but is a relentless forechecker, with a knack for stripping pucks away from opponents.
Dent is a highly experienced coach. He spent six seasons coaching the Rockford IceHogs in the American Hockey League. Lombardi grew exponentially as a player under his command. By the time the Firebirds reached the Ontario Hockey League playoffs, Lombardi was a more polished performer.
Lombardi has always been an undervalued player. The Aurora, Ont. native was a 13th round selection in the 2018 OHL Priority draft.
"He likes to prove people wrong," Lombardi said. "He has a swagger to him."
It's only 70 miles from Little Caesars Arena to Flint. That made it easy for the Detroit Red Wings scouts to get plenty of viewings of Lombardi. They always came away impressed.
Continual Improvement
Lombardi views himself as a playmaking center, although he is keenly aware that his other attributes are equally important.
"My speed and my hockey sense help me," Lombardi said. "I am a pass-first player but I can chip in with goals. I think I have pretty good hands."
He finished with 18 goals and 41 assists for 59 points in 67 games.  Lombardi played better and better as the season progressed. He posted eight goals and 15 points in 19 playoff games.
"The biggest thing for me was my confidence," Lombardi said. "I started to do things that I would haven't done at the beginning of the season."
Lombardi looked very confident at the Red Wings' Development camp at LCA in July.  The Red Wings appreciate that he keeps improving. He has been trying to add muscle this summer and work on his shot. Management and coaches are probably anxious to see what he can do in the Rookie Tournament.  Said Dent: "He's a real genuine hard-working kid."