Soderblom Standing Tall In Red Wings Rookie Camp
Big body presence of 6-8 Swede evident on every shift he takes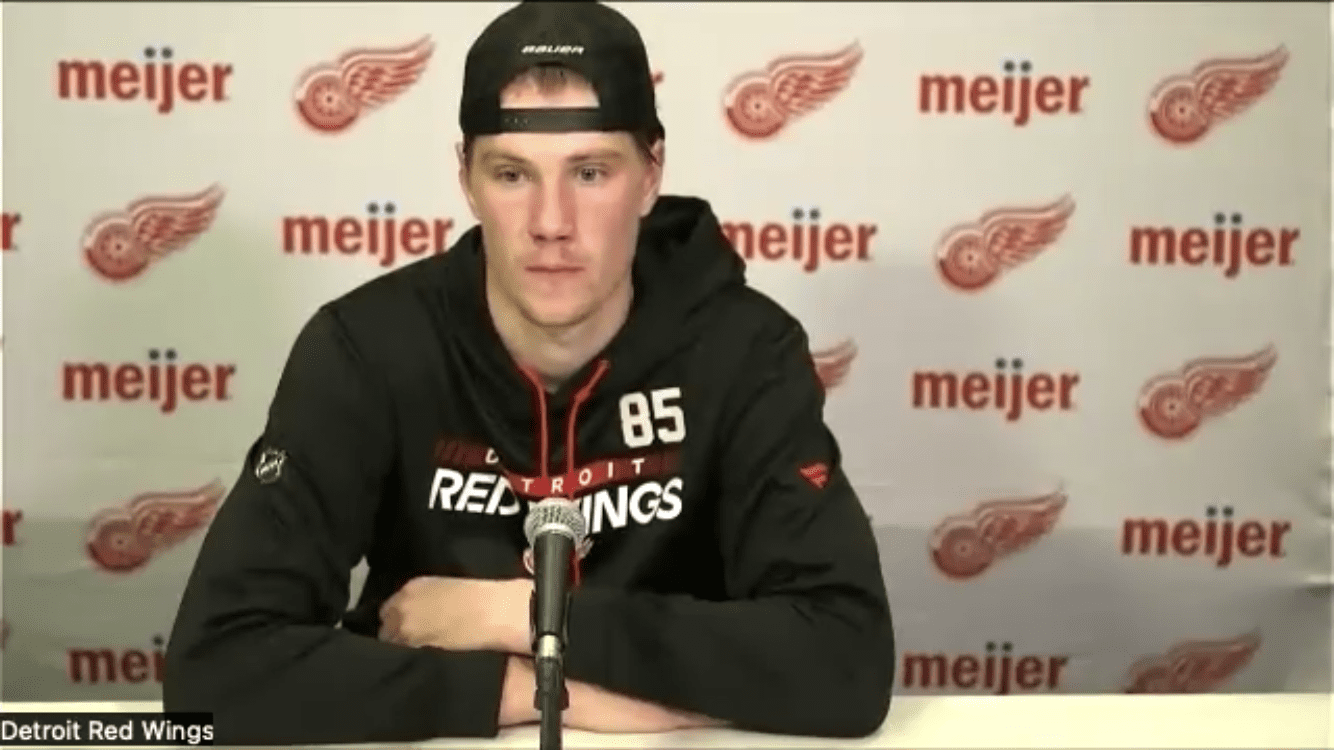 Elmer Soderblom has a knack for standing out in the crowd.
Actually, all the Detroit Red Wings prospect needs to do in order to achieve this objective is walk into a room. At 6-foot-8 and 249 pounds, let's just say you can't help but notice him.
"That guy is an absolute tank," teammate Cross Hanas said. "I don't even understand it. When he has the puck on the ice it's like you can't even reach around him to get it."
The thing is, at the NHL Rookie Tournament in Traverse City, Michigan, Soderblom is doing things with his massive frame when he's on the ice that will ultimately leave him standing among a very special and select crowd.
That would be as an NHL player.
Soderblom Isn't A Physical Powerhouse
Soderblom's unique physical presence isn't an asset he utilizes to his advantage in the traditional hockey manner. Players of his build generally earn their reputation between the boards by dishing out punishment.
Soderblom punishses the opposition with his skill.
Talked with Red Wings Elmer Soderblom earlier today…6 foot 8 inch forward. He said he wore number 25 for his team in Sweden because it was the biggest sweater on the team. LOL

— Ken Kal (@KenKalDRW) September 15, 2022
"I think my strength is attack mindset and being around the net and to be tough to play against," Soderblom said. "Be able to protect the puck and use my big frame."
If you're coming to the rink waiting to see the 21-year-old Swede drive someone throught the boards, you'll be waiting a long time.
That isn't his game.
If you're waiting to see someone drive the net and arrive with a presence, making life miserable for defensemen and netimders, then Elmer is your guy.
Yes, Soderblom is a tank, but he's more of a Sherman Tank – fast, mobile and maneuverable.
"He's always open with his big stick and his big body," Hanas said. "I can see him in front of the net all the time and he's always got his stick there, a stick presence. Goalies are having a tough time looking around him.
"You kind of just float one into him and let him do his thing. It's pretty easy to play with a guy like that."
Soderblom Finding His North American Footing
Last season, Soderblom found his groove. Detroit's 159th pick in the 2019 NHL entry draft led Frolunda of the SHL with 21 goals. Opting to sign him following the season, Soderblom was brought to North America to play the 2022-23 campaign here.
"It's going to be interesting to see how he continues to develop," Grand Rapids AHL coach Ben Simon said. "The last time I saw him was a couple of years ago. His skating has gotten so much better. Just growing into his body he's become a lot stronger.
Gross finish here from Elmer Soderblom pic.twitter.com/7ZK3FQfZDP

— Spittin' Chiclets (@spittinchiclets) December 26, 2020
"From what I saw last of him to where he is now, great strides, geat progression."
Elmer Soderblom senses a similar progresson in his performance on the ice.
"Three years ago I was not really that smooth and comfortable with my body and big size," Soderblom admits. "I think I'm still working on it, getting to use my big body and big size and I think it's going better and better."
Tradtionally, Soderblom Is A Slow Learner
Historically as he's moving up the hockey ladder, Soderblom hits his stride in his second season at that level. It shouldn't be concerning then, if he should originally be struggling through his North American transition.
"I think everything's quicker," Soderblom said of the game on the smaller ice. "You gotta do everything a little more quicker and it's a little more physical I think. You've got to be able to take a hit and give a hit as well.
"Just be quick in your mind and your feet and your hands. Pretty much just do everything a little bit quicker."
How radidly he can be making this transition will got a long way in determining where Soderblom is playing during his first North American pro season.
"It's going to be a little bit different for him," Simon said. "Whether he's in Detroit or Grand Rapids, it's going to be a different culture, it's going to be a different rink size. So a lot of first-time experiences for him.
DraftKings Bet $5 Win $150
All States Where Legal
GET THE APP
SIGNUP BONUS
BET $5, WIN $150


New Player Bonus
BET NOW
"He's got to get some traction and play consistently well. We've seen that before with other players who've come over. There is an acclimation period. And the shorter that acclimation period can be to get comfortable in North America, I think the quicker he's gonna have success."
When it does click in for Soderblom, Simon is anticipating a beautiful site to behold.
"You don't teach size," Simons said. "So when you've got that body and that strength on your skates and he protects the puck so well, if he can play below the tops of the circles and take pucks to the net and make a living at the net front, he's going to be exciting for Wings fans to watch.
"It'll be curious to see how that projection happens and how that development continues and what kind of path he goes down. I'm sure Detroit's extremely happy with where he's at right now."