The Breakdown: Red Wings' Cossa Building Case to Go To Grand Rapids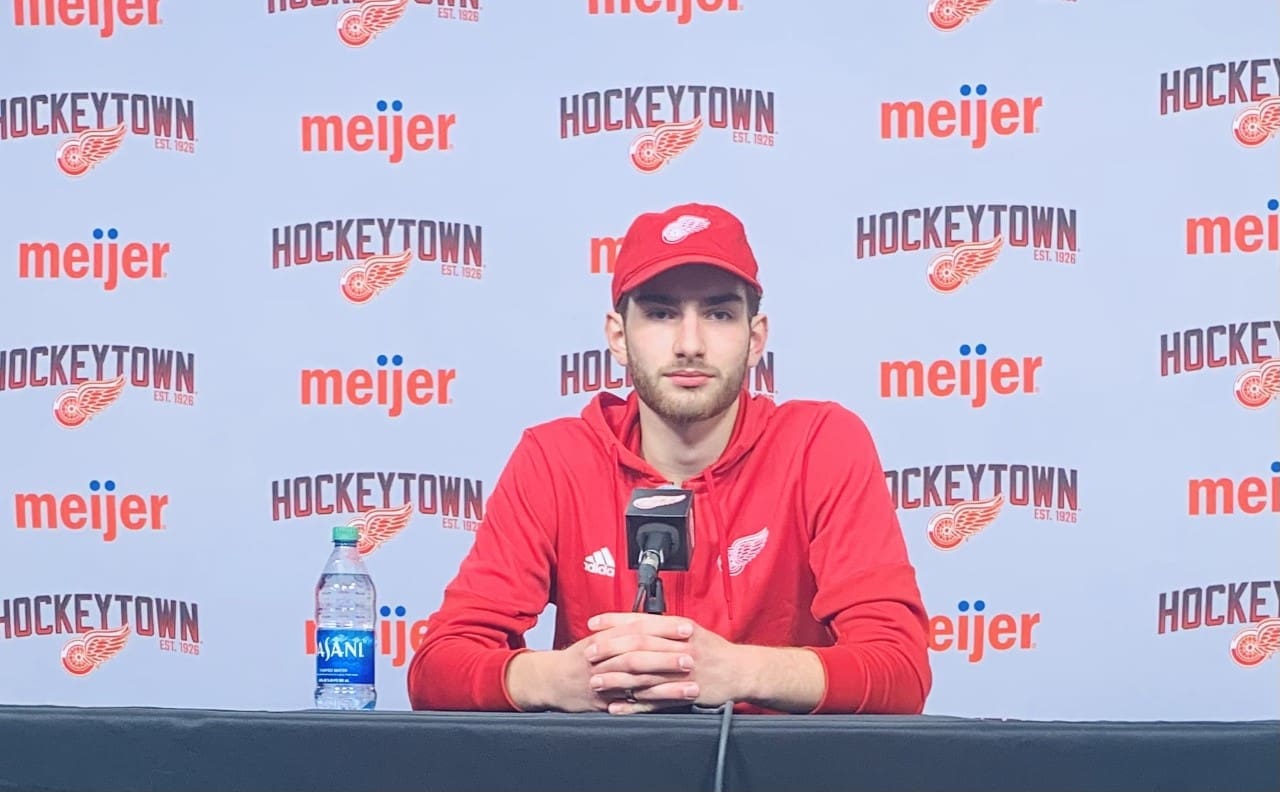 Detroit Red Wings first round draft pick Sebastian Cossa believes he's ready for pro hockey and is offering evidence to support that verdict.
The 6-foot-6 goaltender turned in another strong performance — stopping all 16 shots he faced — in the Red Wings' 4-1 win against the Toronto Maple Leafs in their final game at the NHL Prospect Tournament in Traverse City, Mich. Cossa finished the tournament with 33 saves on 34 shots on goal for a 1.00 goals-against average and a .971 save percentage. He played about 30 minutes in Detroit's two tournament wins, although he didn't get credit for either win.
"I think I kept my stance pretty tight," Cossa said. "This weekend I was playing composed hockey. I was calm. Playing my own game. I was keeping pucks in. Was getting a little crazy or a little scrambly in net sometimes. I thought it was pretty good, especially coming in today halfway, those are tough games and I thought I did a pretty good job composing myself and just taking it shot by shot."
This is just the early stages of this trial by competition. Cossa is only 19, and NHL teams historically return goalies to junior hockey at that age. But GM Steve Yzerman hasn't hinted about Cossa's immediate future. The Red Wings haven't told Cossa anything, which could mean they want additional viewing in training camp and perhaps preseason games.
"Still up in the air," Cossa said. "I haven't been told much. Camp starts soon and continuing to show what I have to offer. Like I said at development camp, I'm trying to play at the highest level this year and doing everything in my power to do that but obviously at the end of the day it's not my decision."
Cossa's Preference Clear
He doesn't want to return to junior.
"I want to play at the highest level I can, so that's professional this year," Cossa said. Hopefully my game does the talking for itself and allows me to be up for that level."
Cossa wasn't at his best in the Red Wings' development camp earlier this season. He will need to be sharp in training camp to make his case. He knows that goalies can take longer to develop, but that doesn't have to be the case.
"The past couple years there's been some younger guys –you look at (Florida Panthers') Spencer Knight, he came in at 19," Cossa said. "…They're making that jump a little earlier. At the same time, there's obviously a reason there's only 62 goalies in the NHL. They're pretty good for a reason. There's still a lot of things to work on to get to that level. Looking forward to that."
DraftKings Bet $5 Win $150
All States Where Legal
GET THE APP
SIGNUP BONUS
BET $5, WIN $150


New Player Bonus
BET NOW
Ben Simon coached Cossa at this tournament. He's also the Grand Rapids' Griffins coach. He thought Cossa played well in the tournament.
"As a player all you can do is show up ready to compete and when the opportunity is there make the most of it," Simon said. "You can see that he's ready, he's hungry, and let's see what happens in camp."
Facts and Observations
The Red Wings were 2-1 in the NHL Prospect Tournament. Before beating Toronto, the Red Wings downed the Columbus Blue Jackets 5-2 and lost 5-4 to the Dallas Stars. The Dallas Stars and Columbus Blue Jackets were also 2-1, while the St. Louis Blues were 1-2 and the Maple Leafs were 1-3
Simon said Cross Hanas had a "good three days" after posting two goals and two assists in three games. He will likely play in Grand Rapids this season.
Detroit prospect goalie Jan Bednar only gave up one goal in 25 shots (1.01 GAA and .960 save percentage) in the tournament. The Red Wings drafted Bednar in the fourth round in 2020 (107th overall). They haven't signed him yet.
 Free agent invitee Jeremie Biakabutuka, nephew of former Michigan football star Tim Biakabutuka, played all three games on defense for Detroit. He was +4, with two assists and one shot on goal.
Finnish defenseman Eemil Viro had a good tournament for Detroit. He played three games, was +5 and scored a goal against the Maple Leafs. He's a slick skater, always well positioned, dependable in all areas.