Detroit Red Wings Stock Index: Prospect Tournament Edition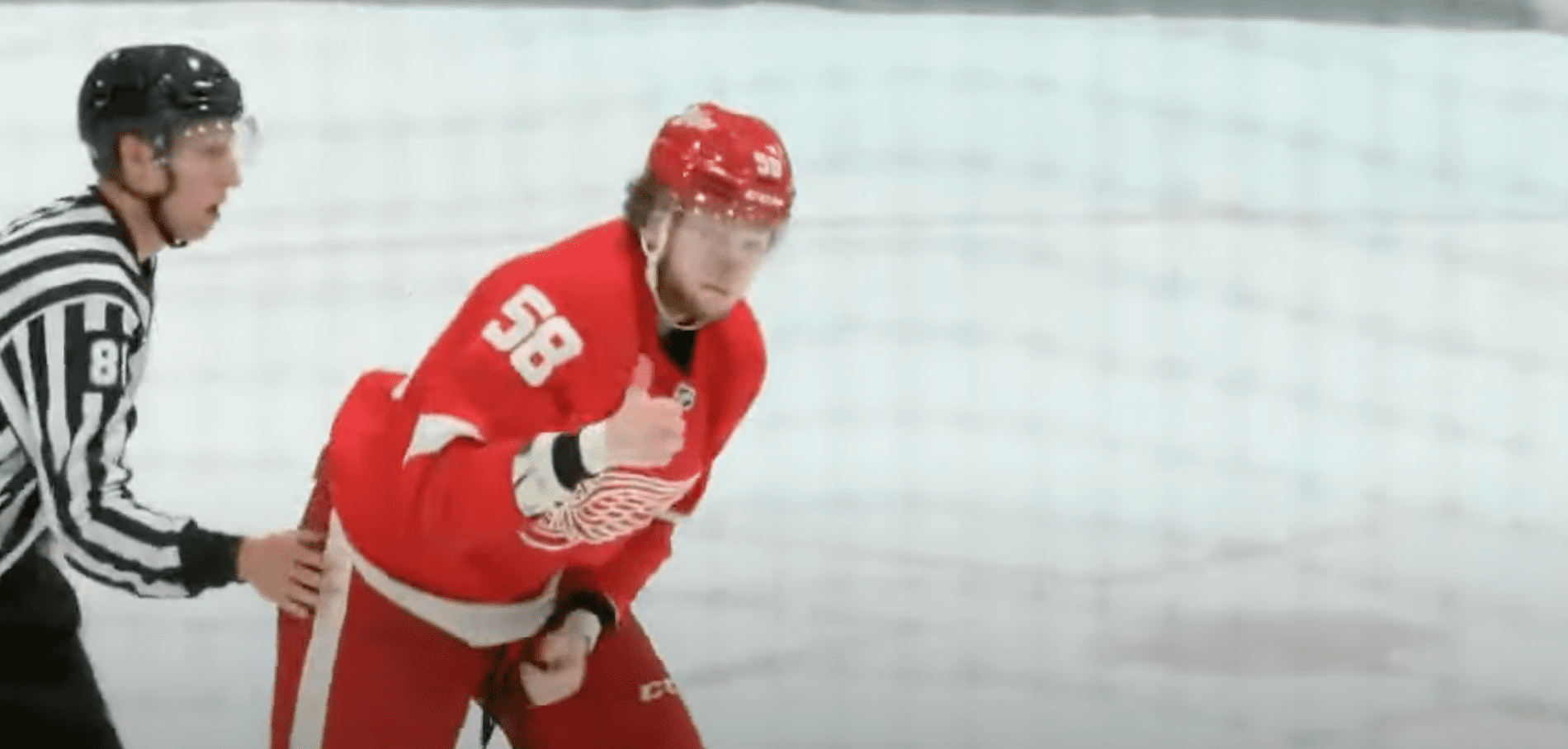 Much is said about the potential of prospects in the sport of hockey, whether or not that potential is being met. For the Detroit Red Wings and other teams competing in prospect camps, no time is better than now to assess that potential.
As has played out over the last few days, the stock of some of those prospects has increased while others have remained right where it was expected.
A new feature here at DHN, inspired by friend and former colleague Alex Faber, is keeping an eye on the risers within the team. In other situations, we can assess why the potential or performance of a player has fallen over time. Some may very well stay steady.
In the first offering of the Detroit Red Wings stock index, we'll look specifically at some of the prospects who certainly saw their standing in the organization improve after the tournament concluded.
Stock Up: Riley Piercey
Scoring four goals in one game is certainly one way to catch the attention. Throwing down in a fight, and then winning one, is certainly a way to put an exclamation point on it.
How about leading the entire tournament in goals, too? Adding one more against Toronto, Piercey finished with five.
However it's sliced, Piercey endeared himself to fans with his tenacity and performance. The undrafted rookie who was a non-roster invitee may very well have earned himself a contract in Grand Rapids. During an intermission interview with Ken Kal and Daniela Bruce, director of player personnel Daniel Cleary had quite a bit to say about him.
"I happened to watch that Flint-Windsor series in Flint and he just caught my eye," Cleary said. "There was one game they were losing and me and Drapes were there. They were losing four to nothing."
"He gets in this fight and he kinda has the hands going, you know, one of those kids. They came back and won. I was like 'Gee I really like this kid.'"
Piercey again had his hands going with some fisticuffs in Saturday's 5-4 loss, encouraging the crowd to get loud after getting the better of Stars prospect Gavin White. They did–along with offering a standing ovation for his efforts.
If the front office is talking about you during an intermission interview, your stock is certainly rising.
Stock Up: Cross Hanas
He's been a ball of energy throughout the tournament, recording a couple assists in the 5-2 victory over Columbus, and then burying a breakaway goal against Dallas Saturday evening. Hanas scored at will during the second half of his time with Portland in the WHL last season. He picked up where he left off, standing out as an offensive presence in the games he played.
.@hanner71 with a beautiful finish! #DRWPT #LGRW

3-1, #RedWings

Tune in » https://t.co/DhGaSSSuXq pic.twitter.com/9UnFgX3F1j

— Detroit Red Wings (@DetroitRedWings) September 19, 2022
In the final game, Hanas converted again on a breakaway, also assisted by Soderblom. Not bad for the kid who just signed his entry-level deal a few months ago.
Stock Up: Elmer Soderblom
He was literally everywhere. Physically he was imposing on the opponents be it in front of the net or off the boards. He found the back of the net. He even had the wherewithal to make a crisp, tape-to-tape outlet pass to a streaking Hanas. The speedy forward converted.
They'd repeated it against Toronto, too.
ELMER SODERBLOM! 1-0!

📺 » https://t.co/mAi5XRk8aM pic.twitter.com/xw0nilTQaF

— Detroit Red Wings (@DetroitRedWings) September 17, 2022
Soderblom was certainly a player fans and analysts were watching closely heading into the first test on North American ice. With each game, he looked better, the big forward making little plays here and there to stand out.
As the tournament closes and the preseason begins, Soderblom will now be vying against "men" and utilizing that experience from the SHL as he makes an argument for starting on the opening night roster.
The fourth line in Detroit will have many applicants. Not only is Soderblom off to a great start, he's making a strong case for early consideration.
Stock Holding Strong: Albert Johansson
It's often Simon Edvinsson getting the attention, but Johansson is mentioned often as a potential breakout candidate for the Red Wings. His presence was noted throughout the tournament, highlighted by a crushing check on the side boards against Dallas. Sure, the Red Wings lost. But throughout the game as well as the tournament, Johansson was in the right spots, playing smart hockey, and often disrupting strong offensive opportunities.
Though it's tempting to say his stock is holding, Johansson quietly put together a performance that should keep him on Detroit's radar in the preseason. If he can handle big minutes then, it wouldn't be surprising if he does indeed get a crack at opening night, too.
Stock Holding Strong: Sebastian Cossa
Cossa's sample size wasn't as extensive as a skater. But what Cossa showed in Detroit's 4-1 win over Toronto should be a positive building block.
Goalies are a different animal altogether in prospect pools, often taking winding roads to the NHL, if not ones that sometimes don't play out as expected. Jack Campbell is an example of that.
DraftKings Bet $5 Win $150
All States Where Legal
GET THE APP
SIGNUP BONUS
BET $5, WIN $150


New Player Bonus
BET NOW
The expectations on Cossa are heavy, not only because Yzerman took him 15th overall, but also because he traded up and selected him over Jesper Wallstedt. Rightly or wrongly, those two netminders will be constantly be used as bellwethers against one another.
Cossa's performance is likely building his case to be in Grand Rapids sooner rather than later, as DHN's Kevin Allen wrote. Regardless, anxious fans can rest a bit as the Cossa many were looking for appeared cool and composed in the Detroit Red Wings' final tournament game.